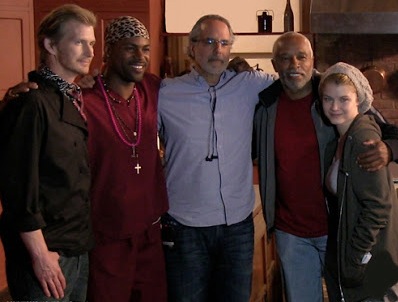 Kendra cast from left to right: Bill Brochtrup, DeVaughn Nixon, Jon Avnet, Damien Leake and Sarah Jones
This week I talked with actor Bill Brochtrup and producer Jon Avnet about their new television series Kendra, airing on WIGS, the number-one channel for scripted drama on YouTube. The openly gay Brochtrup played the gay temp John Irvin on NYPD Blue, and writer/director/producer Jon Avnet, a straight ally to the LGBT community, has decades of award-winning television and film productions among his credits, including Black Swan and Fried Green Tomatoes. Kendra is about a bisexual post-op nurse, played by Sarah Jones (Vegas, Alcatraz), who works in a hospital recovery room known as "Twilight," where people coming off anesthesia are more vulnerable to revealing their true selves. Her roommates are multiracial gay couple Arnold and Kenny (Brochtrup and DeVaughn Nixon), both of whom served in Iraq and Afghanistan.
I talked with Brochtrup and Avnet about this edgy series that addresses "don't ask, don't tell" and other LGBT topics. When asked about his personal commitment to LGBT civil rights, Brochtrup stated:
I'm gay. I've been an openly gay actor for many years since I began working on NYPD Blue. I've always been an optimist as far as history goes. I feel like things are moving quickly towards complete equal rights for LGBT people, and it may seem slow sometimes to people who are out in the field fighting for these things, but over the course of history, we will realize that this has happened very quickly in this country, and I'm proud to have played a small part in that. I think that images we see in the media can really move this zeitgeist and make people understand that LGBT people are just like everyone else and want the same things that everyone else wants. So I've always found the important thing people can do is come out, be themselves and lead an honest life, and it's been shown many times that the more the straight world gets to know gay people -- they're in their family, they're in their workplace, we're everywhere as part of the fabric of the community -- the more people are accepting that it's not that big a deal.
LISTEN:
WIGS launched on YouTube in May 2012 and has 93,124 subscribers and 19,132,856 video views as of this writing. It consists of provocative, edgy and addictive series, short films and documentaries featuring complex, compelling characters played by female leads. Created by Jon Avnet and Rodrigo Garcia (Albert Nobbs, In Treatment), the channel combines Hollywood's most successful creative minds with the innovation and power of the digital age to deliver consumers high-quality, original entertainment.
For more information on WIGS, visit youtube.com/wigs.
Listen to more interviews with LGBTQ leaders, allies, and celebrities at OUTTAKE VOICES™.
Download interviews on iTunes.