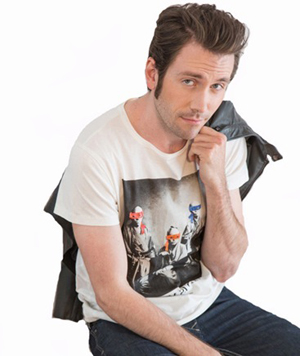 I talked with actor/producer Kit Williamson about his TV series EastSiders, now airing online on LogoTV.com. EastSiders is a dark comedy that explores the aftermath of a gay couple's infidelity in Silver Lake, Calif. Williamson plays Cal, who discovers that Thom (Van Hansis) has been cheating on him with Jeremy (Matthew McKelligon), which turns their relationship upside down. Cal's best friend Kathy (Constance Wu) is always there for him with a bottle of whiskey.
I also talked with Kit about his spin on LGBT issues. When asked about his personal commitment to LGBT civil rights, he stated:
I'm personally very committed to LGBT civil rights. As a gay person I think that we're in an amazing time of history where our actions have the possibility to effect change, and I didn't feel that way when I was a kid. I was very pessimistic as a kid growing up in Jackson, Miss., but I've seen the world around me change, and I'm seeing minds and hearts change, even in Mississippi. I think that things have changed drastically since I was growing up there. I think it starts with being out and open about who you are and vocal about your experiences. You know, having faced a lot of intense discrimination in my life, I refuse to let fear determine my actions, and I think more and more people are living their life that way.
When asked for his thoughts on actors coming out in Hollywood, Kit said:
I think it's a personal decision, and I am strongly against the witch hunts that go on sometimes about people who are in the closet. I think we wouldn't do that to teenagers, so why on Earth would we do it to a 20-year-old actor in Hollywood? That said, I personally feel a sense of responsibility to be out and open in my career and my life, because I know it would have been significant to me as a kid to see more examples of people living their lives that way, because I didn't really know it was a possibility for me.
LISTEN:
In addition to writing, directing and starring in EastSiders, Kit Williamson is the newest cast member of AMC's Mad Men, appearing as copywriter Ed Gifford. He can also be seen in the leading role on the hit comedy webseries Hipsterhood, returning for a second season this summer on Blip.Tv, as well as in viral videos for Funny or Die and Daywalt Fear Factory. Kit's indie film work includes a supporting role in the apocalyptic road-trip comedy Best Friends Forever, a Slamdance favorite from director Brea Grant that is slated for distribution by Gravitas. Kit is also a Huffington Post blogger.
For more information on EastSiders, visit eastsiderstheseries.com.
Listen to more interviews with LGBTQ leaders, allies, and celebrities at OUTTAKE VOICES™.
Download interviews on iTunes.