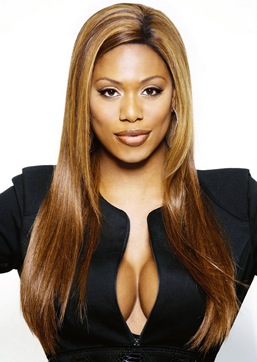 This week I talked with Laverne Cox, an actress, producer and transgender advocate who is currently appearing in Musical Chairs, the new film by Susan Seidelman (Desperately Seeking Susan). This must-see film is a unique blend of dance, drama and romance starring newcomers Leah Pipes and E.J. Bonilla as a pair of unlikely lovers in contemporary New York who must face a number of challenges, both separately and together, before finding one another and themselves. Also appearing in the film is Tony-winner Priscilla Lopez, Jaime Tirelli, Morgan Spector, Auti Angel, Jerome Preston Bates, Nelson R. Landrieu and Angelic Zambrana.
I talked with Laverne about the film, as well as about "I AM: Trans People Speak," a national campaign created by the Massachusetts Transgender Political Coalition that she is involved in. She also gave her spin on LGBT civil rights. When asked about her personal commitment to LGBT civil rights, she stated:
I think about this, and I really think it's about me being an American and me being a proud American. I love this country, and I love what this country in theory stands for. I believe that all our citizens are equal and should be treated and seen equally under that law, and we know that's not quite how it is for LGBT folk, specifically trans folks. Because I'm trans, I take it kind of personally. I'm discriminated against when the laws don't necessarily accommodate the reality of my life. So my commitment really is a commitment to American values and what this country should be about, the commitment to equality, and I just know, from my own personal experience, so often I've been made to feel "less than" because I'm trans, and I don't think anyone should be made to feel "less than" because of who they are on a fundamental level. So I think a lot of my commitment comes out of these things.
LISTEN:
Laverne made television history when she became the first African-American transgender woman to appear on a reality television program, VH1's I Wanna Work for Diddy, in 2008. Laverne is also the first African-American transgender woman to produce and star in her own television show, VH1's critically acclaimed TRANSForm Me. Laverne has garnered critical acclaim for her role in Musical Chairs. Keith Uhlich of Time Out wrote, "You leave remembering ... Laverne Cox's galvanizing mettle as a paraplegic transsexual who befriends Mia." Laverne is currently in production in the upcoming Netflix original TV series Orange Is the New Black, a prison show by Weeds creator Jenji Kohan that will premiere in 2013. Cox has appeared on NBC's Law and Order and Law and Order: SVU, as well as on HBO's Bored to Death. Her other independent film credits include Carla, 36 Saints and The Exhibitionists. She also blogs regularly on The Huffington Post.
For more on Laverne Cox, visit lavernecox.com.
For more on Musical Chairs, visit musicalchairsthefilm.com.
Listen to more interviews with LGBTQ leaders, allies, and celebrities at OUTTAKE VOICES™.
Download interviews on iTunes.