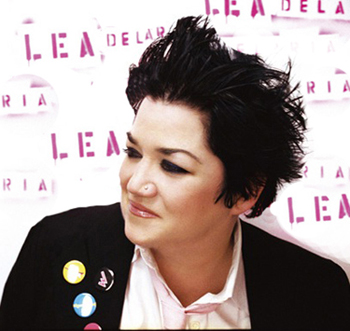 This week I talked with comedian, actress and jazz musician Lea DeLaria about her new show, The Last Butch Standing, a comedic look at what it's like to be a bad-ass dyke daddy in the post-Ellen 21st century, and about her spin on LGBT issues. Lea was the first openly gay comic to perform on American television, with her 1993 appearance on The Arsenio Hall Show. Since then she has had countless concerts, theater roles, movies and stand-up specials and four albums with Warner Brothers. When asked about her personal commitment to LGBT civil rights, she stated:
I have been completely out for 30 years. Everything I've done, every step I've taken, has been to further a positive perception of queers within the world. There was a time in the early 1990s where they wanted me to wear lipstick. That was the time when the lipstick lesbian thing was all the rage. I did it for about six months, and then I went, "I can't do this anymore. This is not who I am." It's not who millions and millions of dyke butches are out there, and someone has to present that image. Someone has to be that person for those little butches out there to see. That one is going to be me every time.
Lea also weighed in on queer identity in the 21st century, the presidential election, the Log Cabin Republicans, gay marriage, LGBT teen bullying and more.
LISTEN:
Besides debuting her new live show, Lea has recorded a new jazz album, House of David, featuring the songs of David Bowie, due out in 2013. She is also appearing in the new musical Amandine in 2013 and currently is in production on the upcoming television prison series Orange Is the New Black, playing Big Boo. This will be released on Lionsgate Television and Netflix in fall 2013. She is touring the world with The Last Butch Standing, which she hopes to make into a TV special.
Catch The Last Butch Standing live at the OBERON, the American Repertory Theater's second stage and club theater venue in Cambridge, Mass., on Monday, Nov. 5 at 8 p.m. For more information, click here.
Listen to more interviews with LGBTQ leaders, allies, and celebrities at OUTTAKE VOICES™.
Download interviews on iTunes.