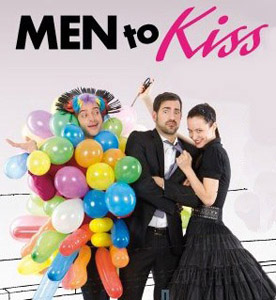 I talked with five more filmmakers about their films playing at the Boston LGBT Film Festival, which runs through May 13. I also had the opportunity to talk with the filmmakers about crucial issues facing our LGBT community.
Men to Kiss, directed by Robert Hasfogel, in German with English subtitles, is a great comedy about the chaotic relationship of the unequal couple of Ernst and Tobias. The film, shot in Berlin, is about the opposite attraction of a respectable banker Ernst and his unconventional partner Tobias. The sudden appearance of Uta, Ernst's eccentric school friend, fundamentally changes their relationship. Uta does not approve of Tobias and tries to break them up. Men to Kiss charmingly replaces common gay clichés with authentic, everyday stories about our lives. The film will be presented May 10 at the Brattle Theatre in Cambridge, Mass. at 8:30 p.m. The film's hot star Frank Christian Marx will be present for a Q-and-A following the film.
Jobriath, A.D., directed by Kieran Turner, is about the first openly gay rock star to arrive on the glam-rock scene in the 1970s. This fascinating documentary spotlights his life, music, and groundbreaking influence. Jobriath stated at the time, "I am the true fairy of rock." His brief but fascinating career as an openly gay performer, sometimes called "the American Bowie," is uncovered by this enthralling documentary. This is a celebration of a singer-songwriter, adored by Morrissey and the Pet Shop Boys, whose legacy will now be rediscovered. Director Kieran Turner will be present for the screening and a Q-and-A following the film at the Brattle Theatre on Friday, May 11 at 9 p.m.
GIRLTRASH: All Night Long (A Work in Progress) is directed by Alexander Kondracke, but unfortunately, due to unforeseen circumstances, the film will not be shown during the Boston LGBT Film Festival. However, we had such an insightful chat with producer Lisa Thrasher that I decided to keep her interview in our audio montage.
UNFIT: Ward vs. Ward is a documentary by Katie Carmichael and Edwin Scharlau. The film raises the question of who is more fit to raise a child: a convicted killer or a lesbian? In 1995 a judge in Pensacola, Fla. declared the father, a convicted killer, more fit. This is the story of that case and its aftermath. The documentary will be presented at the Brattle Theatre on May 13 at 4:30 p.m. Katie Carmichael and Edwin Scharlau will be present for a Q-and-A following the film.
The 28th annual Boston LGBT Film Festival concludes with Naked As We Came, directed by Richard LeMay. Shot entirely in Massachusetts and starring a stunning ensemble cast including Ryan Vigilant (Gossip Girl) and Karmine Alers (Mimi in Rent). Naked As We Came is a story about letting go of the past and recreating family relationships. Director Richard LeMay and the film's actors will be present for the screening on Sunday, May 13 at the Museum of Fine Arts in Boston at 7:30 p.m.
LISTEN:
For more information and tickets, visit BostonLGBTFilmFest.org.
Listen to more interviews with LGBTQ leaders, allies, and celebrities at OUTTAKE VOICES™.
Download interviews on iTunes.