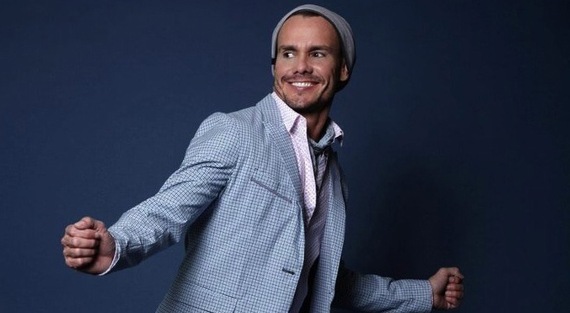 This week I talked with Migguel Anggelo about his new CD entitled "La Casa Azul" and upcoming performance of "Another Son of Venezuela" at Joe's Pub on December 1st in New York City. In a similar genre to Justin Vivian Bond, Migguel has created a brand new production under Obie Award-winning director, David Drake which addresses his thoughts through music on national pride and a belief for a better future. Migguel has previously sold out seven shows at this fabulous venue. His second album, "La Casa Azul" was co-written and produced by music director Mau Quiros and is mixed by Grammy Award-winner Felipe Tichauer which was selected as a recommended favorite in People En Español. I talked to Migguel about how artist Frida Kahlo was the inspiration of his new CD and his spin on our LGBT issues.
LISTEN:

Originally from Venezuela, when asked what his personal commitment is to LGBT civil rights Anggelo stated:
I'm very proud to be gay and actually I told my mom when I was twelve years old. My mom she understands me a lot because she was a ballet dancer but my father no. My father was a very macho man for the farm and I don't think he was happy that he had a gay son but he died when I was thirteen years old so we don't have a good connection me and him, but I respect him. My mother always supported me. I told my mother when I was twelve years old I said, Mom I like my neighbor and she said, Your neighbor, who's your neighbor? And I said, My friend Juan Carlos. And she asked, Why do you think you like him? And I said, When I see him I feel butterflies in my heart. She hugged me and kissed me and said, Well honey I know you're very young right now but I will support you right now and forever, whoever you decide to be in your life. I was very lucky to have my mom. I'm very happy for example last year I got married to my partner and we are very happy so I hope everyone the same. When you love someone you want to decide to be with someone, I hope people can do it. In my country Venezuela, it's a very beautiful country but right now they're under the regime of Communism so I don't think it will happen right now. It's very difficult for gay people in Venezuela so whenever I am here, in Europe or in Africa or wherever, I will open my mouth to hear my voice to gay people and the LGBT community.
Migguel Anggelo first fell in love with the theater as a child playing Pinocchio in a touring production of the show. As a Latin American theater star, Migguel perfected his commanding stage presence and electric performances after studying opera at the Conservatory of Music in Cologne, Germany. He received an invitation to attend after being discovered performing on the street and trained for a dozen years in classical ballet, falling in love with the drama and discipline of opera and the explosive whimsy of pop. His greatest influences are Luciano Pavarotti and Freddy Mercury and with his multi-octave voice, pays homage to them by jumping easily from operatic aria to rock anthem. Recently, Migguel completed a tour of the Midwest with Nuevo Tango group, "The Oblivion Project," bringing to life the music of Argentine tango master, Astor Piazzolla. He's currently working on this third CD to be released in the summer of 2016 and he will be performing at Joe's Pub on December 1st at 7P in NYC.
(Photo Credit: Nico Iliev)
For More Info: migguelanggelo.com
Listen to more LGBT Leaders, Allies & Celebrity Interviews: OUTTAKE VOICES™
Download Interviews on iTunes