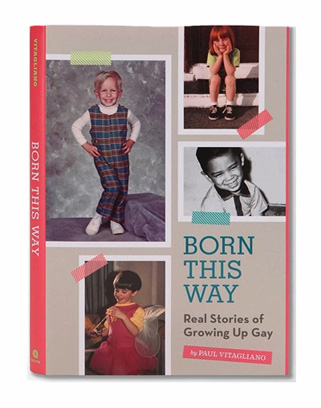 This week I talked with author Paul Vitagliano about his new book, Born This Way: Real Stories of Growing Up Gay, which features the stories and childhood photos of over 100 notable public figures from the gay community, including former U.S. Rep. Barney Frank (D-Mass.), the first openly gay member of Congress; HuffPost Gay Voices editor Noah Michelson; Village Voice columnist Michael Musto; actor and drag performer Miss Coco Peru; and celebrity blogger Perez Hilton. The book evolved from Vitagliano's blog of the same name, which he launched in January 2011 as a way to support LGBT youth and fight bullying and suicide. He explained:
I started the Born This Way project to show young gay kids that they're not alone; many others have gone through everything they're experiencing now. We must share our stories and play it forward for future generations. Being gay is as normal and natural as being straight. It is not a choice or a phase, it's not something you learn, and it's certainly not something that can or should be "cured" or "fixed." All children need love and nurturing and support.
I also talked with Vitagliano about his spin on broader LGBT issues. When asked what he would like to see the Obama administration accomplish for the LGBT community in the next four years, he said:
I think the Obama administration is going to do something pretty huge. I personally believe that this president believes in 100-percent full equality for the LGBT community, and I know that in his heart of hearts, that's where he lies. I know now that in his second term, you're going to see that more of those true feelings are coming out, and he just filed that he wants to strike down DOMA in the Supreme Court. I really believe that this president wants to leave office to be known as the president that enacted a sweeping gay rights bill similar to the Civil Rights Act, which would basically say, "Zero discrimination for the LGBT community, and that includes marriage, housing, jobs and children adoption, period." It is a sweeping type of bill, or something on that level, that finally gives us 100-percent equality.
LISTEN:
Paul Vitagliano, aka DJ Paul V, is also a pillar of the Los Angeles and Silver Lake club scenes. His eclectic club and radio DJ career has thrived for 30 years, first in Boston from 1982 to 1987, and in the Los Angeles vicinity since 1988.
For more information on the Born This Way project, visit bornthiswayblog.com.
Listen to more interviews with LGBTQ leaders, allies, and celebrities at OUTTAKE VOICES™.
Download interviews on iTunes.