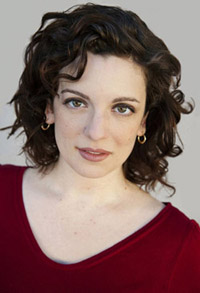 We all know that allies are extremely important on the path toward global LGBT equality. In this exclusive audio interview I talked with award-winning comedian and writer Sara Benincasa about LGBT issues and her new book, Agorafabulous! Dispatches from My Bedroom, based on her acclaimed one-woman show. The book chronicles her journey through a panic disorder that developed into agoraphobia by the age of 21. Her fears were so severe she was afraid to leave her own bedroom and sank into a suicidal depression. With the help of her friends and family she was able to work through the darkest time of her life and find light and laughter at the end of the tunnel. Sara is very outspoken on LGBT issues and is a fierce ally. Given that she was born and raised in New Jersey, we thought we'd give her spin on Governor Chris Christie vetoing gay marriage in her home state and other issues facing our LGBT community.
When asked what her personal commitment is to LGBT civil rights, Benincasa stated:
I would say that it's pretty huge. I would consider myself an ally more than anything else. I mean I'm a woman, I have dated women, but I certainly wouldn't identify as lesbian. I use to identify as bisexual, but then I thought about it: well, bisexual sounds like 50/50, and I'm not 50/50, so maybe I shouldn't use that term. So I would just say that I am certainly an active ally.
LISTEN:
Sara Benincasa's outspoken, sexually charged comedy has won praise from the Chicago Tribune, CNN, The Guardian, and The New York Times, and has earned her an ECNY (Emerging Comedian of New York) Award and a Webby nomination. Currently Sara is traveling throughout America on the Agorafabulous! Book Reading Show. Her upcoming schedule is as follows:
Saturday, March 3, 4 p.m., Bookhampton, East Hampton, N.Y.
Thursday, March 8, 7 p.m., Barnes & Noble #2321, River Oaks Shopping Center, Houston, Tex.
Friday, March 9, "SXSW Panel: Political Humor 2.0: Teh Internetz R Leaking," South by Southwest Music and Media Conference and Festival, Austin, Tex.
Monday, March 19: 7:30 p.m., Powell's Books, Portland, Ore.
Tuesday, March 20, 7:30 p.m., Tattered Cover, Denver, Colo.
Agorafabulous! Dispatches from My Bedroom was published by William Morrow, a division of HarperCollins Publishers.
Listen to more interviews with LGBTQ leaders, allies, and celebrities at OUTTAKE VOICES™.
Download interviews on iTunes.