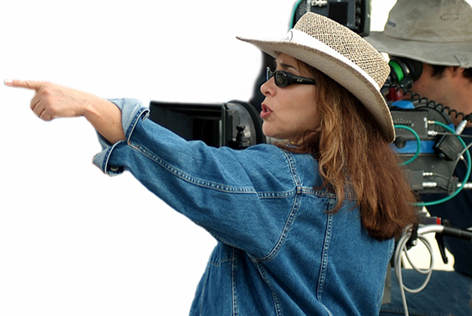 This week I talked with director Susan Seidelman (Desperately Seeking Susan), whose new film, Musical Chairs, is nominated for a GLAAD Media Award for Outstanding Film (Limited Release). The film, whose love story is set against the backdrop of a wheelchair ballroom dance competition in New York City, features the fabulous transgender actress Laverne Cox, who plays a transgender character. A fierce straight ally, Susan talked with me about the film's nomination and her commitment to LGBT issues. She said, "We are really honored to be nominated for a GLAAD award, since our film was intended as a celebration of cultural, physical and gender diversity. It's our differences that make us interesting and unique."
When asked about her personal commitment to LGBT equality, she explained:
Well, my commitment is on a couple of levels. Artistically, I have made a lot of films that have had gay characters, and I think it is important to have all kinds of characters in your movies and have real characters, people who are flesh-and-blood and not caricatures, like sometimes you see in bad sitcoms. So, artistically, it was very validating and important. On a personal level, I am the stepmother of a lesbian daughter who-- I am very supportive of her lifestyle, and she is just a great person. So I have a personal commitment to the community, and also even in terms of my family, my sister is an adoption attorney who deals with gay couples to help them work their way through the massive red tape and archaic legal system that makes it very hard for gay couples to adopt children. So I have a kind of family history of my connection to the gay community.
LISTEN:
Seidelman arrived on the scene in 1982, when her film Smithereens became the first independent U.S. film to be accepted into competition at the Cannes Film Festival. Her next endeavor was Desperately Seeking Susan, starring Madonna and Rosanna Arquette, which was a critical and commercial success. Her other film credits include Making Mr. Right, starring John Malkovich; She-Devil, starring Roseanne Barr and Meryl Streep; and the gender-bending detective comedy Gaudi Afternoon, starring Judy Davis and Marcia Gay Harding. She also directed the pilot and early episodes of the HBO series Sex and the City. She is currently completing The Hot Flashes, starring Brooke Shields, Daryl Hannah, Wanda Sykes, Virginia Madsen and Camryn Manheim, about a group of middle-aged women who form a basketball team in small-town Texas to raise money for charity.
The 24th Annual GLAAD Media Awards take place in New York City on March 16, in Los Angeles on April 20 and in San Francisco on May 11. I'll have exclusive interviews from the red carpet at the NYC awards ceremony.
For more information on Musical Chairs, visit musicalchairsthefilm.com.
Listen to more interviews with LGBTQ leaders, allies, and celebrities at OUTTAKE VOICES™.
Download interviews on iTunes.