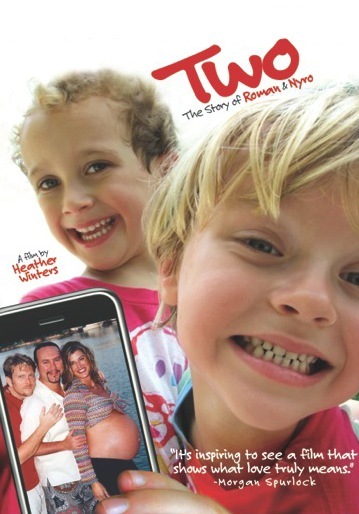 This week I talked with producer Curtis Shaw about his new documentary TWO: The Story of Roman and Nyro. The film documents Shaw's 12-year journey with his husband, legendary songwriter Desmond Child, and the extraordinary story of how they connected with Angela Whittaker, who would carry their twin sons Roman and Nyro into the world. TWO started out as Angela's video diary from before conception through the boys' first 10 years and developed into over 300 hours of footage. The project was then handed over to director Heather Winters and editor Lennon Nersesian, who crafted it into a full-length feature film that tells a personal and powerful story of love and what makes a modern family.
I talked with Curtis about this must-see documentary and his spin on LGBT issues. When asked about his personal commitment to LGBT civil rights, Shaw stated:
Desmond and I have always been supporters of the HRC [Human Rights Campaign] and the Family Equality Council. I think that our choice to live here in Nashville says quite a bit of where our hearts are. We're doing more to change hearts and minds in the trenches of the Midwest and the South than we would ever do on the sidelines of soccer games in Santa Monica, Calif., and New York City. Desmond wrote a song, "Livin' La Vida Loca," and so we always say we live "la vida loca," which is true, but you know, we're just living our lives, and we have activists' hearts, and it's been our way to be able to live our lives in the moment without interference from much publicity or anything from the outside, because Nashville isn't that kind of community. But with every connection, our parenting community at school, on the soccer field with families from different spectrums in the South, you know we're changing hearts and minds.
LISTEN:
Curtis met his life partner Desmond Child in the spring of 1989, and they married in New York, celebrating 24 years together, in 2013. Grammy-winning songwriter producer Desmond Child has written and produced over 70 Top 40 singles, with 300 million albums sold worldwide. In 2008 Child was inducted into the Songwriters Hall of Fame.
After playing the film festival circuit, TWO: The Story Of Roman and Nyro, which marks Curtis' first film production, opened at the Laemmle Music Hall in Los Angeles on Oct. 18, 2013.
For more information, visit twothedocumentary.com.
Listen to more interviews with LGBTQ leaders, allies, and celebrities at OUTTAKE VOICES™.
Download interviews on iTunes.