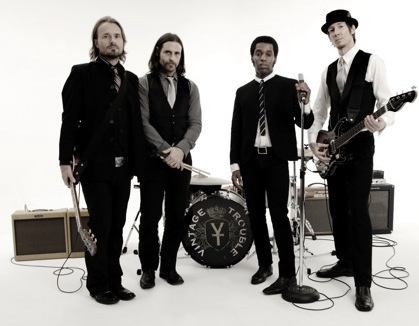 This week I talked with lead singer Ty Taylor and bassist Rick Barrio Dill of the R&B band Vintage Trouble. I first met Vintage Trouble in October, when they were partnering with groups to register voters at their concerts and at Obama campaign events. At the time they were touring with Joss Stone. Vintage Trouble is currently on tour with the legendary rock band The Who. I talked with Ty and Rick about their music, touring with The Who and their spin on LGBT civil rights.
When asked about their reaction to Obama being reelected and to gay marriage passing in Washington, Maryland and Maine, Rick stated:
It was moving for us for a lot of reasons. Not only for a lot of our friends and family that this is an important issue, but just as a country, I think it's imperative that we move forward. We've been very fortunate to travel to a lot of different countries and places, and the viewpoint and the social sort of zeitgeist feels, in a lot of places, like it's further than it is in America. So it was very important to see the progress and to see the progression of some of these issues like gay rights, and even the continuation of a lot of the things this president is trying to lay out. It was great to just feel like we're moving forward and we're keeping the pedal to the metal as far as progress.
Ty added:
I was excited, but also, in my mind, it's just infuriating to be even dealing with issues like this anymore. More so than lesbian, gay, any of these kinds of issues, there should be a basic civil rights issue, and I can't believe anyone is still trying to tell any particular group of people that they can't marry anyone from any other group of people or from the same group of people. Just doesn't make sense to me. So I'm excited that we got to add more states to the pool of states that have already realized that marriage should be marriage, and I was excited that Obama was reelected. All of these things should just be evident. It shouldn't even be a question that Obama was the new president again, and it shouldn't be even a question that Washington, D.C., should allow gay marriage. Every state should allow it. It's just silly and almost... I hate to say the word "stupid" or use "stupidity," because I try to be nonjudgmental, but the idea that someone can't marry someone is just ridiculous to me.
LISTEN:
Vintage Trouble released their studio album The Bomb Shelter Sessions in 2011. The album won the 2011 Classic Rock Award for Best New Band. The band is from Hollywood, Calif., and consists of lead singer Ty Taylor, guitarist/vocalist Nalle Colt, bassist/guitarist/vocalist Rick Barrio Dill and drummer Richard Danielson. They are currently opening for legendary rock band The Who on their 37-city North American tour, entitled "Quadrophenia and More." Surviving members Roger Daltrey and Pete Townshend are performing the 1973 album Quadrophenia in its entirety, along with other classic songs from their catalog. Pete's brother Simon Townshend is on guitar. Replacing late original drummer Keith Moon and bassist John Entwistle are Zak Starkey (Ringo Starr's son) and Pino Palladino, respectively. I caught this concert, and it was brilliant. Don't miss it.
For more information on Vintage Trouble, visit vintagetrouble.com.
Listen to more interviews with LGBTQ leaders, allies, and celebrities at OUTTAKE VOICES™.
Download interviews on iTunes.