Notes on a Native Song - Tony and Obie award-winning playwright and singer-songwriter Stew's ranging, 90 minute production - concludes with the words "I don't know what just happened here," projected above an image of James Baldwin himself. An apt description of a show that is hard to describe, these words also remind us of what we're informed in the opening: "this show is not about your mother's James Baldwin."
A collage of song, multi-media and narrative poetry, Notes of a Native Song is as much an ode to the prolific artist and author of the essay Notes of a Native Son, as it is a critique of the canonization of Baldwin's work and the sterilization of his public image. In his own words, Stew's intention is to "rescue Baldwin from respectability."
Casually entering in a printed dashiki, with Toni Morrison seated front row and center no less, Stew is joined by a four-piece band, including his co-writer and longtime friend, Heidi Rodewald. She wears a priest's collar. Their costumes allude to some of the metaphorical ground that is covered in the show, making up disparate parts of Baldwin's experience.
Bold and seemingly unrehearsed, Stew immediately disabuses the audience of any illusion that this is going to be a conventional performance: "This is not a play. James Baldwin was a Blues Musician. That is the conceit."
From there we're led on a journey composed of snapshots of Baldwin's biographical and publishing history - his growing up a black boy-preacher in the streets of Harlem, his journey abroad to Paris to write and grow as an artist, and on further still to Istanbul. These biographical "notes" act as framework for this concert cum performance art experiment, which unfolds in chapters communicated in the language of a musician, with books referred to as albums and reading to listening.
The music itself charts a parallel course, a timeline with elements of the cool Jazz of the 50s, Rock and Roll of the 60s, and the psychedelic funk of the 1970's. Mike McGinnis (windwoods) deserves notable mention here, soulfully commanding no less than four instruments over the course of the show, including one flute-like instrument whose nasal winding transports you to a Moroccan bizarre.
What is revealed is Baldwin's major influence on Stew - who at one point confesses the similarities between Baldwin's Go Tell it on the Mountain and his Tony-award-winning musical, Passing Strange, amounts to "spiritual copyright infringement." The show also examines how artists of color influence dominant culture and are influenced by it. In Stew's hands, Baldwin's is the story of a brilliant black artist who flees to foreign shores "to become human", to quote one refrain from the show. However, the same artist becomes the victim of critical success, singing repetitive "songs" about power that ultimately serve to satisfy the vanity of the institutions of power they are aimed at deconstructing. There's a suggestion here that deliverance from the dilemma of the black artist and the politics of skin is only to be found in self-portraiture.
Notes also insists, in songs like Florida, that we contemplate the resemblance of the Harlem Baldwin occupied in Notes of a Native Son, where black parents feared the impossibility of preparing their black children for a world where they are targets, to places like Baltimore, Ferguson and New York today, where black children still wear targets on their backs.
In many ways this culmination of the 14 month celebration of Baldwin, spearheaded by the Harlem Stage Theater, indeed felt more like a self-portrait than a tribute, with Stew, a black writer who at a young age made his own pilgrimage abroad, it's subject. In fact, there was a self-awareness throughout the performance that felt at times uncomfortable and self-indulgent, leaving you wondering if this nonetheless timely, funny and occasionally poignant song, was meant for you, for Baldwin or for its author.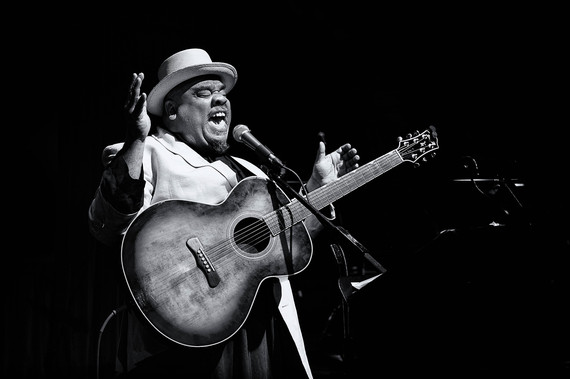 Stew in Notes on a Native Song, (All Photos by Marc Millman)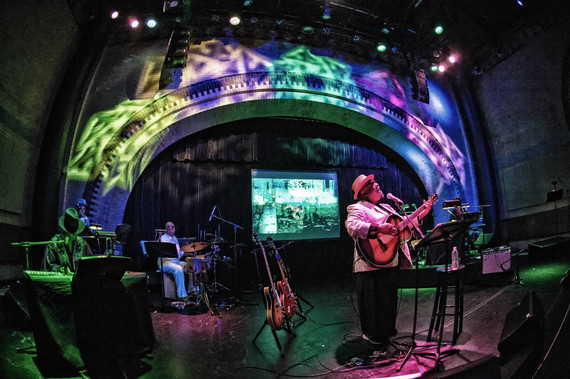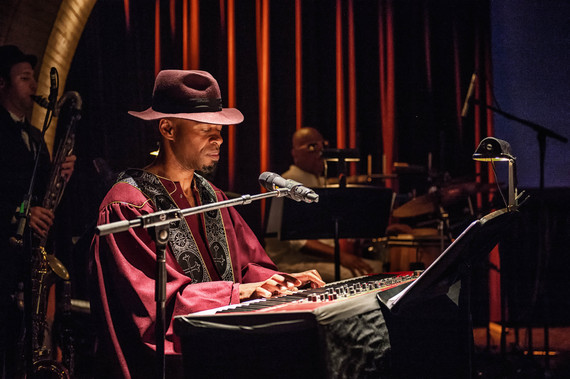 Art Terry on keys, Notes on a Native Song,