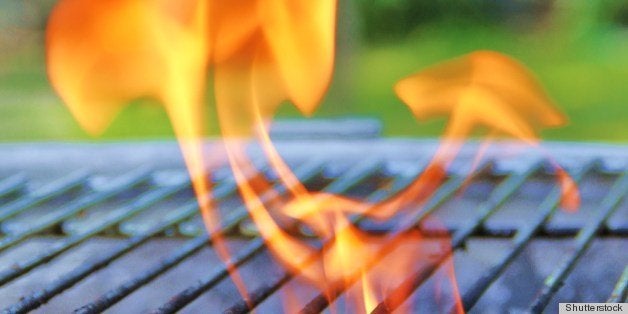 In honor of Memorial Day just passed -- not to mention it's finally warming up! Praise the lord! This babe is letting loose with some great grill recipes...so hold on to your britches or let them drop!
It's time to get grilling!!
FYI I'm feeling a tad hormonal today.. so it's all about meat this week. My apologies to my vegetarian readers.
First off I'm gonna give you my killer recipe shared with a boat load of folks on NPR's take-away show!
Ms Rossi's New York (by way of North Florida and South Jersey) Jewish Barbecue sauce
a coffee cup of ketchup
a coffee cup of tomato sauce
two good drizzles of molasses
two drizzles of soy sauce
a small drizzle of cider vinegar
two drizzles of Tabasco
a teeny weeny drizzle of liquid smoke
a plop of Dijon mustard
two drizzles of Worcestershire
a plop of fresh minced garlic
a handful of brown sugar
and salt and pepper to taste
Pour ingredients into a pot. Bring to a boil and then turn down and simmer 20 to 30 minutes. Adjust seasoning with salt and pepper to your liking.
Start with one brisket trimmed of excess fat. Rub the brisket all over with pureed garlic (you'll need about three cloves). Season the brisket with salt and fresh ground pepper. Brown both sides of the brisket on a grill, or a lightly oiled heavy-bottom skillet. Lay the brisket in a deep baking pan and cover with sliced onion, chopped celery and a few bay leaves. Pour a coffee cup of Rossi's or your fave BBQ sauce over. Add 2 cups or so of water to the pan. Bake, uncovered, at 400 degrees for a half-hour, then lower the temp to 300, cover, and bake for three hours. Keep adding water if things dry up.
This meal can be prepared a day in advance and is probably even better that way. When you're ready to serve, heat up on the grill basted in BBQ sauce and enjoy. Or shove in the oven. My best advice is to slice into portions when it's cold since this meat should be way soft when it's hot. Yummmy!
Rub spare ribs all over in salt and pepper and place them in a shallow baking pan. Cover the ribs with dark beer, and throw in a big mess of peeled and quartered onions while you're at it. Put foil over the top of the pan and put it in the oven at 400F to steam and soften. After about an hour, take it out and remove ribs from the hot beer. Pre-steaming your ribs will ensure that they will be fall-off-the-bone soft and juicy, and you can do this part up to a day in advance. When you're closer to eating time, baste them in Rossi or your own barbecue sauce and either put them back in the oven at 300F for at least another hour, or until they're soft and tender. Or on the grill over low to medium heat for about a half hour. Ribs can vary in cooking time depending on the batch of ribs you've got, but you'll know they're done when the meat just pulls off the bone.
I always say good BBQ should not require teeth. Soft and ready is my motto!