Fashion Week always excites me personally and professionally, but as a native Brit, I especially look forward to Fashion Week in London. British fashion in general I feel particularly proud of; the talent emerging from my cosmopolitan home-city is consistently setting us apart from the rest of the fashion world.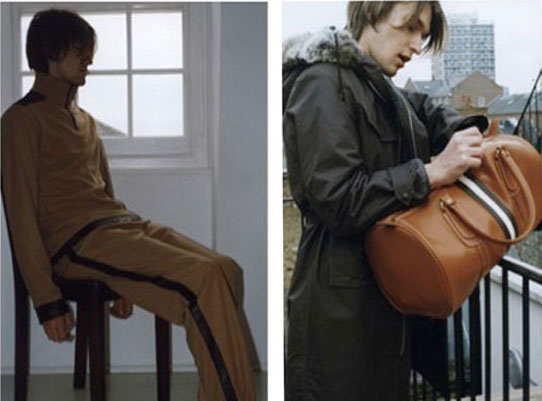 I think part of my appreciation stems from once having had my own line. When I graduated from Central Saint Martins, I started my own, clothing company called AKA, which was actually pretty trendy at the time. Unfortunately, I graduated during the dreadful '90s recession and as one can imagine, it was an uphill battle to keep an independent fashion business afloat.
Like many others in fashion design industry, the business side of things was not really my cup of tea. The struggle of reconciling the difference between what I could actually afford to sample, versus what I needed to express my vision defied my logic as a creative, and frustrated me to no end.
Today when I see an intricately designed collection coming out of London, I know there was blood, sweat and tears out into each stitch, but through their sheer determination and expert eye for style, they made it work.
Fashion students from around the globe dream and strive to train in London. For example, my alma mater, Saint Martins' hallowed halls churned out the likes of McQueen, Galliano, Beradi -- genius individuals with such immense talent that their collections have left an indelible mark on the fashion world. As one can imagine, these scions of design have set the bar high for those starting out.
Because the competition to succeed and become one of those revered individuals is so high in fashion schools, students now are pushing the limits of innovation and seeking out a personal, original aesthetic.
But if I had to sum up British fashion in one word, it's competition.
Even on a consumer level competition is visible. The British high street sets the trend for desirable and affordable fasion. Topshop, Cos, ASOS, Dorothy Perkins, and Debenhams (along with their designer collaborations) showcase runway trends for a fraction of the price. This in turn causes the runway designer to work even harder to ensure their collections meet even higher standards to set themselves apart and justify the higher prices. The runway is about setting trends and causing frenzy, while the high street is about selling the trends to the masses.
This year's Spring 2013 RTW was no exception for British designers; the runways were diverse in aesthetic and mood. My friend, frenzy was started.
My favorite trend ran through many of the collections -- the color was BLUE. From the midnight shade at Burberry to Robin's egg seen at Erdem, it was a pretty and modern statement.
Below I highlight six of my favorite London Fashion Week "competitors" and future High Street inspirations.
Jonathan Saunders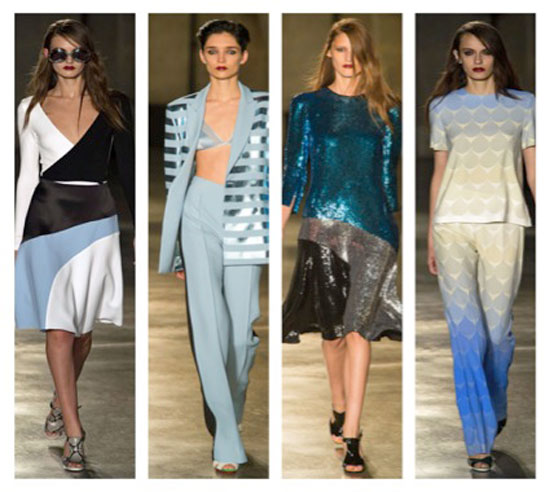 For me, Jonathan Saunders' Spring 2013 collection was an underwater daytime disco! selected the four looks pictured from a show of many favorites. I love his use of the stripe for the throwback '70s wrap dress style mixed with a modern and super bold print. In the next image I love the suit combo with heavy jacket over bra... it's so '90s, yet somehow so fresh! Putting a foil stripe print on a suit jacket screams originality. Next, the sequin dress I want RIGHT NOW! It's sexy-cool and even though it's covered in sequins it looks totally wearable -- right? In the last JS image we see a recurring Fashion Week trend -- the graphic print top and pant combo. I just love the matching retro print. As a whole, Jonathan Saunders presented a fresh collection with a lot of wearable 'buy me now' shapes. You hear that high street?
Mulberry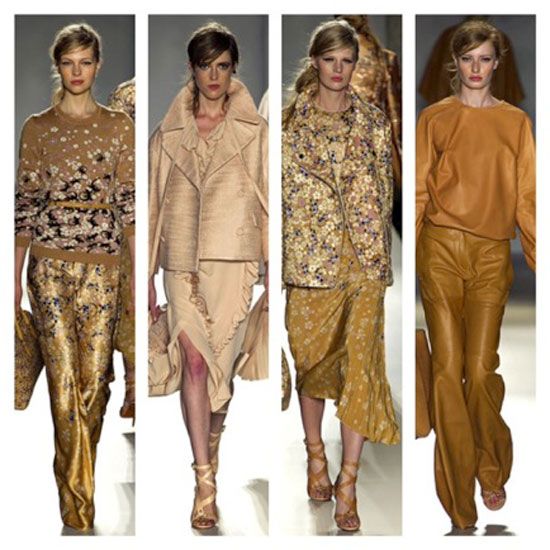 Mulberry is always steeped in heritage mixed with a huge dose of now. They really understand what It Girls want every single season. This Spring 2013 collection was soft feminine and wearable. I adored the mixed caramel leathers and nude silks -- luxurious and feminine. I can't wait to get my hands on those soft silk dresses hidden under the heavy over-sized coats.
As you will learn I'm a huge fan of print on print, next to print and on top of print. So naturally I loved the floral displays in all tones and sizes mixed, matched, and worn together. The caramel leather on leather ensemble feels so wrong in theory but was so right in reality. Leather + leather = luxury. Love it.
Burberry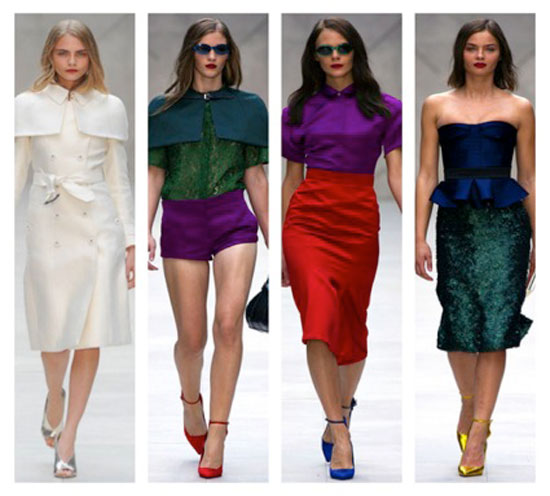 Burberry's Spring 13 runway presentation was one of my favorite Burberry collections ever shown. When they created this collection they must have had a strong confident woman aware of her sexuality in mind. The bold jewel toned color palette with a splash of contemporary metallic made this collection modern and engaging. The shapes are desirable; the fabrics were flattering and expensive. The white caped trench was clean, classic -- less fuss more confidence. And as they do, Burberry thought of everything: the shoes were delicious, that pop of color on each girl was sophisticated confident and fun.
Antonio Beradi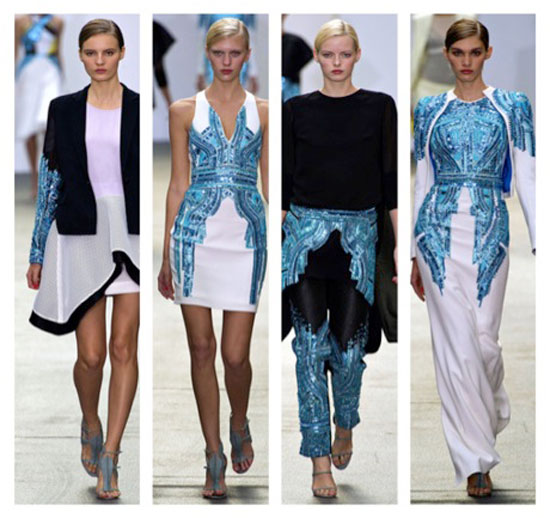 Beradi Beradi Beradi. This collection is everything I love about his designs. Red Carpet Ready designed with your signature ingredients: great fabrics, flattering shapes, classic feel and an extra huge dash of special.
The blue metallic prints were almost cyborg-like, and let's talk about the blue he chose. That hue is pretty on anyone and can serve as a perfect contrast to the deep heavier bodied colors of fall. The pants in the third image would look great with a simple black tee and a black sneaker. I can't wait to get these pieces on my girls.
Erdem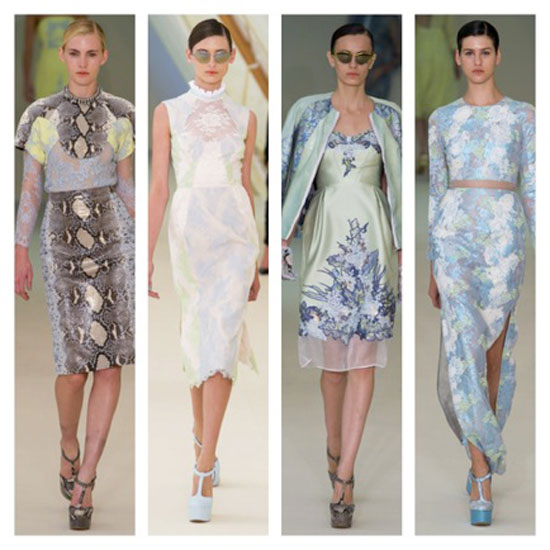 Erdem Moralioğlu's Spring 2013 collection was the icing on the LFW cake. Literally -- all the icing colors I would use to decorate a wedding cake with! The yellows, blues and creams were so soft and feminine; so delicious I wanted to devour them until I was sick. I loved the combination of snakeskin print and fondant colored lace; this dissonant aesthetic I feel Brits accomplish so well.
Erdem is truly one of the greatest contemporary designers and will be remembered for years to come. Every season Erdem leaves footprints and ups the bar for high street, not to mention his designer peers.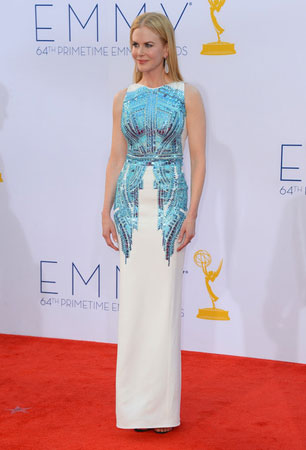 So after writing this entry, literally days later, Nicole Kidman wore Spring 2013 Beradi to the Emmys! Major moment for them both in my opinion, in a sea of fishtails she kept fashion lovers happy!!
I'm looking forward to more LFW runway spotting on the red carpet and hoping all my girls get their moment, but for now it's time for Paris Fashion Week! Au revoir!