If you were lucky enough to read my last article about my trip to Bolivia and Peru (wink wink), then you are already familiar with my love for print, color and texture.
I'm so excited to blog again! I questioned how I could top such an epic trip, but luckily it's time for designers to show their resort collections, so I have plenty to write about. In particular, I'm excited to write about my favorite (so far): Givenchy!
My aim was originally to write a round-up of what I love about resort lines -- and that will indeed follow -- but I became totally mesmerized by Givenchy, and felt it was time to write down and examine exactly why I love Ricardo Tiscis' work so much.

Once upon a time in my personal fashion world, around 2007, I was obsessed with Balenciaga; in fact, friends would say my first child should be named as such.
However, there was always Givenchy as my second child. Givenchy has, over the last five years, grown to become my golden child.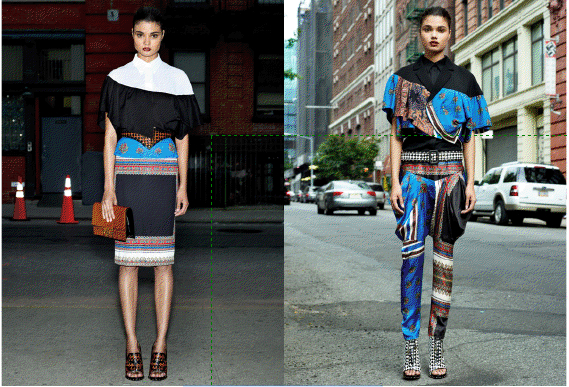 His resort collection is genius.
What I immediately love about 'resort' as a collection is how wearable it is and it's lack of over-thinking. It's the season that goes from Autumn's layers of detail into Summer's lighter moods.
One thing in particular that I love about Givenchy's resort presentation is the urban backdrop of New York. I love the contradiction of the exquisitely tailored clothes against a gritty grey backdrop full of Honda Civics and traffic cones. It sets a cool tone without trying too hard. The models stand like statues, as it really is not about them, but rather about the clothes.
This collection, with all of its classic silk scarf prints on luxurious fabrics cut into harem pants, caped shirts, and pencil skirts, is a marriage of all things random that makes it modern, brave, and fresh.
I, like Ricardo Tisci, studied at Central Saint Martins, in London, where they taught us to always throw together at least two wildly different influences in order to be original. This is my mantra.
Far from a regular 'gypsy' inspired collection that would normally showcase frilly skirts and raglan sleeves in a Stevie Nicks sort of Italian way, Ricardo combined ladylike elegance with bohemian drapery.
The silk printed pencil skirt with the lopsided color blocked blouson shirt is a uniform silhouette we recognize, but fragrant in Givenchy originality and darkness. With everyone on the high street copying Celine's simplicity, I think Givenchy will give them a run for their money. Its color, print, silk and tailoring are hard to copy.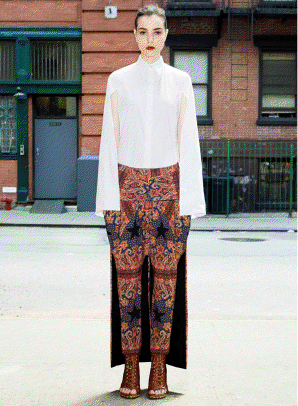 The slashed sleeves in the buttoned up shirts rebel against the current simplistic tomboy trend. I also loved the coat tails on the backs of pants which hang so from the rear that they look more like a long skirt. It could have been a frilly half apron skirt to match the print and harem style of the pants, but not in Givenchy's world. Instead it must be a very graphic squared tail to contrast the gypsy in her.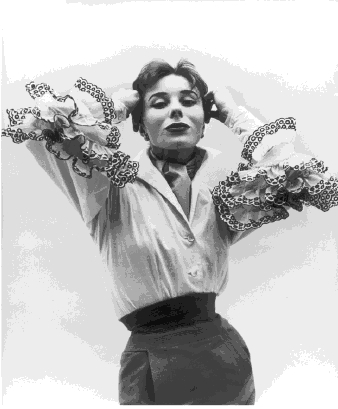 Bettina, Hubert de Givenchy's muse, wore the gypsy shirt well in years passed, but to merely copy this just wouldn't be forward thinking. Ricardo welcomes the future with brave arms. He is not afraid of a ruffle or of lace but he re-interprets these classic elements for a younger girl who is effortlessly chic.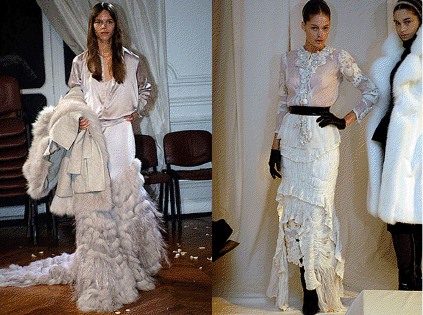 Ricardo presented his first haute couture collection for Givenchy on July 7th in 2005.
When you look at these photos of this first collection, you see strength to his work. It is beautiful and cool. It is effortless yet intricate.
You can compare it to this 2011 couture collection that blew my mind.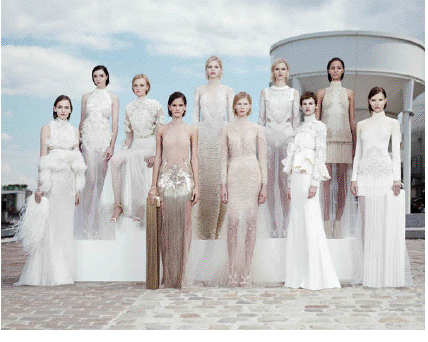 His influences remain the same. Bettina is still present but the fabrics evolve and the work becomes even more involved whilst it evolves.
I admire the fact he can be so incredibly beautiful with couture and then so wearable with resort. This red look from resort 2011 was just so inspiring at the time because It was red, the timing was fantastic. And the lace workmanship on the oversized jacket styled with baggy crotched tailored pants was Givenchy smart. The mix was perfection.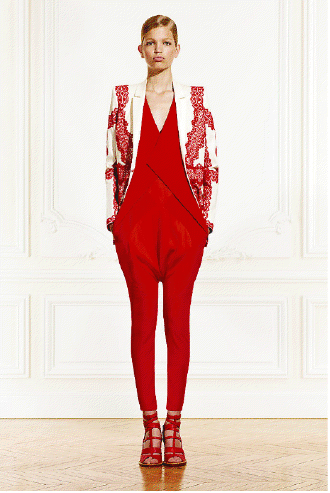 His designs are everything I love about fashion, plus he chooses modelswho are strong women. For example Giselle and muse Mariacarla Boscono aren't meek women.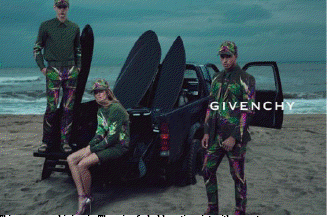 This summer ad is iconic. The mix of a bold exotic print with army tones on sportswear shapes is just brilliant.
Plus, the fact that they are on a stormy beach with black surfboards is genius as well. It needs to be dark to be Givenchy; they couldn't be all smiles and exposed mid riffs under a California sun. That just wouldn't work.
No, what works are the contradictions. These are what keep Ricardo top of his game, whether it's a stormy beach for a summer ad campaign or tailed harem pants, the wrongs are always right.
Photos courtesy of Givenchy.