At this time of year, when the sun is most hidden,
the holiday of Hanukkah celebrates the rays of hope and light. - Rafael Goldstein
Hanukkah begins very early this year -- the first of December. Growing up in a big Irish-Italian family in Scranton, Pennsylvania, I wasn't fortunate enough to enjoy the delights of Hanukkah as a child. But when my husband and I moved to Westport, CT with our twin girls, we learned all about the Festival of Lights. We were invited to the homes of the girls' friends for the lighting of the menorah, and our daughters were often given the honor of lighting the candles with the shamus or servant candle. Afterwards, we would thrill to the stories of the courageous revolt of the Maccabees after the defiling of the temple, and the miracle of the tiny cruse of oil that burned for eight days. The children played dreidel games, and ate chocolate gelt in memory of the coins that used to be the traditional gift, now replaced by much more elaborate gifts. And then, best of all, we ate the delicious potato latkes, fried in oil, of course, as is fitting for the holiday. With an Irish mother, I had grown up with potato pancakes that were very good, but latkes had some special extra something. This is not to be repeated to my mother, please!
But the very best latkes that I have ever had, hands down, are the sweet potato latkes that Sheila and Marilynn Brass, the fabulous Brass Sisters from Cambridge, Massachusetts make. This is their grammas' recipe and they pronounce them LOT-keys, as did their Russian and Polish grandmothers. It was Sheila and Marilynn's idea to use sweet potatoes to give the latkes their golden color, as if they were coins, tying them to the traditional Hanukkah practice of giving gelt as a gift.
Sheila and Marilynn are heirloom bakers, home cooks, and acclaimed cookbook authors. Their first book, Heirloom Baking with the Brass Sisters, was finalist for the James Beard Foundation Award, almost unheard of in a first book from a pair of unknowns. The sisters, who worked at WGBH, are experts in culinary antiques, with a wonderful collection of molds, utensils, and whimsical items. The unmarried Sheila and Marilynn, "unclaimed treasures" in their words, have 120 years of cooking experience between them. They're charming, delightful, and witty, with the broadest Boston accents you've heard since Tom and Ray on Car Talk. In fact, they are Car Talk for food!
Marilynn Brass: Would you say that I have a Boston accent?
Sheila Brass: Is she kidding?
The Brass Sisters recently appeared on Food Network on Throwdown with Bobby Flay where they took Bobby down with their indescribable Pineapple Upside Down Cake. The Brass Sisters premiere in their own show on nationwide TV on Sunday, December 5 at 8 PM in The Brass Sisters Celebrate the Holidays on the Cooking Channel. You'll get to see them make these easy and delicious latkes that are shown below, as well as a mouthwatering feast for a hungry brigade of firefighters, that will give you great ideas for your holiday entertaining. Tune in for homemade red velvet cake, Hanukkah gelt, spice cookies, cheese cake, and lots of laughs because the Brass Sisters are the sassy, knowledgeable aunts we all wish we could have. And now we can!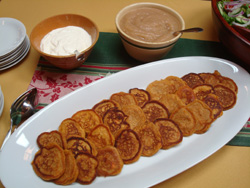 Sweet Sweet Potato Latkes
(Recipe courtesy Marilynn and Sheila Brass and Cooking Channel)
These are similar to the latkes that both our grandmothers, Katziff and Brass, made for us. These are lighter than the traditional lacey potato latkes made from grated potatoes. To celebrate Hanukkah our sweet potato latkes are fried in oil. They are good with sour cream or applesauce, or even lightly dusted with confectioners' sugar. The recipe can be doubled.
1 cup all-purpose flour
2 tablespoons sugar
2 teaspoons baking powder
1 teaspoon ground cinnamon
1/2 teaspoon ground nutmeg
3/4 teaspoon table salt
1/4 teaspoon finely ground black pepper
1/2 pound sweet potatoes, peeled, cut into 1-inch chunks, and steamed (See note)
2 large eggs
1/2 cup orange juice
Grated zest of 1 orange
1 tablespoon unsalted butter or margarine, melted
2 tablespoons vegetable oil for frying
Sour cream, to serve
Applesauce, to serve
Confectioners sugar, to serve
In the bowl of a food processor fitted with the metal blade add the flour, sugar, baking powder, cinnamon, nutmeg, salt and pepper and pulse until mixed. Add sweet potatoes, eggs, orange juice, orange zest, and melted butter and process until smooth. Line a baking sheet with two layers of paper towels.
Put a 10-inch flat metal pan or skillet over medium-high heat, add the oil, and swirl. The pan is ready when the oil bubbles. (Or you can drop a tiny bit of batter into the pan: when batter begins to brown, the pan is ready.) Add a heaping tablespoon of batter to the griddle and spread it out with the bottom of the spoon until it is 3-inches in diameter. Add more latke batter but do not overcrowd the pan. Cook until the latkes begin to bubble around the edges, about 1 1/2 minutes. Turn the latkes over and continue cooking until the bottom turns golden brown, about 1 to 1 1/2 minutes. Do not overcook the latkes.
Place the fried latkes on the prepared baking sheet and cover with 2 additional sheets of paper towel. Press gently to remove excess oil. Serve the latkes immediately or put them onto a baking sheet and keep them warm in a 200 degree F oven. Latkes are best served the day they are made. Serve with sour cream, applesauce, or confectioners sugar.
Leftover latkes can be wrapped in plastic wrap, stored in the refrigerator, and reheated in a 300 degree F oven the next day.
Cooks' note: The sweet potatoes should be steamed about 15 minutes until fork tender and should not be soft or mushy. Sweet potatoes can also be microwaved in a glass pie pan with 2 tablespoons of water, covered with plastic wrap, for about 7 minutes.
Yield: 30 3-inch latkes
Prep time: 20 minutes
Cook Time: 25 minutes
Inactive prep time: 0
Ease of preparation: Easy
This recipe and many other family favorites are available on DishandDine.com. Stop by and become part of this grass roots global food community!
DishandDine -- It's All About Food
http://www.dishanddine.com
http://www.facebook.com/DishandDine
http://www.twitter.com/DishandDine