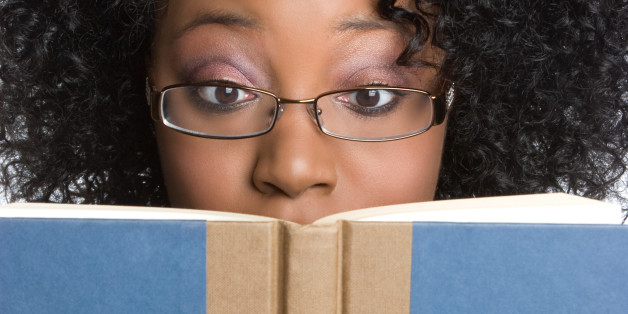 Apparently, I've been going about life as a Black woman all wrong. Here I was thinking my melanin and my 4a 'fro were the only Black cards I needed, when in actuality, Black womanhood is about so much more... well, according to the people at Lifetime, that is.
Last week, the network debuted it's latest side-eye show, Girlfriend Intervention, aimed at its growingly diverse audience. Armed with sass, Indian Remi and neck rolls for days, the show chronicles fixer-upper white women who, with the help of their very own noble band of lip-smacking Black women captioned as lifestyle and beauty coaches, attempt to unleash their inner Sasha Fierce. Think "Queer Eye for the Straight Guy," but much more offensive.
With the SMH tagline of the season, "Trapped inside of every white girl is a strong Black woman ready to bust out," the show could be laughable if it wasn't wrong at nearly every level.
Toss aside the fact that the show reduces the "strong Black woman" to nothing more than a big booty and a hand to the hip and sweater-clad white women everywhere as "basic," and we've still got 99 problems. No. 51 being that former "Bad Girl" Tanisha Thomas, who earned a place in reality show hall of fame by busting freestyles to a cookie sheet and saucer pan beat, has apparently rebranded herself as therapist of sorts, or what the show has dubbed a "soul coach" (because part of being a Black woman is remixing existing terms to give them more "soul," because Merriam-Webster's version just didn't have enough swag.).
But cackles and sista girl high fives aside, there were a few teachable moments for me in the midst of the 60-minute foolery. So, in the event there's a 26 ''waist, 45'' hip Black woman just dying to break free inside of you, here are a few tips guaranteed to have Lifetime knocking on your door and sending you down the "catwalk of shame" in no time.
Cast your body image issues to the wind.
The bigger the booty, the more confident the Black woman. Who has time for a body pity party when you're strutting through life bouncing nickels off 'dat a**? "As Black women, we definitely embrace our size for what it is," says style guru and one-fourth of the Sisterhood, Tiffany Dixon. Oh, but those "basic" white women? Well, after love, marriage and the baby carriage, it's all downhill. As Thomas puts it, "with Caucasian women, you get married, you marry the man of your dreams, you have his children, and now it's time to stop taking care of you? Girl, I missed that memo." Remember ladies, as a Black woman, your booty is your best accessory. And with all that bounce to the ounce on your backside, there's no time to be self-conscious.
Tell it like it is.
No bottling of the emotions here. As a Black woman, it's your right, and doggonit your duty, to speak to truth to mopey white women.
Rapping is preferred -- in fact, it's strongly encouraged.
A Black woman never leaves home without an eight-bar. Soul sistas tend to live their lives to a soundtrack (preferably a Beyoncé one), so it's only natural most are born with an innate ability to bust a flow at any given moment. Whether you're a white girl from Orange County or a socialite on the Upper East Side, spitting dope lyrics is a prerequisite to join the Chocolate Club. So, grab a mic, tell the DJ to drop the beat and get your Yoncé on.
Don't ever (and I mean EVER) befriend a white mannequin.
Need I say more?
Look your best at all times.
Because no Black woman would be caught dead or alive in a knit scarf and Ugg boots. Life may be falling apart, but your makeup, hair and nails must remain intact at all times. Besides, no Black man wants a BW (basic woman) by his side, so get it together, girls.
Always keep a quartet of sassy Black women readily available.
So what's the secret to success as a Black woman, you ask? Well, your sistas, of course! Due to the size of their derrières, they will most likely not fit in your back pocket, so you'll have to find alternative storage methods. A word of caution: Only use these girls in times of distress, styling tips or when in need of serious laughter, as most don't function well in intellectual conversations.
Bands may not make you dance, but darn it, some type of beat better make you bust a move.
Again, Black women and other women of color have rhythm and therefore, so must you. Surprisingly, the dance of choice is not always the twerk. Other ethnic dances like the Wobble or Salsa are also approved.
So, there you have it, ladies. Everything you need to know about traveling the road to Black womanhood sans blackface. Now toot your booty, find a posse, pray to the hip-hop gods and make us proud.