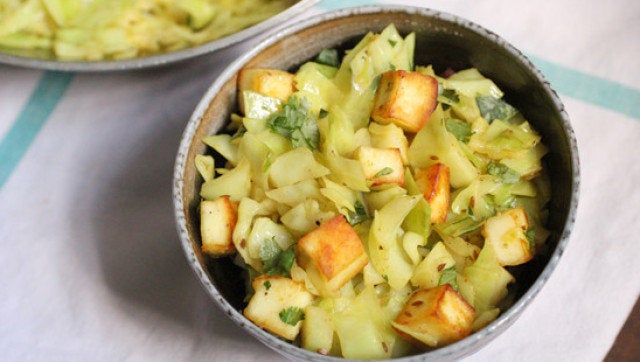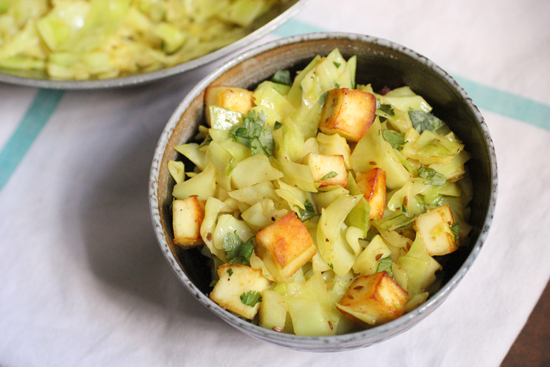 This cabbage & paneer stir-fry is my play on the popular palak paneer (spinach & cheese) or saag paneer (mustard greens & cheese), but made with cabbage, which is in season now, instead of spinach or greens. When I teach my cooking classes, I always stress that Indian recipes are super flexible, meaning that you don't have to get into a rut by using the same ingredients over and over again for one recipe. This curry is an example of that, and the cabbage actually adds a totally different texture, giving the dish a good crunch.
I got a small head of cabbage from the farmer's market.
I chopped the cabbage up and cubed & lightly fried some paneer, Indian cheese.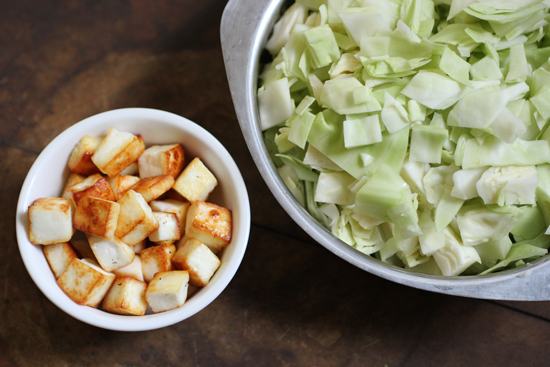 This stir-fry uses a few Indian spices and cooks up really fast. I ended up eating it with some flatbread and yogurt on the side.
Hope this stir-fry inspires you to go beyond saag paneer, although saag paneer is really good too;)
Cabbage & Paneer Stir-Fry
Ingredients
small head of cabbage, chopped
8 ounces paneer, cubed & lightly fried
2 tablespoons vegetable oil or ghee, + a little for frying paneer
pinch of hing or asafetida
1 teaspoon cumin seeds
1 teaspoon coriander powder
1/3 teaspoon turmeric powder
1/4 teaspoon garam masala
1/4 teaspoon chili powder
salt
squeeze of lemon
cilantro for garnish
Coat a non-stick pan with oil and turn the heat to low-medium. Add in the paneer cubes and fry until browned. Keep an eye on the paneer and keep turning them so they don't get too over done. Set aside the paneer on a paper towel on a plate.
In a wok under medium-high heat, add in the 2 tablespoons of oil. Add the pinch of hing and cumin seeds. Shake the pan up. Once the cumin seeds start to brown, add in the rest of the spices and mix well. Fry for a few seconds until they become fragrant.
Throw in the chopped cabbage & some salt and mix well. Add a few tablespoons of water, mix & cover. Turn the heat to low-medium. The cabbage should cook in about 10-15 minutes. Mix in the paneer gently & cook for another minute or two. Turn off the heat.
Squeeze lemon and garnish with cilantro. Serve with roti or tortilla with yogurt on the side.