August 9, 2014 Primary Elections is a big day for Hawaii. Winners and losers will be picked for the November 6, 2014 General Elections.
The Primary Elections only allow Single Party voting. If you have preferred candidates in different parties, there have to be sacrifices made.
The 2014 election season has provided stiff competition to the popular Korean dramas on TV. So far, one Maui mayoral candidate was tazed by police after a chase and the other candidate faced police arrest after a mayoral forum.
Kauai
hosts the exciting mayoral campaign of Dustin Barca. Supporters engage in activities that include highly successful voter-registrations and surf board exchanges.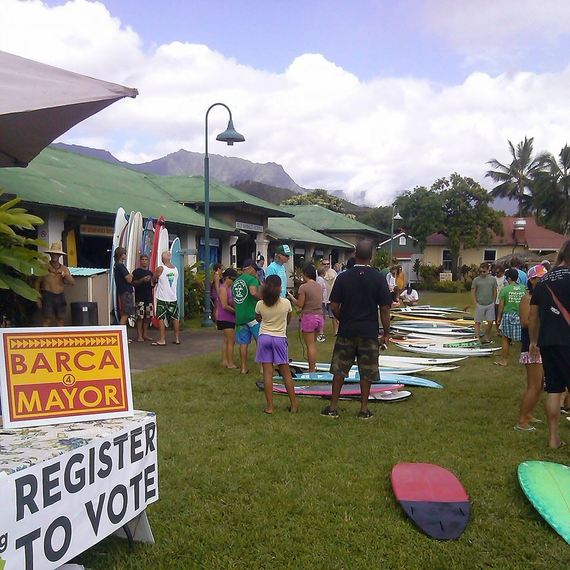 The candidate Dustin Barca embarked on a round-the-island tour on land and sea.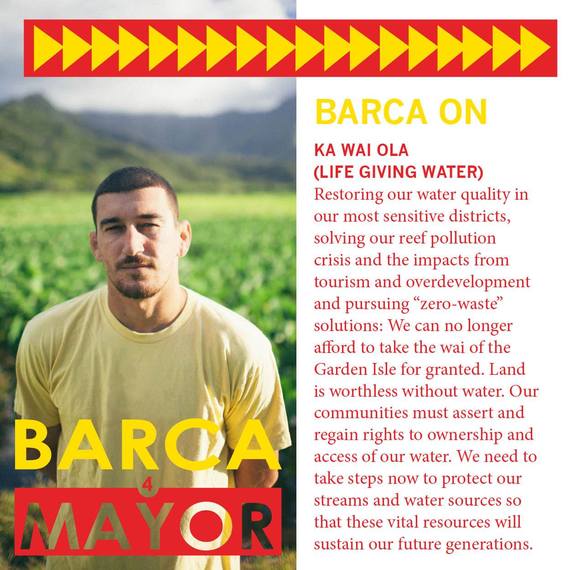 In Oahu, the Gubernatorial campaign between incumbent Governor Neil Abercrombie and Hawaii Senate Ways and Means Chair David Ige could make history on August 9, 2014.
So far, Abercrombie has collected $5 Million from donors, including Oracle's CEO Larry Ellison who recently bought 98 percent of the island of Lanai. Ellison's luxury yacht has been sighted around the Hawaii waters. With big-monied support and other eyebrow-raising donations, Abercrombie is generating substantial discomfort from astute voters.
It doesn't help that Governor Abercrombie consistently exploits the metaphor of all Hawaii paddling in the same 'canoe':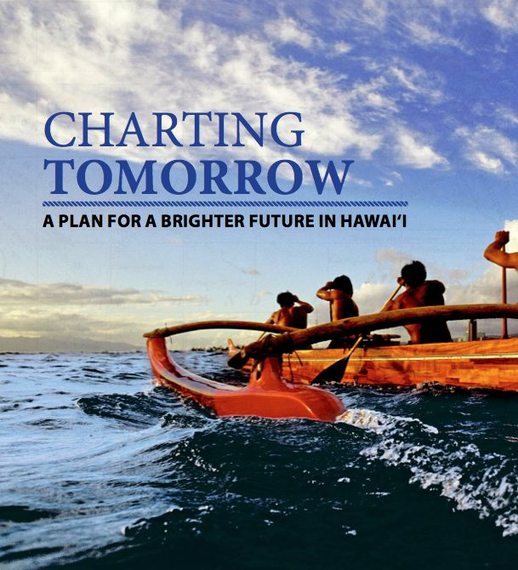 However, the general populace feels it is paddling in a canoe while the Governor is sailing in luxury next to it.
On the other hand, Senator David Ige was asking for $5.05 or $25.00 donations. Thus far, Ige has collected about $500,000.00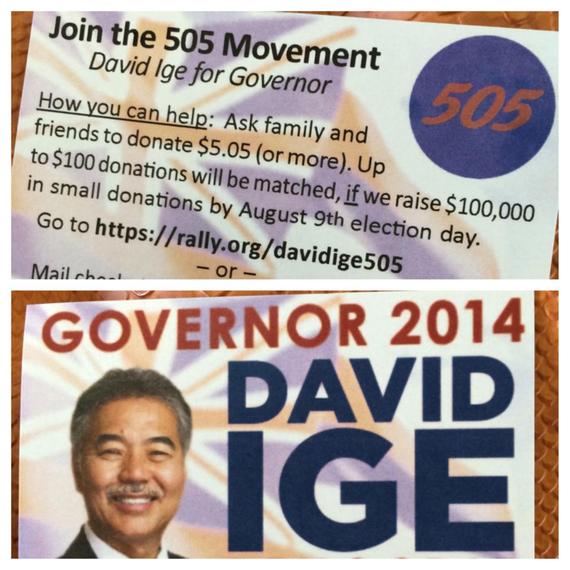 It's logical to assume that Governor Abercrombie will be beholden to the affluent donors. His gubernatorial decisions have supported this premise. Besides the stark contrast in campaign funding, the personalities of these two Democrats are substantially different.
Congressman Neil Abercrombie was miles away with his gregarious personality in Washington, DC. Hawaii residents had re-elected him, along with his Beltway chest-thumping and fist-pumping style.
But his four years as Hawaii's Governor have been intransigent, volatile, and even downright abrasive.
Abercrombie's post-election turncoat stance on environmental issues such as supporting the controversial Ho'opili development on 1,555 acres of prime agricultural land and the stealth Public Land Development Corporation (PLDC) created a revolt that galvanized islanders throughout Hawaii. Senate Bill 1555 (authored and pushed by Sen. Donovan Dela Cruz and Malama Solomon) was enacted as Act 55 ~ Public Land Development Corporation (PLDC) ~ by Governor Neil Abercrombie in 2011.
Act 55 established the PLDC as a State development corporation attached to the Department of Land and Natural Resources (DLNR) to develop public lands placed under the PLDC jurisdiction, including but not limited to existing open shoreline areas, conservation lands, agricultural lands, and small boat harbors, for commercial purposes to generate revenue for the State.
Act 55 allowed PLDC to exempt development projects from regular oversight. PLDC had over-arching powers to make optimal economic, environmental, and social use of Hawaii's public lands. The PLDC Commission was stacked with pro-development cronies.
Clearly, the public saw the threat and fought tooth-and-nail for the repeal of this Act. Amidst name-calling, tantrums, and abuse of the bureaucratic powers, Governor Abercrombie reluctantly signed the PLDC Repeal on April 22, 2013.
The recent accelerated pace of development at Kaka'ako through the Hawaii Community Development Authority ( HCDA), which he as Congressman had earlier opposed, alarmed and offended the sensibilities of many. Revelations of campaign funds from special interests did not help the incumbent Governor.
Senator David Ige, on the other hand, has been a steady and respectful legislator who does not crave or create public limelight. He is known to offer a listening ear to all. An engineer by trade, Ige has been methodical, concise, and not flamboyant. His wife, Dawn, has been a public school teacher and now a Vice-Principal. They are parents of three children. When Ige graduated, he was offered over forty jobs but he chose the only one available to him in Hawaii.

Interestingly, Senator David Ige's father was in the 100th Battalion of the 100th Battalion, 442 Regiment Combat Team and so was his wife's father. Most of these men rarely talked about their wartime experiences but embodied the best of local values - duty, respect, and sacrifice for family, community and country -- that make Hawaii special.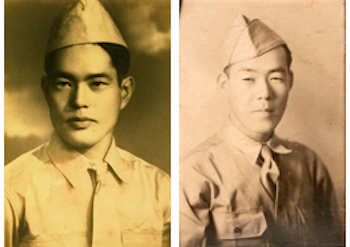 Finally, the nuances of the Democratic Party and the local-style values are distinctly rising to the surface. After a divisive Caldwell vs Cayetano Mayoral race in 2012 with Beltway dirty politics and obscene infusion of millions of dollars for media disinformation, the public has had enough.
Former Governors George Ariyoshi and Ben Cayetano have stepped forward to take a stand for Ige. Former Governor John Waihee favors Abercrombie and is a constant presence in the air-waves.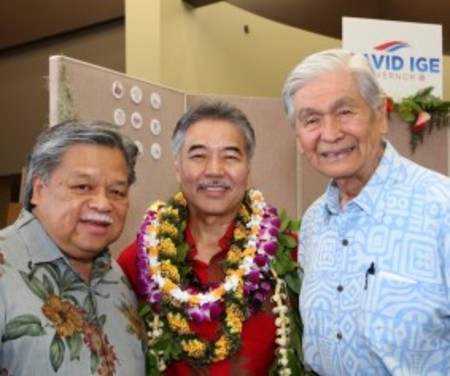 High hopes are being placed in Senator David Ige's local upbringing/style record - the local Mr. Rogers who believes "it's all about doing good instead of looking good."
The public wants to regain what Hawaii is about -- aloha, fair play, kokua, laulima, respect for others, and especially making decisions that will benefit many. Residents also want to preserve Hawaii's finite resources and unique inheritance for future generations.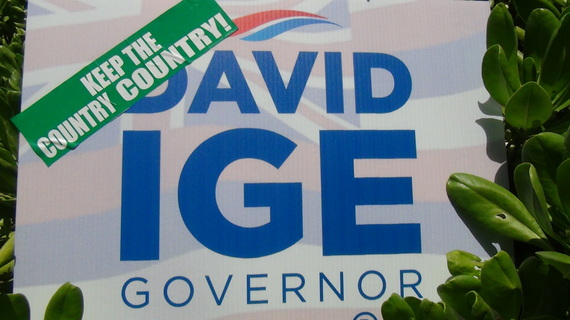 Despite Governor Abercrombie's $5Million campaign chest for a relentless barrage of media advertisements, recent polls have Ige in the 54 percent and Abercrombie in the 36 percent bracket.
It appears many in Hawaii, if they actually get out and vote, are poised to allow Senator David Ige the opportunity to steer the canoe.
Photo credit:
http://www.davidige.org/
http://neilabercrombie.com/
https://www.facebook.com/DustinBarca2014