Chances are high that you have a huge bag of cotton balls underneath your bathroom sink. While the puffs are great for first aid, they can do much more than, say, cleaning off a cut. Here are my favorite other uses for cotton balls -- be sure to share yours in the comments!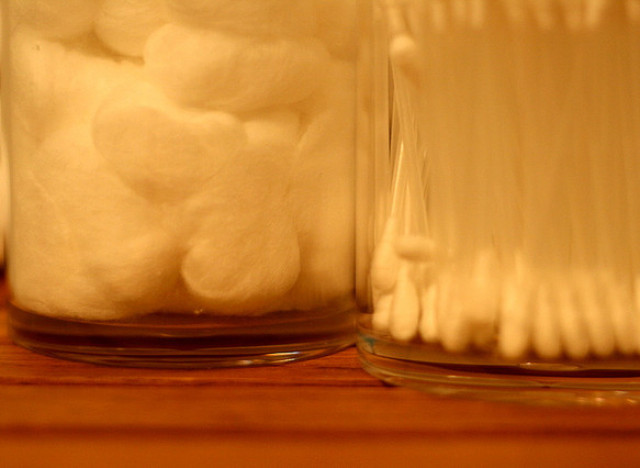 Flickr photo by prettyinprint
- Rubber Glove Saver. Long nails can puncture the ends of rubber dish gloves in as little as one use. But you can prevent this from happening by placing a cotton ball in the tips of each finger. They'll act as buffers, preventing nails from poking through the rubber.
- Corner cleaner. The corners of tiled areas can be hard to clean (especially if you're dealing with mildew). To clean them without a special gadget, call on cotton balls. Simply soak one in the cleaning product of your choice (or bleach), then place into the corner. Let sit for at least a half hour. The cotton will "release" the cleaner into hard-to-reach crevices for easy clean-up.
- Daffodil plug. You can make these seasonal blooms last longer by filling their hollow stems with water, then plugging with a cotton balls. It functions kind of like those mini water tubes that come with mail-order flowers.
- Mice bait. Forget cheese...instead, bait your traps with a cotton ball doused in a few drops of vanilla extract.
- Ant repellant. Ants are a hot topic here -- and I think we can all agree that there can never be too many ways to get rid of the unwanted pests, especially in places like cabinets. One natural repellent is peppermint. To use it to get rid of ants, simply soak a cotton ball with peppermint oil. Then, place the soaked cotton ball in the corners of cabinets.
And to catch up on previous installments of "5 Uses For...", check out this handy slideshow.
PHOTO GALLERY
5 New Uses For Everything