Are you like me and have a seemingly unending supply of plastic shopping bags shoved in cabinets around your house? Instead of letting them accumulate, there are many ways that you can put them to use. Here are some of my favorites.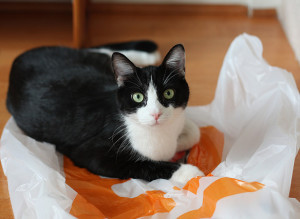 Flickr photo by Mr. T in DC
PACKING MATERIALS
Whether you are wrapping something up to be shipped or packing away fragile items, wrap them with plastic bags. Plastic bags are not only lightweight, but when layered, they provide plenty of cushioning. (Hint: The more layers, the more cushion.) If you are sending something through the mail that can be water damaged, placing it in a bag before putting it inside its mailer can also help protect it from moisture.
CROCHETING MATERIAL
Did you know that you can crochet with plastic bags? Due to their unique combination of strength and flexibility, they are just as useful as yarn. It's a fun activity (also very kid friendly) to crochet tote bags out of old plastic bags. BagsBeGone is devoted to the many different things you can crochet with plastic bags, ranging from house slippers to clothing. You can also make durable indoor/outdoor rugs out of bags, as well.
PAINTER'S HELPER
Plastic bags are must when painting. You can line your paint tray with a bag, making it much easier to clean up when you are finished. Plastic bags also come in handy for your brushes, as you can wrap them up when you take your break, not letting paint drip all over the place. (And if you need to take a break from your paint job, simply place the paint brush in a plastic bag and then pop into the freezer. To use again, let the brush "thaw" out.)
PET CLEANUP
As much as we all love our pets, the worst part of having one is cleaning up after them. You can use a plastic bag to make cleaning the kitty litter tray easier by using it as a liner. You can also use them to help clean up after your dog when you go to the park.
GARDEN MAT
Want to make sure you don't get dirty all over your pants when your gardening? Use a larger shopping bag as an outdoor area rug to keep your clothes clean. Place the mat down and kneel on it to keep clean.
So how do you find new uses for plastic bags around the house? Feel free to share them in the comments!
Want more clever uses for the everyday items in your home? Check out the previous installments of "5 New Uses For..." in the slideshow below.
PHOTO GALLERY
5 New Uses For Everything