 Now that we have formally been introduced to the campaign platforms in Tampa and Charlotte, one can't help but notice the importance of energy, regardless of your political leaning. As expected, both parties have fundamentally different views in regards to renewables, climate change, and foreign dependence, but both conventions highlighted the value and importance of energy efficiency in buildings as part of their newly revealed platforms. The Building Owners and Managers Association (BOMA) International publish annual data in their Experience Exchange Report. Based on the report and the range of electricity costs in buildings, the chart below highlights the potential savings in 300-600K square foot buildings in cities around the country.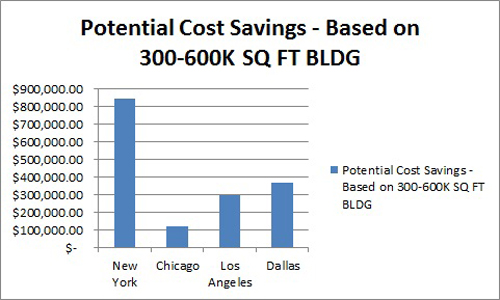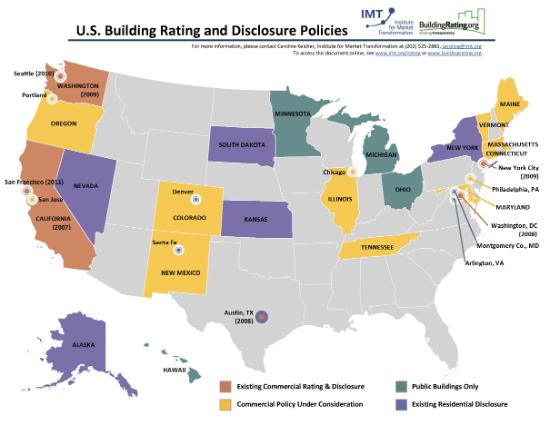 An interesting difference may be the two political parties' views on the role of legislation in mandating performance and transparency, although many cities have addressed it or are in the process of doing so on their own.
As you can see, most major cities have enacted some sort of policy or are under consideration.

My partners and I have created GOBY whilst we wait for the Eutopian Energy World. Goby is different from most of the other energy-saving firms out there. Our backgrounds: business management consultants at PwC and software experts at Ariba bring a unique and much needed refreshing blend of expert business advice and technology to the real estate industry as it relates to going green. Our team is focused on adding value to a Real Estate asset through sustainability. We are not an engineering firm, although we have highly credentialed professional engineers on staff; we are not an architectural firm, although every employee is a LEED Accredited Professional and many Goby staff have A&D backgrounds; and we are not a software firm, although we have created SeaSuite for managing an owners risk-related to sustainability and compliance. At the end of the day, we have set up an organization capable of adding value through sustainability; whether the value comes to the bottom-line through operational excellence, top line through increased tenant demand/retention, or in the form of insurance against risk related to local and national sustainability legislation.

The fact that we started in the worst economy in years (2008) and have made it where we are today is something I am particularly proud of. We now have more than 20 headcount and view our success and growth to industry leader as a real tribute to the hard work and unique offering our team has delivered. At the end of the day, we have shown value to our customers through sustainability; even with the tough economy, people will pay for value -- and that is why we have been successful. While people may not have heard of us yet, most people have stepped foot in one of the many trophy buildings we have 'greened' across the country including Rockefeller Center, The Gaylord Opryland Hotel, and John Hancock Center.

The fact we really like what we do shines through and I believe makes our customers really enjoy working with our team. That, and we add value.

There was a significant study conducted by CBRE which shows expected savings on energy efficiency which I like to reference.

The great thing about SeaSuite is that I can run any report on demand. I just did -- in my shorts and long sleeve tee -- I just ran a report of the over 25M square feet in the program since 2010; the reduction in energy is 23.9 percent. Let's do the simple math on that -- at .05 kbtu, we are now talking over $500,000. Broken down on a per customer basis, that is over $5,000 per customer per year -- much more than the purchase price of the SeaSuite. That's just the hard financials -- now factor in the risk mitigation because of the program, how much do you pay in insurance costs a year? I just met with an insurance company who discounts Energy Star building by 5 percent -- that is all included in our program -- and it is cash flow positive year one.

The challenge is the fundamental shift in thinking -- building managers have accepted the fact they will pay someone to water the flowers, take out the trash -- they need to realize it is time to pay a cost-effective expert to manage sustainability. More importantly, owners are realizing using us manages risk and assists their property managers in a key area -- one that changes daily. And one they are not equipped to manage -- much like running security or any other service.

As an owner or asset manager, do you want to know how the plants get watered, or that they get watered? Goby is that service -- for sustainability. And sustainability is something which isn't going away, it needs to be watered and maintained. Enter Goby -- and when you are ready for more than tracking, the Goby experts are a call away.

What is unique about Goby? We are young and fun, but I wear a suit every day. We are not one of these green firms who think a shower is a weekly occurrence and vinegar is the best deodorant. My customers wear a suit, and I hope they expect the same from me. In fact, outside of the designer jeans I wear out and about, I prefer to wear suits. It reminds me of what we do - we are business people at heart -- business people who drive value through sustainability.

Now, I will say this. Nothing makes me happier than the call I get from the president of a real estate firm who says "Chris, I never believed in this green stuff, but you have exceeded expectations." That is a call I'll take in my jeans any day, any time. And because of our software, it is a call I may get in my jeans -- at 8:00 p.m. on a Saturday night -- when the COO has a second to look at the value we are driving after performing their day jobs all week.

And what we really want is to people to stop griping about energy costs or marching about going green.
We just did it and named our company after a fish.