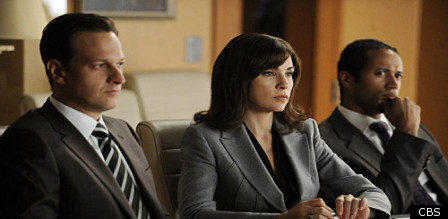 Note: The following contains spoilers if you have not seen Season 3, Episode 12 of CBS's "The Good Wife," entitled, "Alienation of Affection."
"The Good Wife" started 2012 right with quite an episode: Alicia Florrick almost sunk the entire Lockhart & Gardner ship ... but the year of Cary continued as he saved the day with one fell swoop. Plus, the Emmy-worthy Carrie Preston returned to make audiences every where giggle with delight.
There was no courtroom in "Alienation of Affection," a bold move for a legal drama. It wasn't missed. The past came back to bite the firm in the butt after a couple accuses Lockhart & Gardner of encouraging their divorce for the firm's own financial gain. All of this could be solved ... if only Alicia had filed the proper paperwork. After some shifty maneuvering -- and plenty of Alicia and Kalinda scenes -- the paperwork magically appeared.
That's not quite good enough for Burl Preston (F. Murray Abraham) who deposed Cary. However, in a twist, Cary backs up the shady story of the paperwork. When asked why he protected Alicia, he said it's because things change. Cary is growing up! It'd be acceptable to let out another "Aww!" now. I know you did when you saw the actual scene.
The beginning of the episode -- with Diane looking at art, followed by Alicia at school, Will at a wedding and David Lee in a fantastic costume -- set the bar very high for the episode. And it delivered. I definitely spit out my banana when David Lee walked in wearing that getup.
Now onto the more exciting bits of the episode ...
The amount of Alicia/Kalinda scenes. They are somewhat friendly! How cute was it when Kalinda was trying to hide her concern, then smiled when it seemed like Alicia was in the clear? I can feel the tequila shots being prepped as I type!
Carrie Preston's triumphant return. It's time she joined the cast of "The Good Wife" permanently ... or at least signed some kind of contract for a certain number of episodes. Her character, Elsbeth Tascioni, is now representing Will Gardner during this whole State's Attorney investigation mess. Her smiley exchange with Wendy Scott-Carr outside the play hit all the right spots. With Will being served at the end of the episode, my fingers are crossed that "The Good Wife" can steal Preston away from "True Blood" for some more episodes.
David Lee has never been my favorite, but he's never been a detested character. He lives in that gray area of comic relief, very similarly to Eli Gold: two very bitchy men who use their bitterness to move the plot along. But the time finally came that the bitchy men clashed. There wasn't scenery left after the two of them got done chewing it. Unfortunately -- well, maybe fortunately -- neither got their way and both remain at Lockhart & Gardner. In the end, Diane put each of them in their place and it was rather glorious.

Some other thoughts ... mostly about Diane:
Will and Diane are still the perfect couple. Her pep talk when he discussed the possibility of doing the right thing for the firm as his investigation heats up spoke volumes about their relationship.
Diane's Aussie man flirtation was cute, but he's no Kurt McVeigh.
The speech Diane made when Eli came to her -- threatening to go over her head to get votes to get David Lee out -- was perfect. It was about time somebody knocked him off his pompous perch and she got to do it twice in one episode (once solo, once with David Lee)! Christine Baranski was on fire in this episode.
Will's future seems uncertain. I wonder if we'll see any cracks under pressure. After the reveal of Wendy Scott-Carr's real target, when will the second attack start to take place?
Gasp count: Four. A very exceptional episode to start 2012 off right. "The Good Wife" continues to show other network dramas how it's done.
Did you like the episode? Think the firm was right in covering up the actions? Do you think Will is doomed at the hands of Wendy Scott-Carr?
"The Good Wife" airs Sundays at 9 p.m. EST on CBS