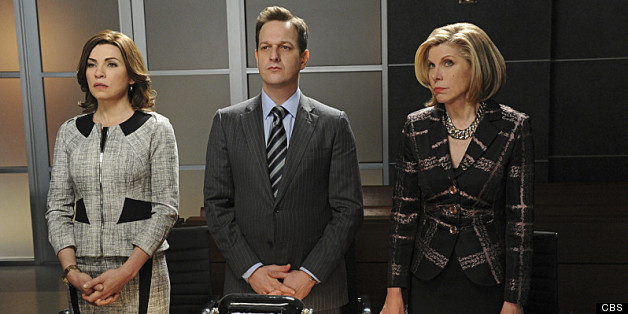 Note: Do not read on if you have not yet seen the Season 4 finale of CBS' "The Good Wife," titled "What's In The Box?"
"The Good Wife" finale moved at breakneck speed and it was filled to the brim with guest stars, including Mayor Michael Bloomberg. Plus, viewers can finally put the gubernatorial election behind them and Alicia made a big decision. Can I have Season 5 now? Please?
Let's start at the beginning: Roseanne Conner's mother from "Roseanne" (Estelle Parsons) was tending a polling place under her new identity Nana Jo. Don't worry, her fabulous beret was still very much present. While Zach was voting, he noticed a shifty character bring in an unsealed ballot box. And so the case of the week was born: Alicia, Diane and Will raced around the clock to get to the bottom of this unsealed box and Mike Kresteva (not seen in this episode) hired Patti Nyholm (Martha Plimpton) to defend his side. Once the contents of the ballot box were exposed and turned out to be in Peter's favor, the lawyers of Lockhart/Gardner suddenly had to change their tune.
If there were ever any doubts about why Martha Plimpton won an Emmy in 2012 for "The Good Wife," this episode should put those to rest. Man, that woman is so fun to watch, especially when she's beating down Lockhart/Gardner.
Ana Gasteyer returned as one of the best judges on the show, in my opinion, after Jordan (T.R. Knight) came forward leveling fraud charges on behalf of his third party candidate. When that didn't work, he tried to muck things up even more, but Zach was able to shoot him down.
The early vote ballots were very much in Peter's favor ... and there was a reason. Kalinda found video tape of Peter's campaign doing quite a bit of tampering. She took it to Will and Will took it to Peter, but he didn't want to make the decision. If Will wanted to bring down Peter, he could've, but then he'd also potentially screw things up with Alicia and possibly for Diane and the Supreme Court. Will kept mum and Peter won ... thanks to shady business. Mayor Bloomberg was there to congratulate him because of course he was. Alicia Florrick is no longer just "The Good Wife" -- she's "The Good Wife of Illinois," but that wasn't the only change for Alicia ...
"I'm in." Raise your hand if you were not breathing for the last minute and half of this episode as Alicia drank some wine and did a light load of laundry waiting for her mysterious guest. It was edge-of-your-seat exciting and totally shocking when she opened the door and CARY was there. No, not for an affair -- she called him there to tell him she wanted to join his new firm. I'm flailing writing this! This is a game-changer and one "The Good Wife" so desperately needed. So it looks like Cary is taking Alicia, Robyn (yay!) and Colin Sweeney with him to his new firm. In getting Robyn on board, he really burned a bridge with Kalinda and he won't like Kalinda when she's angry.
Alicia's other choice? Seemingly Peter, despite a hot makeout session with Will that got interrupted by Diane, who made the best face ever. During their car conversation, Alicia acknowledged things with Will would not end well and in my interview with Julianna Margulies, the actress expressed a very interesting hope for Alicia (and one that I would love to see): a new relationship. While I don't see that happening (yet), I think that'd be a route "The Good Wife" should explore.
Bring on Season 5!
Gasp count: Three. Yes! The gasps were back.
Some other things:
One of my notes while watching was simply: "Martha Plimpton forever."
Jackie's nurse/special friend is a piece of work. We haven't seen the last of him.
Loved seeing Alicia in the bedroom of the suite on election night. It was a nice callback to where she was two years ago when she found out that Kalinda slept with Peter.
Can I get T-shirts printed with Florrick, Agos & Associates on it yet?
PHOTO GALLERY
The Good Wife