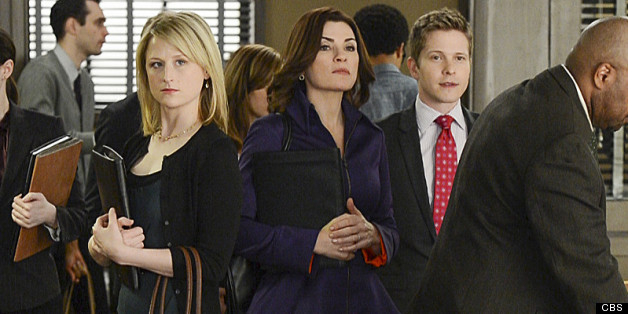 Note: Do not read on if you have not yet seen Season 4, Episode 21 of CBS' "The Good Wife," titled "A More Perfect Union."
Is it a good thing or a bad thing when Stockard Channing is the best thing about an episode of "The Good Wife"? The actress, who guest stars as Veronica, Alicia's mother, and recurring guest star Dallas Roberts as Owen, Alicia's brother, routinely delivered the goods in "A More Perfect Union."

"I don't like sarcasm it's cheap." The penultimate episode of "The Good Wife" Season 4 saw the return of Mamie Gummer, fresh from the cancellation of "Emily Owens, M.D." with a sassy new 'do, but she was criminally underused save for a few fun lines like the one bolded above. Veronica asked Alicia to represent some coders -- the computer kind -- that included "Dollhouse" veteran Fran Kranz and "Mad Men's" Carla Buono, who were dealing with contract issues. This led to Alicia trying to get the coders to unionize to save their jobs. It was like a speedy, less dramatic version of "Norma Rae," but unfortunately, nobody held up a piece of cardboard that read "UNION." Yadda, yadda, yadda, the coders get their union, but then -- SURPRISE! -- Chum Hum, a Lockhart/Gardner client, bought the company for its intellectual property, but not its employees so everything was moot. Alicia confronted Diane and Will about this and they played dumb, but Alicia once again saw that hanging at the top means you have to blur some ethical boundaries. The whole theme of this season seems to have been, "Be careful -- things aren't exactly black and white." Alicia and her feelings, the law, Alicia and the law firm, etc. Becoming partner at Lockhart/Gardner is what Alicia wanted. It meant she was successful, but in the end, it will drive her out. If she leaves to join Cary, which would be awesome, Alicia will be forever changed by her experience at Lockhart/Gardner.
Gummer wasn't the only one underused in "A More Perfect" union -- Jess Weixler's Robyn was around to mention she received healthcare from Lockhart/Gardner, driving Kalinda to the all-too-familiar role of trying to get more money/respect from her employers. If she leaves to go with Cary, does that mean we get more Robyn? Because yes please.

Suddenly the Lockhart/Gardner assistants are seen and heard! Yes, this plot was pretty random -- especially since we've never seen half of these assistants before -- but it was just another way for Alicia to see what it's like about being on top. And it's over, so the assistants will fade back into the background with the flowers and paintings.
"Oh, come on -- I let you drink wine at 16." - Veronica. "I know." - Alicia. I welcome more scenes with Veronica, Owen and Alicia. The dynamic is so great between these three characters that I never want their scenes to end. More bottles of red wine, more Veronica and Owen! The best part of the episode, in my opinion, was Veronica's very impromptu conversation with Will. "You have a window that is closing ... you have to move now," Veronica told him re: Alicia. But he's too late, Alicia agreed to renew her vows with Peter ... or did she!?

Gasp count: Zero. Well, one if you count my reaction to the season finale promo.
Some other things:
Whenever characters talk about the election and Mike Kresteva, it reminds me of how the show wasted Maura Tierney. I wanted more from such a great actress.
"You are really amazing. Do you know that?" - Alicia
"I do know that." - Nancy
Alicia eating pizza with that napkin.
"Alicia Florrick: politician's wife/lawyer/mother." That's what Alicia's lower-third said during her fake CBS interview with the real Charlie Rose. I expected it to just say "THE GOOD WIFE."
"The Good Wife" airs Sundays, 9 p.m. ET on CBS.
PHOTO GALLERY
The Good Wife