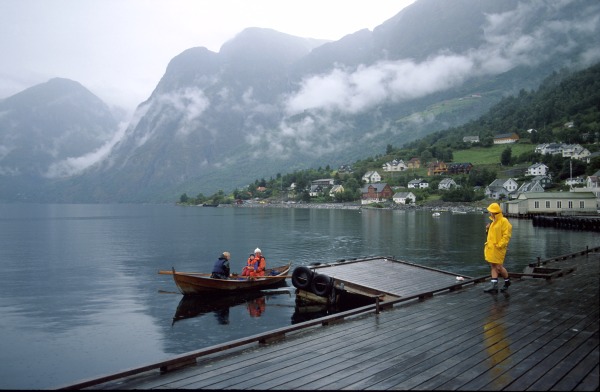 A Foggy Day in Flam - photo courtesy of Visit Flam
As the humidity creeps up and the air thickens, I can't help but think about the time I spent in Norway last month. We flew out of Newark on a direct SAS flight complete with friendly Norwegian stewardesses and plush reclining seats. An upgrade to Business on the way back was possibly the most sublime flight I've ever had and made the eight-hour journey melt away. Beyond that, there's a simple elegance to the airline throughout its classes that's often lacking in its American counterparts. Little touches can make all the difference. During a short flight in coach from Bergen to Stavanger, we were served a breakfast sandwich of fresh tomatoes and single slice of ham, a refreshing combination that highlighted the amazing view outside our windows. The plane flew low, making it more of a flightseeing tour than a regular flight, allowing us a glimpse of the beautiful landscape between the cities.
We covered a lot of ground in just about a week, hitting the cities of Oslo, Bergen, and Stavanger, but perhaps the most memorable part was the 12-hour trip from Oslo to Bergen. Aptly called Norway in a Nutshell, this unique day trip begins with a train out of Oslo. At first, the scenery looks like any other suburb, but slowly civilization begins to peel away and reveal awe-inspiring mountain ranges that dwarf any expectations.
The first stop on the trip is Finse, a tiny, snow-covered village with a population of under a thousand people. It reminded me of Alaska but on a grander scale. The few houses that populate the landscape only help to underscore the extreme isolation of the area. It's hard to believe that it's only about a hundred and twenty miles from Oslo.
As I stood outside the train station, gazing into the white abyss that surrounded me, I could not help but hear Werner Herzog's voice in my head. When I interviewed him a few weeks prior to leaving, he told me that all his films could have been titled "gazing into the abyss," and I wonder what he would make of these surroundings. I thought about this on the two-hour cruise through the UNESCO World Heritage fjord, Naeroyfjorden. The giant rock formations that split the massive body of deep blue water soared above us, reminding me of scenes from Aguirre or Fitzcaraldo.
I felt Herzog's presence again a couple days later at 19th-century composer Edvard Grieg's house in Bergen. Perched on a hill, the property overlooks the city of Bergen and even through the rain and the fog, it's impressive. Endless layers of colorful houses line the mountains, overlooking a handful of islands that shelter the city from the North Sea. The fog in the woods leading up to Grieg's house is particularly evocative of Aguirre, though this might be more of my emotional response to the land, as it probably doesn't completely resemble a Peruvian rainforest.
Unlike a rainforest, air is crisp throughout the entire country, whether it's 70 degrees in Oslo with an intense sun beating down or 45 in Stavanger and raining. There's a levity that comes with such purity, and I couldn't help but smile walking through the charming cobblestone streets in Stavanger as the rain hit my face. Stavanger has all the markings of a charming New England village -- quaint shops, superb seafood, waterfront locale -- but it's actually the third largest city in Norway. Even the largest, Oslo, feels sublimely uncrowded, due probably to the fact that there are fewer than five million people in the whole country. That's less than the population of our five boroughs.
Geographically, Oslo is the antithesis of New York, but culturally it thrives. The city recently built a new opera house that's a work of art and a hub for the community even when its stage is dark. Locals come to sunbathe and eat at the wonderful restaurant overlooking Oslofjord, which is actually a bay but impressive nonetheless. Parks abound throughout the city as well, the largest being Frogner Park, which contains the famous Vigeland Sculpture Park.
For those looking for a different kind of European vacation this summer, it makes sense to go north, especially if you want to escape the heat and crowds of the great big sweaty apple. Don't get me wrong, as a native New Yorker I love this city, but sometimes the best part of living here is being able to escape for a week.