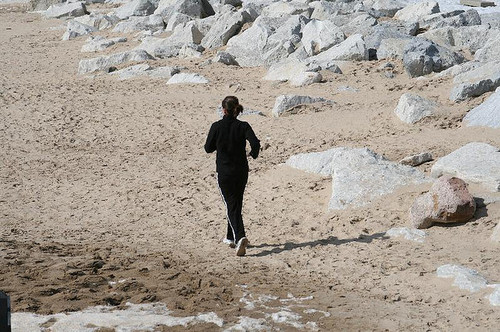 This month's top 10 is interesting for its lack of pop stars. Britney Spears, Flo Rida, and will.i.am each turn up in the list. But they're in the minority. Put simply, there weren't a lot of pop songs that came out this month. In their absence, an eclectic bunch of tracks came out of the woodwork: the YouTube smash "Harlem Shake," Fall Out Boy's comeback single, and a gritty ode to hell-raising from A$AP Rocky.
Here's the full list, according to a poll on Run Hundred -- the web's most popular workout music blog.
Flux Pavilion & Childish Gambino -- "Do or Die" -- 145 BPM
Cee Lo Green & Lauriana Mae -- "Only You" -- 110 BPM
Baauer -- "Harlem Shake" -- 140 BPM
DJ Pauly D & Jay Sean -- "Back to Love" -- 128 BPM
Olly Murs & Flo Rida -- "Troublemaker" -- 108 BPM
Bignic -- "Down" -- 124 BPM
A$AP Rocky, Skrillex & Birdy Nam Nam -- "Wild for the Night" -- 70 BPM
Fall Out Boy -- "My Songs Know What You Did in the Dark (Light Em Up)" -- 77 BPM
will.i.am, Britney Spears, Hit-Boy, Waka Flocka Flame, Lil Wayne, Nelly & Diddy -- "Scream & Shout (Remix)" -- 130 BPM
Swedish House Mafia -- "Don't You Worry Child (Promise Land Remix)" -- 129 BPM
Check out this month's top 10 workout songs on Run Hundred: www.RunHundred.com.
For more by Chris Lawhorn, click here.
For more by HuffPost Workouts, click here.