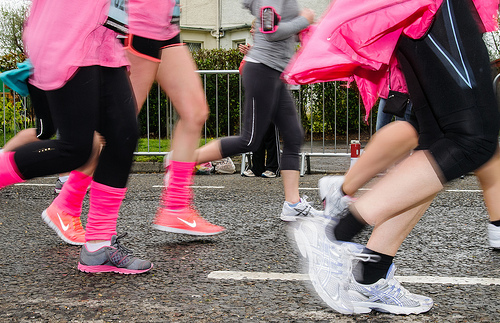 Winter's over, and this month's top 10 list is full of tracks that'll propel you into the great outdoors. In the playlist below, you'll find Foster the People channeling David Bowie, a Miley Cyrus slow jam reinvented as a club banger, and a Wisin track that pairs Jennifer Lopez and Ricky Martin.
Extra kudos are in order for Kylie Minogue, whose song "Into the Blue" was voted into last month's top 10 and returns this month in a ferocious remix. So, don't waste another moment: get some tunes, get your shoes, and get moving. Spring's here!
Here's the full list, according to a poll on Run Hundred -- the web's most popular workout music blog.
Foster the People - "Best Friend" - 115 BPM
Wisin, Jennifer Lopez & Ricky Martin - "Adrenalina" - 126 BPM
Miley Cyrus - "Adore You (Cedric Gervais Remix)" - 128 BPM
Mystery Skulls - "Ghost" - 120 BPM
Major Lazer feat. Sean Paul - "Come on to Me" - 110 BPM
Breathe Carolina feat. Karmin - "Bang It Out" - 130 BPM
Chromeo - "Jealous (I Ain't with It)" - 128 BPM
Kylie Minogue - "Into the Blue (Patrick Hagenaar Colour Code Remix)" - 129 BPM
American Authors - "Best Day of My Life (Gazzo Remix)" - 125 BPM
Avicii - "Addicted to You" - 128 BPM
Check out this month's top 10 workout songs on Run Hundred: www.RunHundred.com.
For more by Chris Lawhorn, click here.
For more from HuffPost Workouts, click here.