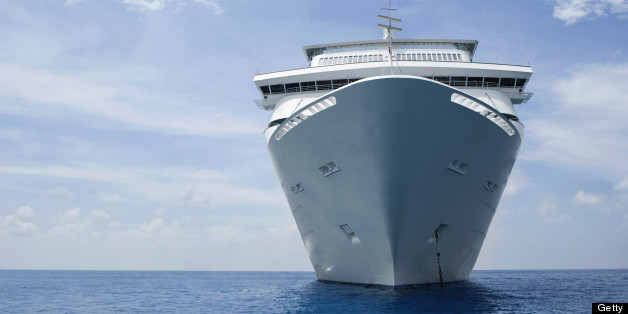 Why does the founder of ExpertFlyer care about cruising? Well, because the cruise industry carries more than 20 million people each year and a hefty portion of those travelers choose to fly to their port of embarkation. Even from my own experience, if the air travel piece of a trip is unpleasant, some of that frustration and disappointment may spill over to the vacation itself -- and we can't have that!
I recently enjoyed a fascinating conversation with Douglas Ward, author of Berlitz Cruising and Cruise Ships guides. The title of "Cruising Expert" doesn't do Doug justice. Believe it or not, he has been cruising professionally for more than 45 years. And in that time, he has logged nearly 6,000 days at sea and participated in more than 1,000 cruises --that's a lot of Dramamine.
We asked Doug some pointed questions and he gave us some real and thoughtful responses:

1. Over the past couple years, there seems to be one cruise ship disaster after another. Should potential cruisers be concerned and what are the cruise lines doing to prevent these unfortunate vacation disasters?
Cruise lines don't plan disasters or mechanical breakdowns, but they can happen, just as they can to your automobile, computer or mobile phone. Potential cruisers should not be concerned, but should be aware that things can go wrong, but rarely do. The cruise industry carries more than 20 million passengers each year and few experience inconveniences, like the complete breakdown of Carnival Triumph in 2012. Over the past 48 years of cruising, I have experienced several such breakdowns and mishaps, but I always find they are merely inconveniences, like luggage lost by airlines.
2. What's the best way to book a cruise?
First, think of where you want to go, your time frame, your personal preferences for the size of ship and facilities (large resort ship, mid-size, small, or boutique) and then prepare a budget (remember to include insurance). Then, find a cruise specialist agency through referral or through Cruise Lines International Association (CLIA), to match you to the right ship, for the right reasons.
While the Internet is popular for research, it pays to find a specialist cruise agent with a physical location. Some Internet-only "agencies" with slick websites have been known to disappear without trace -- with your money.

3. Will cruise ships ever get telecommunications down right and stop charging exceedingly high access fees?
It's not as simple as it sounds. Actually, cruise lines have huge investments in equipment (satellite dishes, digital bandwidth systems, etc.) and additional IT staff. Passengers must share the bandwidth with the ship, i.e., company communications, weather, safety and navigational aids, and often this can lead to slowed connections. Because all communication is by satellite, upload and download times will be a bit more sluggish than you may be used to on land. Also, ships at sea constantly move out of the narrow beam of a satellite and cannot 'track' the signal as accurately as a land-based facility. As an example, riverships lose internet signals when they pass under bridges.
Cruise lines strive to make their internet-connectivity a better experience for passengers. Charges vary because a number of service providers are involved, but some cruise lines do not pass on reduced charges as quickly as they could.
4. Are there some cities that are better to cruise to/from than others?
Some simply have better access and connection to airports, rail stations, and roads, such as New York's Manhattan Cruise Terminal or Brooklyn's Red Hook Point. Ft. Lauderdale (Port Everglades) is also good, as are Seattle and San Francisco, and Canada's Vancouver. I won't include Los Angeles and Miami because I (and countless other passengers) mostly come across staff with 'attitude' -- like the tip-seeking porters and check-in and security staff, more into the hostility business than the hospitality business.
There are so many good ports from which to cruise in the rest of the world that space would not permit listing them all. However, my choice would probably include (in alphabetical order) Auckland (New Zealand), Barcelona (Spain), Bergen (Norway), Cape Town (South Africa), Copenhagen (Denmark), Hong Kong (China), Istanbul (Turkey), Melbourne (Australia), Palma de Majorca (Spain), Singapore, Southampton (UK), and Stockholm (Sweden).
Least favorite check-in ports: Athens (Piraeus), Civitavecchia (Rome, Italy), San Juan (Puerto Rico), Rio de Janeiro, and Sydney (Australia), mainly due to a lack of hospitality or location.
5. Is river cruising as hot as everyone says? How it is different/better than traditional ocean cruising?
Indeed it is -- around one million people took a river cruise last year. River cruises provide a unique way of seeing the interior of a country rather than by its coastline. The scenery aboard a rivership is at eye level; on an ocean-going ship it isn't -- you may have to take an elevator to go up and out to see the scenery. Although the majority of river cruises are taken in Europe, and the Russian rivers, there are plenty of river cruises available in China and Southeast Asia, plus Egypt's Nile, and the USA's Mississippi, Columbia and Snake rivers.
Because you pay in advance, you know what you will spend on your holiday without any hidden surprises. River cruises provide up-close cruising that is impossible aboard large resort ships. There are no casinos, no bingo or horse-racing, wet tee-shirt contests or other mindless parlor games, no art auctions or other revenue-generating items. When your rivership docks, you simply walk off -- there are no shore tenders to take and wait for. However, there may be times when the water level is so low that even a shallow-draft rivership, cannot travel. Finally, you won't get seasick! Now is as good time a time as any to start your own collection of river cruise experiences. The most trusted names in European river cruises: AMA Waterways, Uniworld, and Viking River Cruises.
You can read more of our interview with Douglas Ward here.
Chris is the President and Co-Founder of ExpertFlyer.com, a service that helps travelers get out of the "Middle Seat" by providing in-depth flight info and alerts when Awards and Upgrades are available.