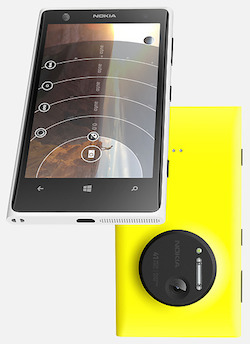 There is an arms race in high-end, fully featured smartphones and Nokia is rolling out its big guns. The Lumia 1020 with a best-in-class 41-megapixel camera is Nokia's wakeup call to all smartphone manufacturers, including Apple. Smartphones are no longer judged solely on how many processor cores, internal storage space or screen size they have. With mobile photography exploding and Instagram selling for $1,000,000,000, the size of the aperture and pixels, lens quality and amount of megapixels matter more now to than ever.
Overview
The Lumia 1020 is certainly not Nokia's first foray into super megapixel mobile photography, but it is its best shot so far. Coupled with Windows Phone 8 Amber and specially developed Nokia photography apps, this smartphone and camera combo device gets people talking every time I use it.
At four and a half inches with Gorilla Glass 3, its screen is larger than the iPhone 5S and has ClearBlack plus AMOLED technology. During use in bright sunlight and in completely dark rooms, the Lumia's screen had no problem performing well enough in both situations.
Microsoft Nokia Lumia 1020 Unboxing
AMOLED screens use less energy while simultaneously providing a nice contrast bump when viewing websites and photos. The photos that the Nokia 1020 produce are visually richer than photos from an iPhone 4S and are closer to those from a Samsung S4. Even in low light, the Xenon flash was able to take photos with accurate color reproduction and few hot spots.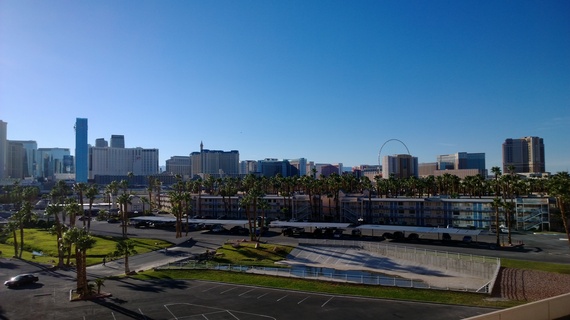 Las Vegas Skyline
The 41MP PureView camera technology with ZEISS optics is also able to take panoramic photos with the aptly named Nokia Panorama app. This smartphone comes with a range of other photography related apps such as the Nokia Creative Studio and Nokia Smart Cam. The forward facing "selfie" camera has a resolution of 1280x960, an aperture of f/2.4 with a wide-angle lens that's able to record video and do video calls. During the course of my extended testing, Nokia updated its pre-installed software for use with the camera multiple times. Each time the software gained interface refinements and speed.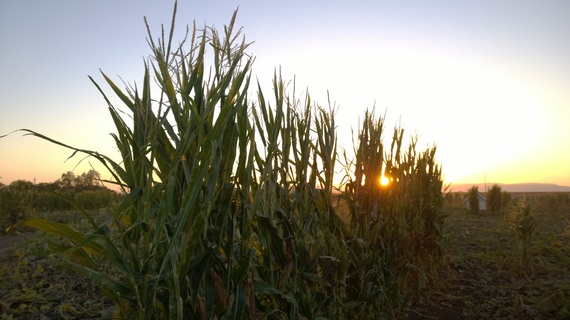 Pumpkin Patch
Switching in between camera modes, settings and the video record option never resulted in a crash. There were several times I used the camera for extended periods of time to record HD video and then rapidly switched to a photo mode with ease. Once it locks onto an object, the optical image stabilization takes over nicely. Single photos take a moment for light metering and focus. To take snapshots of moving objects, the burst image function that takes 10 photos rapidly works best.
The hardware at the core of this smartphone includes 32GB of internal storage, a 1.5GHz dual-core Qualcomm Snapdragon S4 processor, 2GB of ram, a 2,000 mAh sealed battery, Bluetooth 3.0, WiFi 802.11 a/b/g/n with channel bonding and a screen with better than Retina pixel density of 334 ppi. For comparison, the pixel density of Apple's iPhone 5S Retina screen has 326 ppi. A SkyDrive account is required to download apps from the Microsoft Store and it comes with 7GB of free online storage after signing up. The SkyDrive account also backs up contacts, settings and photos where enabled.
Nokia Beamer Hands-on Demo at Nokia World 2013 By Bill Cody @VegasBiLL
This smartphone has a finite amount of storage space and is a little top heavy to hold because of the large lens and flash system. To help balance the weight and increase its available power, Nokia has engineered a camera grip. I wasn't able to test the grip, however it comes with a 1020 mAh internal lithium ion battery that extends shooting time by up to an extra 55 minutes. Other nice features of the grip are a tripod mount and two-stage photo button.
App Social For Windows Phone 8 Social App Store Overview at Nokia World 2013 By Bill Cody @VegasBiLL
Many of the best apps are now available for this system built around a top of the line 41-megapixel sensor. I would choose the Lumia 1020 as my next smartphone. Microsoft has invested billions to buy Nokia's mobile business and that means even more innovations for software and hardware are yet to come.
Conclusion
The Microsoft Nokia Lumia 1020 pleasantly surprised me in the clarity of photos produced from its 41 MP camera, the speed of its AT&T 4G LTE connection reaching up to 43 Mbps down, clear calls even in rural areas and for how many times its bundled software was updated. Apps and developers are crucial to the success of any mobile system. Luckily most of the best apps are finally available with even more planned for release soon. The camera grip is priced around $60 and the smartphone goes for about $600 off contract, $199 in-store or $99 online from AT&T on contract.
Pros:
Top apps are finally available
41-megapixel sensor, "lossless zoom" and optical image stabilization
32GB of space and 2GB of ram help to keep functions smooth
DSLR-like professional manual camera mode
Cons:
Non removable internal battery
No microSD card slot
Many apps not yet available
Gets warm with hours of extended continual use
Microsoft has taken steps to bring hardware and software development for the Nokia brand in-house. This means that features and software for them should increase, while development time decreases.
*4G LTE service for testing was provided by AT&T. The first photo is courtesy of Nokia. This review has been written in an objective and unbiased fashion.