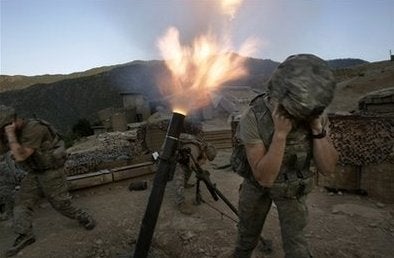 While I am as happy as a pig in shit that GQ managed to obtain Donald Rumsfeld's Bible verse riddled Worldwide Intelligence Update cover sheets, and that their release is getting such tremendous attention, I have to admit that I was a bit exasperated by this statement from GQ: "This mixing of Crusades-like messaging with war imagery, which until now has not been revealed, had become routine." Why my exasperation? Because this "routine" mixing of "Crusades-like messaging with war imagery" by the Department of Defense has been revealed over and over by the Military Religious Freedom Foundation (MRFF) since its founding by Mikey Weinstein in the Winter of 2005.
The Bible verse on the first slide of GQ's slideshow? Well, that was the theme of Secretary of the Army Pete Geren's commencement address at West Point last year. Geren opened and closed his speech by quoting the verse, and, throughout his speech, painted the wars in Iraq and Afghanistan as a religious struggle. Because of that speech and others like it, as well as Geren's participation in the infamous Pentagon Christian Embassy video, MRFF called last December for the incoming Obama administration to replace him. For more about Secretary Geren and why he should be removed from the office of Secretary of the Army, please read Mr. President-elect: Please Don't Allow Pete Geren To Be Kept On.
But, Geren remains the Secretary of the Army, and other participants in the Christian Embassy video, although found guilty of violating ethics regulations by the DoD Inspector General, after MRFF demanded an investigation of the incident, have not only received no punishment whatsoever, but have instead been promoted. Within a year of the IG recommending that "appropriate corrective action" be taken against then Brigadier General Robert Caslen, this general, who, in uniform at the Pentagon, was filmed by Christian Embassy proclaiming that he and his flag officers Bible study group were the "aroma of Jesus Christ" at the Pentagon, was promoted to major general and appointed to the prestigious position of Commanding General of the 25th Infantry Division. Another of the Christian Embassy generals, Vincent Brooks, was also recently promoted from brigadier general to major general, assuming command of the 1st Infantry Division, more widely known as "The Big Red One," in April of this year.
Mikey Weinstein, who has been besieged all morning with phone calls and emails from MRFF supporters who are apparently having the same reaction to GQ's "revelation" as I did, just emailed me the following statement:
"GQ's seemingly 'sudden' revelation of Defense Secretary Rumsfeld's unconscionable mixing of religious, biblical rhetoric with the 'Bush Doctrine' as applied to America's premptive invasion of Iraq (and it's bloody consequences in painting the U.S. military as modern day Crusaders) is ABSOLUTELY NOT 'sudden' at all! Indeed, it's about as 'sudden' as the FDA dramatically announcing, NOW, a warning about a just-discovered connection between cigarette smoke and lung cancer. The American mainstream press should be ASHAMED that it's GQ which claims to break this story; a 'story' about a war which the Military Religious Freedom Foundation has been fighting every day now for almost four years."
Jeff Sharlet's eye opening article, "Jesus killed Mohammed: The crusade for a Christian military," in the May issue of Harper's Magazine, clearly sparked a sudden interest in a battle that MRFF has been fighting for years, leading to things like the recent Al Jazeera report showing footage of U.S. military personnel in Afghanistan with stacks of Dari and Pashtu language Bibles, discussing how to convert Afghan Muslims. The military, of course, claimed that what the Al Jazeera report showed was just an "isolated" incident, that it was taken out of context, and even went as far as accusing Al Jazeera of "irresponsible and dangerous journalism" for reporting the story. But, as we at MRFF know quite well, this was no isolated incident, nor was it taken out of context. Our files are brimming with other verified examples of our military's attempts to convert both Afghans and Iraqis to Christianity, so I gathered a few of these to rebut the military's excuses in my post last week, Code 1, Code 2, Code 3 at Bagram Airfield.
For those who want to read more about our military's "holy war," here are links to a few other pieces I've written over the last year or so:
Please also visit MRFF's newsletter archive to see some more of the shocking stories, photos, and videos that MRFF has uncovered.