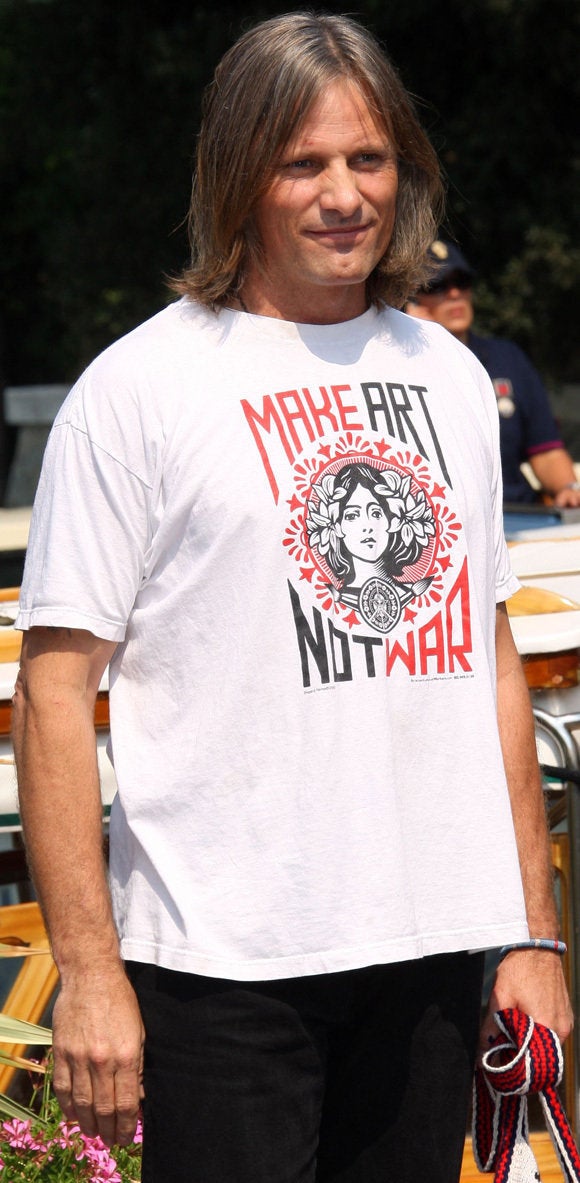 "It's the altitude," friends always say when we e-mail home from the Telluride Film Festival, raving about the slate of prestige films, many of which will be arriving in the lower climes of America this fall or winter. But even back home on the coast, in the clear light of post-festival-buzz day, it's objectively obvious enough that Telluride is the most carefully curated of all U.S. film festivals, with rarely a real clunker to be found amid the compact Labor Day weekend schedule.
Before we decamp from the Colorado mountains, here's a brief look at some of the 36th annual confab's more notable or notorious entries, which included the world premieres of Jason Reitman's Up in the Air, The Last Station, and Bad Lieutenant (Nic Cage version), as well as North American premieres of the highly anticipated The Road, Todd Solondz's Life During Wartime, and An Education.
Last year, Telluride had the world premiere of Slumdog Millionaire, which went on to win the best picture Oscar. The odds of that happening again with a movie from this year's slate may be slim. But the contender with the best chance of getting several top nominations is Jason Reitman's Up in the Air. It's the director's followup to Juno, which had its world preem here two years ago before going on to do boffo business and nearly becoming the first teen comedy to win the top Oscar. (For my interview with Reitman, click here.) Is a Telluride bow Reitman's lucky Academy charm, at least as far as getting multiple top nominations goes?
That question is up in the air, of course, but not too far up: The movie has a combination of big laughs and seriously treated existential dilemmas, and what Oscar balloteer can resist that combo platter? George Clooney plays a corporate terminator, someone whose stock in trade is relieving others of theirs and making the newly disenfranchised feel just a little less suicidal when they get the bad news. Our hero almost literally lives on the road, and enjoys every aspect of his life except the rare moments he has to come home. Two women disrupt the fabric of this itinerant existence. One of them is Vera Farmiga (The Departed) as a fellow frequent flier who meets him in an airport bar and is soon joining him for athletic hotel trysts at mutual points of expedience... or Expedia-ance. The other is Anna Kendrick (Twilight) as a youthful office hotshot whose advocacy for a cost-effective downsizing-by-teleconferencing system threatens Clooney's wanderlusting ways.
Reitman's ability to handle dramatic tonal shifts in comedies has won him acclaim as a new Cameron Crowe, or even, in greater flights of hyperbole, a Billy Wilder successor. Those shifts get trickier in Up in the Air, which has some sobering turns--starting with the real-life laid-off Americans cast for the firing scenes, and ending with Clooney's sense of sad solitude--that won't send America out of the multiplexes quite as cheerful as they were at the sweet climax of Juno. If you've been waiting for a movie that wipes the knowing smirk off Clooney's face, this is it, in the end. But it was hard to find anyone at Telluride, snob or plebe, who didn't get a lift from Up in the Air, which deftly balances its twin engines of mirth and loneliness.
I had a slight problem with the casting of Kendrick, who seems so young in her role that you half-expect Clooney to offer her a pacifier. Of course her being green is the point, and one victim of her firing is made to remark that he didn't slave away all those years to get laid off by a fourth grader. The guy isn't far off; though Kendrick is 24, the actress still seems like she belongs in the high school world of Reitman's last movie, not playing a corporate tigress. But Reitman eventually steers this character away from callow-youth clichés, which helps. As Clooney's love (or is it just sex?) interest, Farmiga is a better sparring partner for Clooney, and their chemistry is irresistible. Here's the part where you say, "What woman wouldn't have chemistry with George Clooney?" But Farmiga (mostly recently wasted in Orphan) reinforces her status as one of the best finds among movie leading ladies in recent years--gorgeous, but not even remotely perfect, and a champ at doing both carnal banter and real-deal emotions. She's not the center of Up in the Air, but Farmiga's a big reason Clooney and we, the audience, stay so very aloft.
The big question here: How's the apocalypse gonna play in Peoria? Surprisingly well, I suspect, after talking with some of the Telluride Festival's non-cognoscenti, middle-American passholders, whose love for the movie should give the Weinstein brothers just a little bit of assurance before its October bow. (The film was having its American premiere here after its world preem a couple of days earlier in Venice.) Director John Hillcoat's film is as faithful to the Cormac McCarthy novel as an adaptation could possibly be, and doesn't skimp much on the grueling elements, as if that were even possible in a movie about the end of humanity. But viewers will detect subtle shifts--in the scripting, the editing, the scoring, and certainly, tangentially, the all-important ad campaign--that make the Road movie feel like slightly more of a triumph-of-the-human-spirit-type experience than the book did. And because of that nearly subliminal tonal tweak, I have a feeling this otherwise relentlessly downbeat movie about death and disaster will play more as an "audience picture" than an across-the-board critics' favorite. Who'da thunk?
Despite what the trailer might have led you to believe, thriller elements aren't more played up than they are in the novel. If anything, the script is slavishly faithful to the events and even dialogue and interior monologues (heard in voiceover) from the book, and that extreme adherence will be one of the things that some fans like most and some critics like least about the film. (Anyone who's read the book right before seeing the film may experience fatal levels of déjà vu.) Viggo Mortensen does a yeoman's job of anchoring the picture, physically impressive in both his athleticism and his post-apocalyptic-period-appropriate skinniness. The production itself is also physically impressive, thanks to the filmmakers finding land that had already been raped and not having to resort to too many obvious digital FX shots.
There was moderate sniffling at the premiere, as all the issues about what fathers can and can't do for their children come to the climactic fore. Will it be best-picture-nomination-level sniffling when The Road starts screening for Academy members? Will it be punished for being too grim... or for not feeling quite as grim as it could've? These all remain to be seen. But again, before writing it off as too tough for Kansas, remember that the novel really got its commercial jumpstart when it got the Oprah seal of approval. And though critical response is already far from uniform, I think Hillcoat has made the first movie involving cannibalism that Oprah's audience can take to its collective bosom.
(You can read my interview with Viggo Mortensen, John Hillcoat, and now-13-year-old costar Kodi Smit-McPhee and the director on Huffington Post in the coming days...)
BAD LIEUTENANT: PORT OF CALL NEW ORLEANS
If you're tired of Nicholas Cage playing it safe as an emotionally placid action man in National Treasure sequels, and your fondest desire is that he would just go completely off the known acting grid again, have we got the movie for you. He's a flagrantly unhinged crackhead cop in director Werner Herzog's Bad Lieutenant, which is neither a sequel to or remake of Abel Ferrara's 1990s Bad Lieutenant... but why shouldn't this movie's incalculable nuttiness start with its very name?
In the opening stretch, Cage gets a promotion to lieutenant right about the time a doctor nonchalantly informs him that he's got an unspecificied back problem that will cause him "moderate to severe" pain the rest of his days. It's not clear whether he already had a drug problem, but he's soon not just popping Vicodin but stealing Oxycontin, cocaine, and crack, even doing a bit of heroin by mistake in his enthusiasm to snort or smoke anything white that isn't in a Morton's Salt container. A murder investigation serves mostly as a chance for him to ingratiate himself with drug lords to help pay off his massive debts, stay flush with blow, and keep up his visits with the world's most fantastically good-looking (and of course golden-hearted) hooker, Eva Mendes. He's bad.
But he's lovable, partly because his perpetually stooped-over posture reminds us of great Americans like Ed Sullivan and Richard Nixon. And the more crack he does, the more you want to party with him. Late in the film, he indulges in substance abuse with a deadly gangsta, and keeps erupting in unexpected gales of gaseous laughter in the fellow's face, a little like Jack Nicholson's famously gleeful guffaws as the Joker. It's exhilarating to see a major actor let go of the slightest restraints on screen, even as you have that "Uhhh, I don't know if you should be doing this" feeling as much for Cage as for his character.
Also letting himself go: Werner Herzog, who directs most of the proceedings in a straightforward, matter-of-fact, luridly entertaining, lowdown crime-film fashion (this is the Herzog film least likely to ever get tagged an "art film") but occasionally indulges in some flights of fancy. You get long takes of wild alligators and pet igunanas that are so closeup, they're nearly lizardly p.o.v. shots. Cage related this at a Q&A following the first Telluride screening: "Werner said, 'Nicolas, I must have three minutes of my iguanas in the movie. If I can't have my iguanas in the movie for three minutes, I will be so upset, I will never make another movie.'" He got his wish, including shots in which Cage and an iguana have an extended staredown.
I'm afraid to give away any spoilers, but since the film has no distribution deal for America yet, maybe it's not a sin to describe the most gloriously over-the-top scene: A drug dealer shoots a bookie dead, but Cage insists that the guy be shot one more time, because he can still see his soul dancing. Cut to a shot of the deceased bookie breakdancing, on his head, before having his soul killed as well. Needless to say, every line between good and bad filmmaking ideas and intentional and unintentional comedy gets crossed. Who knows whether it'll ever get any kind of rollout here, but it may go over like gangbusters in Europe, where the film is already pre-sold, and where we hear they like their Americans ugly.
UP NEXT: In the next part of my Telluride report, you'll read about potential best actress-winning performances by Helen Mirren in The Last Station and Carey Mulligan in An Education, along with Todd Solondz's hilarious and weirdly moving Life During Wartime, and an unnerving spookfest that Paramount is betting will be the next Blair Witch phenomenon, Paranormal Activity.