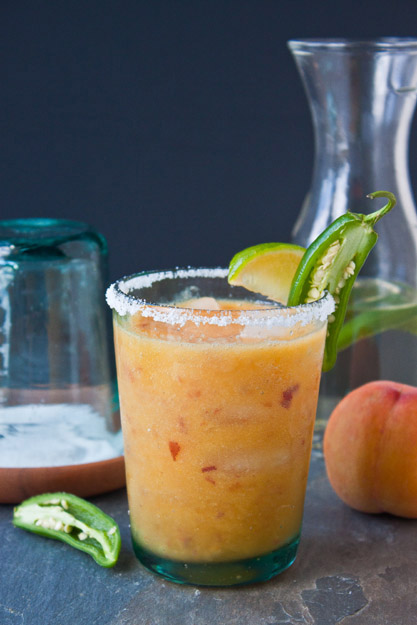 Peaches are the darlings of summertime. They drip juice down your chin so sweet, a pile of napkins is a necessity.
Lately, I've been serving platters of sliced peaches for dessert in my house. It's such a simple dessert that can only be enjoyed a few months out of the year. Let's eat 'em up while we can, shall we?
A fresh peach margarita is exactly what your guests want when they arrive at your house. A salty rim counter balances the sweet peaches. The jalapeño simple syrup provides an extra burn that matches the tequila.
I can't get enough of this spicy-sweet combination. You'll love these fresh peach jalapeño margaritas!
Peach Jalapeño Margaritas
makes 2 cocktails
For the jalapeño simple syrup:
1/2 cup sugar
1/2 cup water
1/2 of fresh jalapeño, sliced
For the margaritas:
2 ripe peaches, pitted and diced
2 tablespoons fresh lime juice
1/4 cup jalapeño simple syrup
1-2 shots of silver tequila
extra limes and salt for rimming the glasses
Instructions:
First, make the simple syrup: in a small saucepan combine the sugar, water and jalapeño. Bring to a simmer while smashing the jalapeño with a wooden spoon to extract the flavor. Once it boils, remove from heat and let cool completely. Transfer to a container and chill in the fridge until ready to use.
To make the margaritas: blend the diced peaches, lime juice, ¼ cup of the jalapeño simple syrup, and tequila in a blender. Add a handful of ice cubes and blend until slushy. Enjoy garnished with lime and jalapeño slices.