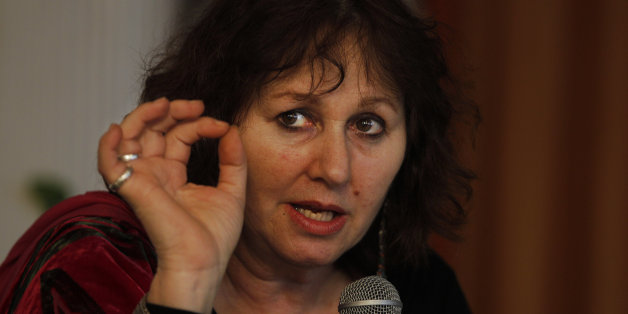 An inflammatory interview with one of the perpetrators in the 2012 Delhi bus gang rape made waves across the Internet last week, and led many to take to the streets of India. The attack was so brutal that it resulted in the death of the victim, a 23-year-old recent graduate. The bus driver, who gave the interview for the documentary India's Daughter, said that she was asking for it, simply by being out in public at night.
The reality is that the perpetrator's response wasn't a far cry from the widespread misogyny that pervades cultures, not just in India, but worldwide. The world is taking note, though.
From the global attention on how groups like ISIS and Boko Haram use physical and sexual violence against women and girls as a tool of war, to videos that document pervasive street harassment in cities across the globe, momentum is building to seriously address the way cultural attitudes and pervasive violence and harassment impact women and girls.
The reality is, to truly respond to gender-based violence, we need a holistic approach that seeks to change attitudes and social norms, ensure legal protections and train law enforcement, and provide the services necessary for survivors to seek effective recourse and heal.
On March 6, the House of Representatives reintroduced the International Violence Against Women Act (IVAWA) with a total of 18 original sponsors -- nine Republicans and nine Democrats, led by Congresswoman Jan Schakowsky. The Senate is slated to reintroduce a companion bill next week, with two Republican and three Democratic original sponsors, including lead sponsor Senator Barbara Boxer.
The strong bipartisan support for this bill speaks volumes -- making the world safer for women and girls is an agenda we can all agree upon. Combatting gender-based violence is not a partisan issue; it's an imperative.
Efforts to combat gender-based violence are urgently needed. In August, the U.S. Strategy to Prevent and Respond to Gender-Based Violence Globally is set to expire. IVAWA would codify an updated strategy, ensuring the United States' continued commitment to implementing highly effective programs to end the cycle of violence.
Despite increasing bipartisan support, IVAWA has languished in Congress for the last four sessions. The bill was first introduced in 2007.
And yet, the bill is as non-controversial as they come. It authorizes existing U.S. government offices that are critical to preventing and responding to gender-based violence. It increases aid effectiveness and transparency by requiring better coordination among U.S. agencies working to curb gender-based violence in communities around the globe. And it mandates Congressional oversight to ensure that the tiny fraction of tax dollars that go toward these programs are put to good use and are used as efficiently as possible.
While individual members of Congress on both sides of the aisle have shown incredible commitment to empowering and protecting women and girls around the world -- a moral imperative that also enhances our national security, by the way -- Congress as a whole has so far failed women by not passing the International Violence Against Women Act.
The urgency and need for this bill cannot be overstated. The time for action is now. One in every three women experiences physical or sexual violence in her lifetime.
No woman should fear going home to an abusive partner and then struggling to find justice. No girl should fear walking to school, and being vulnerable to rape or assault on the way. No woman should fear threats or harassment at her workplace, or having to miss work because of abuse that leaves her bruised and ashamed. And no woman or girl should fear sexual violence as a weapon of war or conflict.
Whether in our own communities or communities an ocean away, the prevalence and scale of violence against women and girls is unbearable. Its impact reverberates from workforce productivity to keeping girls from attending school to increasing rates of HIV transmission. It hurts individuals, families, communities and entire nations.
We have the chance to change that by pressuring our lawmakers to ensure that the U.S. is a global leader in ending gender-based violence. Congress must pass the International Violence Against Women Act.