This past week I had the pleasure of attending two very different performances that highlighted the diversity and richness of New York's dance culture.
I
The Limón Dance Company proved once again that a dance troupe can survive the passing of its founder and thrive. Under Carla Maxwell, Limón continues to perform with verve and enthusiasm. In Missa Brevis, all eyes and bodies turn continuously upwards toward heaven and some form of earthly transcendence. Everything about the piece was uplifting, literally and metaphorically. Male dancers held their female counterparts' clenched fists and drew them upward vertically, over their heads. In the Sanctus section of Missa, Kathryn Alter, Roxane D'Orleans Juste and Kristen Foote performed with inner grace and outward power -- they were a pleasure to watch. Then, in a message of human communion, the dancers all came together (Ite, Missa Est) in a dance in the round, then parted again and came together once more, each time more beautiful, each time more transcendent.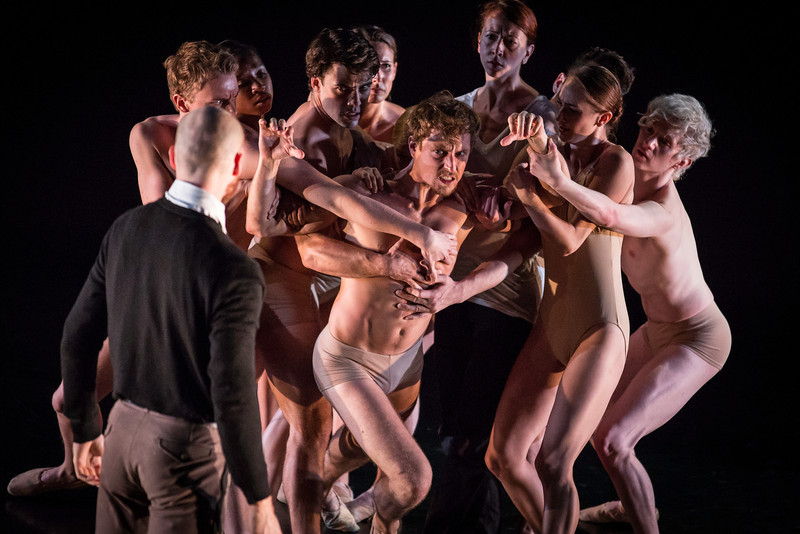 The Limón dancers were accompanied by the Simon Bolivar National Youth Choir of Venezuela, which is made up of young men and women from throughout that country. Interestingly, the choir was most impressive during Missa Brevis, which they sang beautifully: in the presence of the dancers, they sounded simply angelic -- some eighty voices raised in unison and cohesion. In the ninety minutes preceding Missa Brevis, they sang without the dancers. A mixture of religious hymns presented under the heading Sacred Lights presented works by Trond Kverno, Randall Thompson, and Penderecki among others. This was followed by a selection of songs from their native Venezuela (header: Venezuela Breeze)-they seemed nervous at first (they are teenagers after all performing perhaps for the first time at Lincoln Center), but even when they settled down they sometimes tried too hard to push their voices rather than let them emerge organically -- they sounded strident rather than harmonious. By night's end and Missa, however, they were right on track!
II
Miro Magloire's New Chamber Ballet has been producing three and four- person ballets in the intimate setting of City Center's 5th floor studio for nine seasons now. In the past I have likened Magloire's spare but balanced choreography to a precious jewelry box--small, charming, each one a unique variation on a theme. And one must judge NCB somewhat differently from a typical dance company, as Magloire's stated goal is to present contemporary music accompanied by dance. In this most recent performance Magloire presented four ballets, two of them set to music by Morton Feldman (Ghost Stories and Glove) and a third (Moments) to another minimalist composer, Salvatore Sciarrino. I must say that I responded tepidly to both these composers: their compositions are purposefully spare but they would benefit from a tempo change or an inserted melody once in a while. Ghost Stories, as performed by Nora Brown, Holly Curran and Katie Gibson, a tale of "murder, revenge and an (un)happy end" was hallmark Magloire: elegant, based on a few set movements that recur throughout, with a semi-abstract storyline. Again, I could not help but wonder how much more powerful this piece could be with a larger stage and a fuller troupe of dancers performing it: same concept, same music, just bigger, livelier. Glove, set at a garden party featured the same lovely movement (Elizabeth Brown, Holly Curran and Kate Gibson) as Ghost Stories: the dancers variously take off a pair of gloves which is then worn by the next dancer etc. If one combined this piece with the last ballet of the night about a letter which circulates among the dancers, Edgar Allen Poe's The Purloined Letter came to mind. Like the Poe story as interpreted by various theorists, these two ballets seemed to be as much about circulating desire and the games this produces, as anything concretely related to the gloves or letters that changed hands constantly.
I can't say that I was swept away by the third ballet Moments, a solo masterfully danced by Katie Gibson on pointe (Magloire's dancers all dance on pointe). To her credit, Miranda Cuckson, a shy but confident presence, played the violin beautifully. With seeming ease she drew out Sciarrino's strangely sibilant hushings, which sounded like odd if beautifully ebbing gusts of wind.
The fourth ballet (The Letter) set to Hayden's Sonata in D Major was the most transcendent, a tribute to the talent of the composer as much as to Magloire who effectively used the tempo changes in the score to craft a fun, lively ballet. The dancers were again accompanied by Cuckson on violin and a luminescent Melody Fader on piano. Fader is equally at home with spare minimalist compositions as she is playing Mozart or Hayden. Fader has been playing intensively around the globe since graduating from Juilliard a few years back. She is a pianist to watch as she is only musically gifted, but possesses a charisma and intelligence that will hopefully take her far.
Magloire certainly succeeded in highlighting some composers that one does not often encounter at the ballet. Yet one somehow felt that after nine years, it is perhaps time for the him to stretch his choreographic talents a bit and break out of his usual comfort zone -- he seems ready to create larger, more important works.