I recently did a Google search for "gmail," and this is what came up: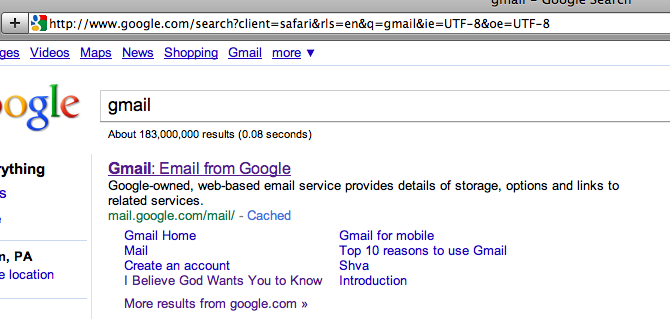 At first, I didn't know what the rest of the story was here, but it made me think. Google serves all kinds of ritual functions: meaning-maker, answer-giver, organizer of information, confessor (you are what you Google?). But imagine searching "What Does God Want Me To Know" and getting an answer straight from Google's servers On High. That's one impressive algorithm. Who knew Google was that ambitious?
Most of our human religious traditions have traditions for trying to discern God's will or otherwise work to find ways of aligning our values and efforts what those we understand to be of God. Many of us long to know whatever it is God might want us to know. Of course, the practice of trying to discover these things is a process of the internal life, of spiritual formation, of learning to be still, to center, to pause, appreciate and listen. It's something best done in a community of spiritual pilgrims committed to hearing God's call together.
Modern expressions of festivals like Hanukkah and liturgical seasons like Advent stress these as times of gathering, of celebrating a lasting light in a world that's often dim. In this busy time, we might do best to consider the rhythms of tradition, the practices that bid us toward stillness, appreciation and hearing, of making ourselves instruments of God's peace. As the holidays approach and pass and the New Year looms, a countercultural call to stillness rather than the harried searches we often engage in seems worth observing.
As far as Googling the will of God? Some kind of glitch, I'm sure. For the good of our own spiritual formation, things just don't work that way. Traditions that seek to answer all of life's questions with cut and dried explanations from Holy Writ (What does God want me to know? Just Bible it!) start out with good intentions but finally rob us of the kind of vigorous religious life the heros of our holy books seem to have lived. Their approach demystifies the mystical, rationalizes the ineffable, formulizes and defangs the mysteries available to us only in faith.
By now, the Google glitch is fixed, but people of faith will always be tempted to turn their sacred texts, these precious nouns, into answer-giving, opinion-proving verbs. May God forgive us when forget the richness and the nuance of God's encounters with us, and, especially at Christmas, with the ways we often limit in our minds the extent to which God really longs for us to hear.