Last night was the opening of my year-long exhibition at the National Museum of Dance, and it was a really exciting moment in my artistic career -- not just because any curation of my work is incredibly flattering, but because the photographs I chose to display all showcase a space that is very dear to me, a place I'd love to share with everyone I meet.
When the museum contacted me and expressed interest in my photographs of performances at Jacob's Pillow's Inside/Out, I couldn't have been happier. The Inside/Out series features a diverse group of outdoor dance performances that are free and open to the public. These performances take place on a large outdoor stage on the festival grounds, and the backdrop offers a panoramic view of the Berkshires Hills -- it's a stunning visual.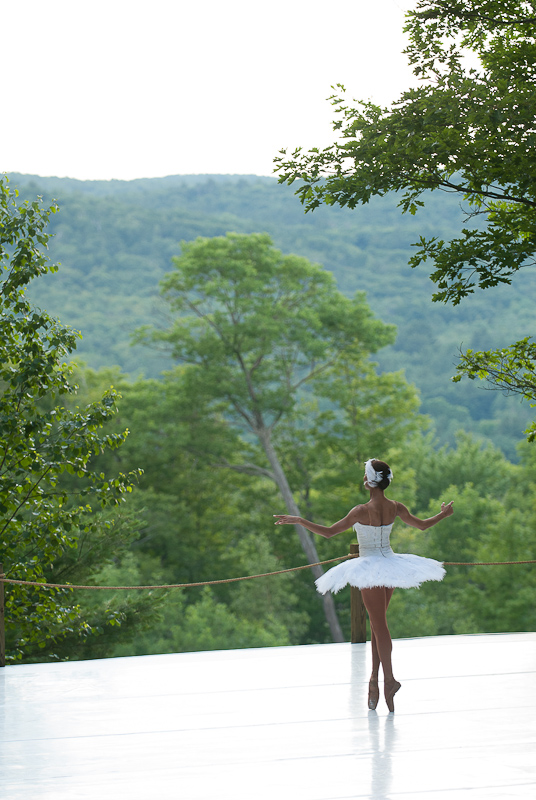 Collage Dance Collective at Jacob's Pillow by Christopher Duggan
Shooting at Inside/Out is very personal for several reasons. It's my favorite place to shoot dance, it's the most challenging space I shoot dance, and it's the place that in a single image encapsulates the feeling you get when you're on campus at Jacob's Pillow.

It's wonderful that my exhibition coincides with Jacob's Pillow's 80th anniversary season. The Pillow's longevity as a vital presenting and educational institution in the dance world is nothing short of extraordinary, and Inside/Out is one of the Pillow's most celebrated performance series. The dance concerts take place four nights per week during the festival season and a wide range of family-friendly styles are represented. Outdoor dance scenes have been iconic of Jacob's Pillow since its founding by modern dancer and choreographer Ted Shawn (not surprisingly, a C.V. Whitney Hall of Fame member at the National Museum of Dance), and I've always hoped to pay homage to this tradition in my photographs of Inside/Out shows.
Capturing dance at an Inside/Out show is challenging, not only because the light is ever-changing, but also because I'm always looking to showcase the incredible feeling you get when you're watching dance in that space. I knew I had to find a way to print my photos on a grand scale to get that feeling right. I wanted museum-goers to feel a little part of what it's like to watch dance underneath huge trees, which are in turn dwarfed by a spectacular sky. In the end, I went with images that were 28x40 or larger, with the biggest photo at 50 inches tall. I hope my exhibition showcases a bit of that live-performance magic.
Some of my dance photography idols have presented work at the National Museum of Dance's past exhibitions. Examples include Paul Kolnik, who has been shooting New York City Ballet forever, Lois Greenfield, who has photographed everyone (and everyone recognizes her images) and Rose Eichenbaum, who has made such an impact with her photographs and books, not to mention the fact that she has worked with so many important people in the dance world.

I'd love for you to visit my exhibit this year if you get a chance. Better yet, plan a weekend getaway to the Berkshires to see part of Jacob's Pillow's 80th anniversary season. The roster includes favorite programs and companies from past festivals -- Crystal Pite's Kidd Pivot in Dark Matters, Bill T. Jones/Arnie Zane Company's latest work and Doug Elkins and Friends' Fraulein Maria -- as well as companies new to Jacob's Pillow theaters.

While you're there, be sure to look for the bald guy with the camera and say hi.

This article first appeared on 4dancers.org