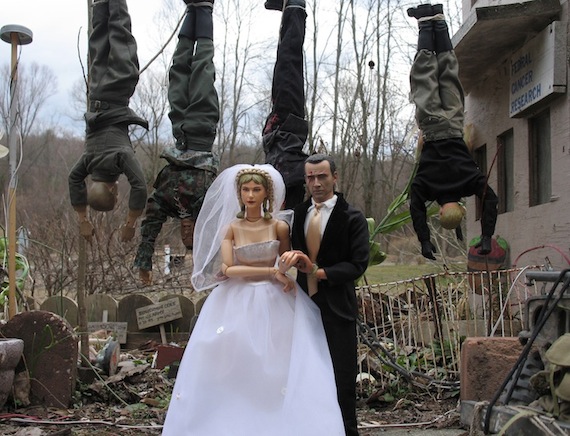 Photo by Chris Shellen
This week's Late Night Netflix Streaming pick is Marwencol.
I had lost, for a brief time, the belief that any modern art was original. I had descended to the cynicism that all modern artists were only interested in fame and gaining followers or likes.
Thankfully, because of the film Marwencol, subtly directed by Jeff Malmberg, I once again found love of the process and need that creates truly amazing works of art.
The film explores the magical world Mark Hogancamp, who though having his memory brutally beaten out of him, finds a way back to the world by creating his own place in it.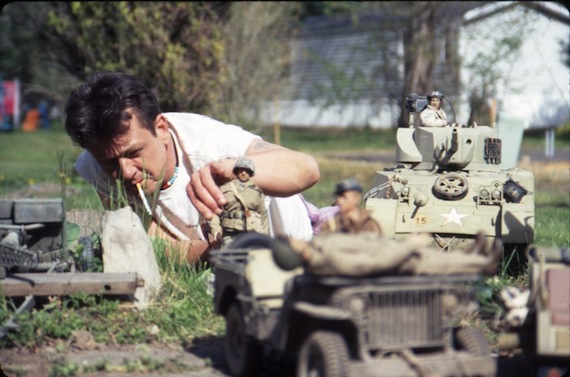 Mark Hogancamp creating his world -- Photo by Chris Shellen
The film watches like a comic book, taking its time to unfold frame by frame, mimicking the process that Hogancamp himself uses with his action figures and miniatures that take shape in his ever-evolving narrative.
Hogancamp's ability to heal himself through art -- all the time not thinking of it as art, but using it as an exercise to keep building the mind -- made me feel human more than I had in months.
Stories unfold of heroic rescues, terrific pulp novel romances and tender moments that exist as brief glimpses of how humans understand each other. Malmberg's film invites us to stand still for a moment and gain insight into a mind that is slowly thawing because of the beauty and push of imagination.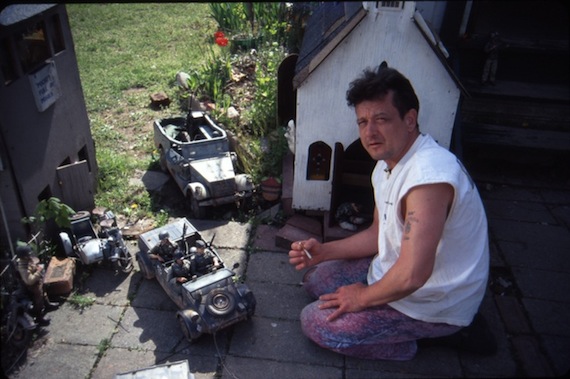 Mark Hogancamp inside his town -- Photo by Chris Shellen
I instantly felt a deep connection to each of the characters in Hogancamp's created town, drawn in as if someone in the universe was able to understand exactly what I was thinking beyond my normal words of expression.
This film allowed me to stop and realize the incredible potential inside each of us.
Just when you thought that humans were only capable of destruction, you come across a film like Marwencol and it gives you hope and strength to do the most with each moment of your life.
It makes you look at the faces walking past you every day and realize that there is a beauty inside each person, each object, each breath.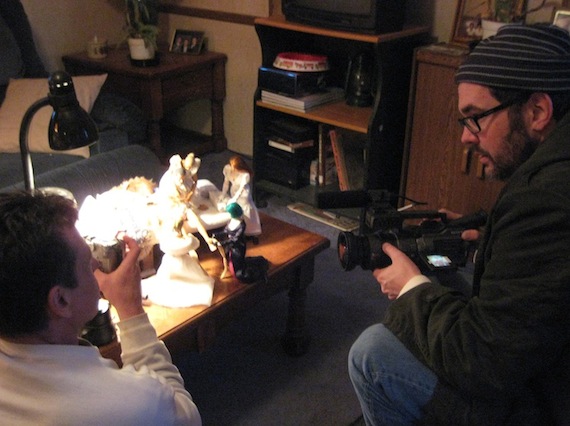 Mark Hogancamp and Jeff Malmberg diving into the story -- Photo by Chris Shellen
For anyone stuck in cycle of self doubt or fear about what steps they need to take next in their life, this film offers a rare chance to start all over again.
Beauty, as Hogancamp shows us, is unlike anything that comes pre-packaged.
You must create it. For real.