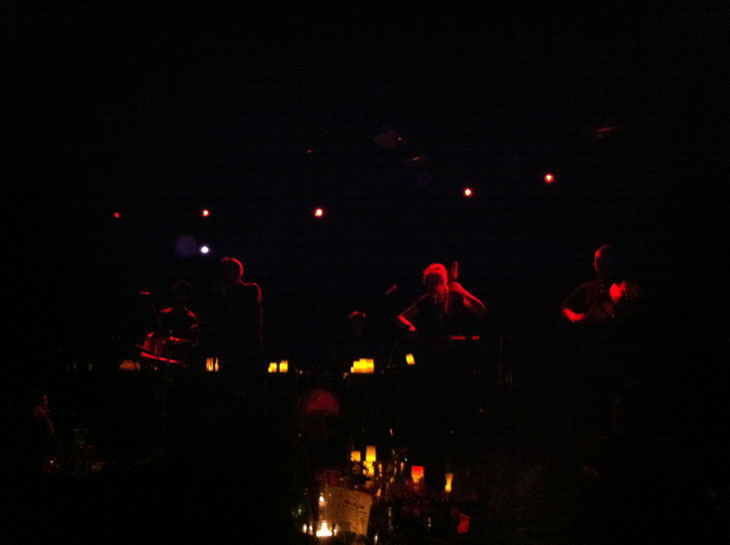 Greenwhich Village, New York City on a Wednesday night. Like most of America, people here are searching for a soul, but the distractions of a loud and constantly interactive social presence has a way of dumbing down our attention spans.
Rhye, the Los Angeles-based band that's coming off the European leg of their tour, let go before a packed house at Le Poisson Rouge, formerly the Village Gate, that once held in its belly the likes of Jimmy Hendrix, Allen Ginsberg and Dizzy Gillespie.
The ghosts of those artists were no doubt proud to look down from the rafters and see a group of musicians that melted together to form their own genre and made it work. You wouldn't call the music itself Jazz, but you'd call the way they play with each other something like it.
A signal from the smoothed-out vocals to the organ, which pumped out waves raised up by the teasing drums. Off to the lighthouse-watching bass that kept heads in the audience nodding and shouts of acknowledgment flowing from the crowd while they fought for space to stand.
Rhye's music seemed to provide that space -- there was a tightness and professionalism that darkened everything, including the musicians face's, so that the music was all that existed.
Unlit but not unseen, the trumbone plays a soft tone that makes you lean in and listen, before the violin/viola-all-in-one combo breaks you down, but not out.
A cello rows the boat.
Rhye's music allowed for something we might forget to be essential when listening: Silence. Once there, the crowd developed a closeness to the music because the musicians actually took a backseat.
Fascinating concept: Humility, artistic expression, and a few extra steps just to make sure you're on the right path.
Rhye tore it up in their 45 minutes on-stage - going from soulful, to funky, to solo bursts, and all held together by a lead vocalist who played conductor with his voice.
It was one of the best nights I've had listening to music in a long time.