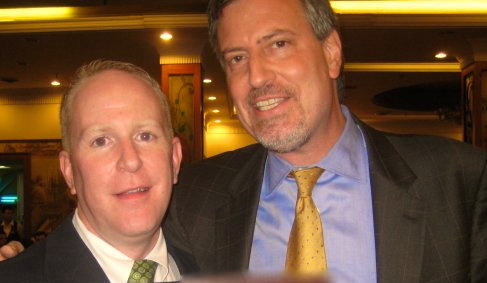 Bill de Blasio, now the new mayor of New York City, used to be a neighbor of mine in Park Slope, Brooklyn. We met on the subway one day soon after he had finished his role as a brilliant campaign manager for Hillary Clinton's successful senatoriaI campaign in 2001 and had become my city Councilmember in the 39th District. It's no meaningless caprice that his son's name is Dante, as Bill, who speaks Italian, is a serious student of the complex political history and stratagems of the birthplace of his maternal grandparents, Giovanni and Anna. And this past November, he again proved his tactical genius in the mayoral race when the candidate to beat was another friend of mine, the now-former Speaker of the City Council, Christine H. Quinn, a lesbian with deep ties to New York's gay community as an fearless advocate and get-things-done mover and shaker.
I had supported Christine in the mayoral race last year and even hosted a fundraiser for her at my home, having known and worked beside her for many years in the fight against HIV and against violence in the LGBT community and because I thought she'd make a kickass mayoress. It was a very unusual situation and not without conflict for me to regard Bill and Christine both so highly when they were opponents in the Democratic primary. Too often voters seem forced to choose between the lesser of two milquetoasts or egomaniacs in a race, but not last November. It's great for the city to have such a surplus of progressive political talent.
In past years, I would see Bill a lot around the neighborhood and at gatherings as I was active in community and gay politics in Brooklyn as a member of my local community board and an officer in Lambda Independent Democrats, Brooklyn's LGBT political club. It was always great to sit with Bill at some boring rubber chicken fundraising dinner as he has a first-rate mind, a generous sense of humor and a love of good-natured and passionate debate.
Bill's a "natural" politician as few things make him happier than dropping his suit jacket over the back of a chair, filling a paper plate and engaging in thoughtful disagreement about some fine point of city policy or community controversy. He's an "unnatural" politician in that he's not obsessed with his own voice, having "Hon." come before his name or just being a big shot. I like him a lot and I respect him.
I moved out of the neighborhood as couple of years ago, back to Manhattan, to a place where I could live and work together. The mayor has said that he and his family will leave their row house on Park Slope's Eighth Avenue to move to Manhattan's Gracie Mansion, Hizzoner's official residence, which hasn't had an occupant since 2001, as former Mayor Mike Bloomberg preferred to stay in his Upper East Side townhouse.
De Blasio was shoveling snow Tuesday morning in Park Slope and said that he hasn't made specific plans yet on when to make the big move, as he is "focused on the here and now." But he also said something else later in the day on Tuesday at City Hall: that he will be the first mayor in 20 years not to march in the annual St. Patrick's Day Parade given that its organizers, The Ancient Order of Hibernians, excludes gay groups from marching, calling the event "a private, religious procession."
As a New Yorker, a person of Irish descent and a gay dude, Mr. Mayor, my friend, thank you.