I have this strange, narcissistic little hobby of collecting portraits of myself. It's a tad embarrassing, revealing as it does my desire to be the subject of both artists I admire and the gaze of guests to my home or my Facebook page (or, in this instance, my contributions to the HuffPost blog).
I'm not rich by any means, and I'm certainly no great beauty as an artist's model; that's for sure. Hence, I am restricted to artists who may be friends or friends of friends, and the up-and-coming, willing to work for reasonable recompense and also somewhat collaboratively, which is a great part of the enjoyment for me, and I hope from them.
I find myself particularly drawn to the idea of portraits that are slightly askew. I asked the painter (and granddaughter of the noted social realist Moses Soyer) Nancy Soyer to "do me" as a dog (she has done lovely pet portraits in addition to her sublime works with human subjects), which she politely declined. But the finished work does have a slightly canine appearance, as if I were a shaggy mixed-breed, ambling through an unfamiliar neighborhood, hoping to sniff out a bit of dinner. She even painted my fleshy face with one eye blue and one green, a little higher than the other!
In discussing another commission with the preternaturally talented, erotic pen-and-ink artist Todd Yeager, we spoke of our shared love of old daguerreotypes, and he decided to draw me in profile with Byronic locks and a frockcoat. As a zaftig and, of necessity, modest and therefore clothed middle-aged fellow, not at all the type of his usual Sybaritic models, I had even asked if he might be willing to draw me as if I were the Wicked Witch of the West just as Dorothy is in the process of "liquifying" her. Todd passed on that idea, but in the final work one can detect the faintest-green ink-wash tint to my skin. I like to think that I look like the lovechild of Professor Marvel and Almira Gulch.
James Rauchman -- who, in the last few years, has suspended his evocative portraits, many of subjects in his beloved Havana, for multi-hued abstracts suffused with energy and movement -- did a watercolor of me in my classic, seated, corduroy-jacket-psychotherapist posture. I was wearing a vertically striped buttoned-down shirt under the jacket that afternoon and resignedly noticed, as Jamie was working and his painted stripes traveled down my chest, that the straight lines became all wavy over my rather ample belly. When I plaintively protested, he averred that art must be true to life!
This fall I'm tickled to death, and hopefully to immortality, to be represented in a showstopping embroidery portrait of me as the Amazonian Statue of the Republic from the 1893 World's Columbian Exposition in Chicago. The original 65-foot-tall grand dame was destroyed by fire a few years after the Exposition, but so beloved was she to Chicagoans that a new, 23-foot, gilded-bronze version was erected on the site of the Exposition's Electricity Building, and "The Golden Lady" stands vigil there in what is now Jackson Park to this day.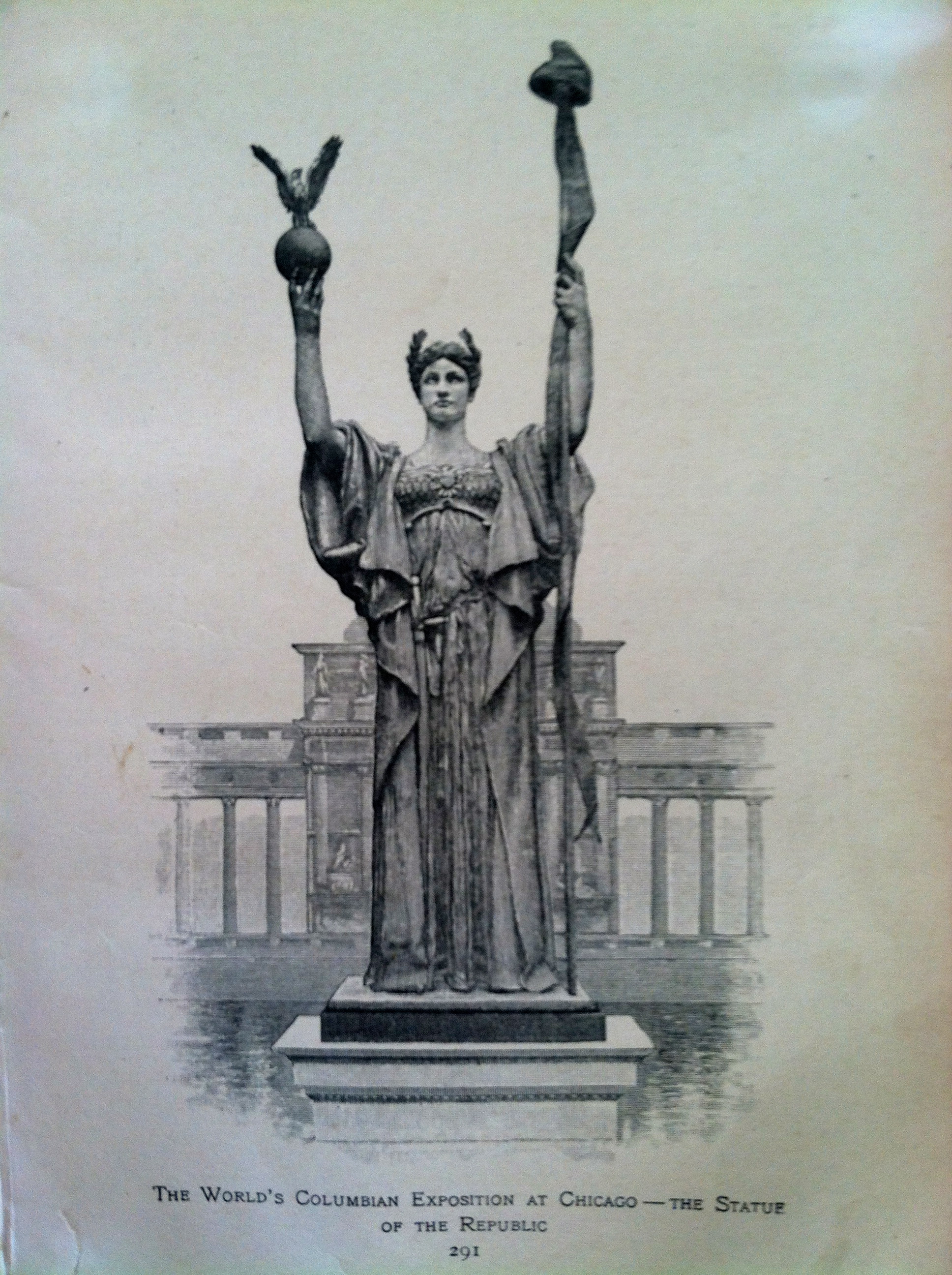 When I showed him the new piece recently, my pal Doug Wright, the Pulitzer Prize-winning dramatist of I Am My Own Wife and the musical Grey Gardens, who loves a good gender bender, said, "OK, no words. That is fucking fantastic!"
The artist of this new work, Rebecca Levi, takes painstaking care not only during the months it can take to embroider these unique pieces but with the entire process, from discussions with her subjects of the potential mise-en-scène, and the black-and-white photographic studies that are the precursors to various detailed pencil sketches, all of which are completed before she ever picks up a needle.
Such pieces were stand-out elements of an inspired group show the summer before last at the Four Eleven Gallery in Provincetown, Mass., entitled "Den." Several of her both charming and droll embroidery works of men who identify as part of the "bear" community were shown in delightful costumes and postures: Boy Scout, Roman gladiator, and hairy-chested, bright-eyed midcentury-physique pictorial stud.
Rebecca's process demanded an unprecedented (for me) level of collaboration and conversation which was an un-alloyed, so to speak, pleasure. Really a conceptual artist as much as a brilliant executrix of her detailed, dazzling works, she infuses both her winsome drawings -- for example, the sketchbook she created as a companion piece to the 2012 novel The Nostalgist by her partner, the writer Griffin Hansbury -- and her embroidered pieces with the fulsome emotionality of the relationship between artist and subject.
So, yes, youbetcha, I'm here today to come out as a vain, self-aggrandizing Mona Lisa wannabe. But I am also remarkably lucky to live in my home with the hung momentos vivos of collaborations with enormously gifted artists and friends whose visions ennoble this doughy, fading Irish Rose of a mug.
CORRECTION: A previous version of this post misspelled artist James Rauchman's surname as "Rauch." The post has been updated accordingly.