PHOTO: William Allatriste, New York City Council photographer
At 26-years-old, the youngest member of the New York City Council is a self-proclaimed "old soul." He's a freshman Councilmember, but is already part of the leadership there, the chairperson of the Committee on Public Housing. Although he became an elected official just under a year ago, he's already a seasoned pro at community organizing, having started as a constituent advocate when he was just eighteen.
He was raised in poverty in public housing by a single mother who moved from job to job rarely making above minimum wage, but interned in 2004 in the office of Dan Doctoroff, the Deputy Mayor for Economic Development and Rebuilding under New York's former Mayor, billionaire Michael Bloomberg.
He identifies as Afro-Latino and is what many call a Nuyorican, meaning Puerto Rican, but born in New York, and has only been to the island once. He's from the largely religiously conservative and hypermacho Boogie Down Bronx, but is an out gay man and the first openly-LGBT person ever elected from that borough.
Whereas most Latinos in the Bronx are bebopping around to hip hop, dubstep or reggaeton, he prefers orchestral music like the soundtrack to the film "The Shawshank Redemption". He's a born policy wonk whose night table reading is The Economist and who in a span of five minutes of casual conversation can mention Nietzsche, Harvey Milk and minutiae of Constitutional Law. But he's also a college drop-out.
When we met recently at "Howl At The Moon," a sportsbar hangout in his neighborhood in the Belmont section of The Bronx, he snarfed down some BBQ chicken wings and then ten minutes later ordered a plate of oysters. His district includes the amazing Bronx Zoo, but he has yet to visit his newest constituents there, the not-one-but-two tiny western lowland gorilla babies!
Who is this guy???
The study in contradictions is Ritchie Torres, named for Chicano rock star Ritchie Valens because his mom was watching the 1987 movie "La Bamba" when she was pregnant with him. He's lean and handsome, one of those guys whose clothes just naturally hang perfectly on him. "This shirt? Marshalls. This jacket? T. J. Maxx. They're the only two places I shop," he said laughing.
He's disarmingly candid and personable when we meet, and flashes a big toothy grin. He's also clearly enormously ambitious and focused. His words, even at "Howl At The Moon" at 8:30pm on a Thursday night with the game on the television over the bar blaring in the background, are measured, carefully detailed and follow Obamaesque rhythms. He sounds basically the same at the bar talking about some private personal stuff to a friend on his cellphone as he did earlier that day before a phalanx of cameras celebrating his successfully securing financial resources to reopen the Maternity Ward at North Central Bronx Hospital which had been closed since August, 2013 due to a funding crunch.
"There's no greater force than the power of organized mothers," he said at the press conference that morning. "The community created this moment."
Among the many areas of importance to his overwhelmingly poor and lower middle-class Black and Latino constituents, one of his true passions is public housing. He oversaw housing concerns as a staffer for his early political mentor, James Vacca, now a colleague on the City Council who as a Community Board official chose 16-year-old highschooler Torres to be "District Manager For A Day". Torres worked on Vacca's successful campaign for City Council and was subsequently hired as a member of his staff.
In that position, Torres reports having knocked on hundreds of doors in public housing and projects, checking on dangerous conditions like mold and boilers broken down in the dead of winter. He recently introduced a bill in the City Council that will create a "three strikes" law forcing deadbeat landlords to pay fees for inspections in their buildings. "That is, if they repeatedly ignore housing violations," he says, and they haven't remedied conditions following three visits from inspectors.
"I organized the first hearing on public housing issues that actually took place at public housing. We went to an apartment complex in Coney Island that was heavily impacted by Hurricane Katrina and because of all the publicity we got, FEMA has committed $100 million in permanent New York City Housing Authority (NYCHA) boilers for residents," he says with pride. To give a sense of the scope of his committee's reach, NYCHA runs 179, 000 apartments in New York City in 2,596
buildings. That's the largest public housing stock in the country.
According to the NYCHA website "more than 400,000 New Yorkers reside in NYCHA's 334 public housing developments around the five boroughs, and another 235,000 receive subsidized rental assistance in private homes through the NYCHA-administered Section 8 Leased Housing Program. "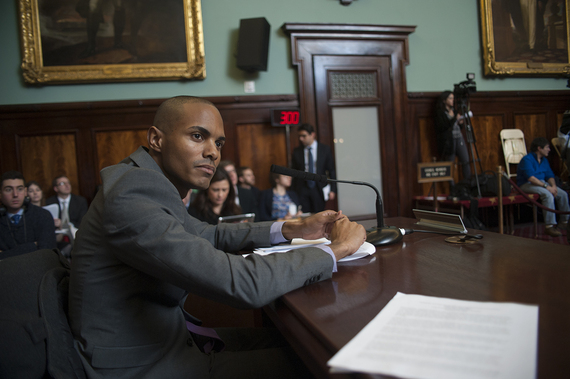 PHOTO: William Allatriste, New York City Council photographer
Torres has been able wield a lot of influence politically due to his successfully supporting an upstart to lead the City Council as Speaker. His fellow Bronx Councilmember Melissa Mark-Viverito challenged Daniel R. Garodnick who represents Manhattan's East Side and managed to win the Speakership becoming the first Puerto Rican and Latina to hold a citywide elected position. His chairing of the Public Housing Committee followed.
Mark-Viverito said this week: "Ritchie Torres is a strong, progressive voice at the City Council. As Deputy Leader and Chair of the Council's Committee on Public Housing, Ritchie has been a champion for NYCHA residents and for homeless and LGBT Youth. I'm proud to call Ritchie a colleague and a friend as we work together to serve New Yorkers in all five boroughs."
Mark-Viverito and Torres are part of the City Council's Progressive Caucus and Torres is fond of talking about issues "that get to the core of progressive politics." Another big success he's racked up since he was elected one year ago next month fits that definition and has been close to his heart as well. In large part the result of his energetic advocacy, the City Council has appropriated $1.5 million to expand services for LGBT seniors into each of the five boroughs in New York City.
The nonprofit SAGE, which currently serves LGBT seniors in offices in Midtown Manhattan and Harlem, will open centers in Brooklyn, Staten Island and The Bronx. Another program for gay seniors in Queens will also get a share of the funding.
"Recent studies have shown that there are over 100,000 LGBT seniors in New York City," Torres says. "In the outer boroughs, an alarmingly high percentage of them are people of color and living in poverty." The Bronx location will offer meals, as well as supportive programming and case management services to clients. It's a huge victory for Torres and for the LGBT community in New York.
"It's been quite a ride so far," he says of his first year in office and then flashes that high-wattage grin. He passion for his work is palpable and he brings all the energy of his tender years to his job. "This is no nine-to-five commitment," he says. Asked how he relaxes, what guilty pleasures he can name, he is hard-pressed. "I'm kind of a goodie two shoes."
Torres frequently makes fun of himself as a nerd-type, a sort of Urkel of New York City politics. He apologies for stepping out to the restroom and keeps checking in to see if the interviewer is getting what he wants, if the interview is going as it should. But layered on top of this is a driving confidence in his own intellect and his chops as an actor on issues of public policy.
"Ritchie has been an advocate for equality and empowerment of communities that had been at the margins in the Bronx," noted the Bronx Borough President Ruben Diaz, Jr.
Torres became a Councilmember on New Years Day, 2014 along with two other first-time gay candidates, Carlos Menchaca of Brooklyn and Corey Johnson of Manhattan, bringing the number of out LGBT Councilmembers to six, half of those people of color.
And just nineteen days later, on January 20th, Torres was arrested outside LaGuardia Airport with 31 other advocates at a march and rally organized by the union SEIU 32BJ in support of airport contract workers getting a paid day off for the Federal holiday on Martin Luther King's birthday. That's his idea of a good time.