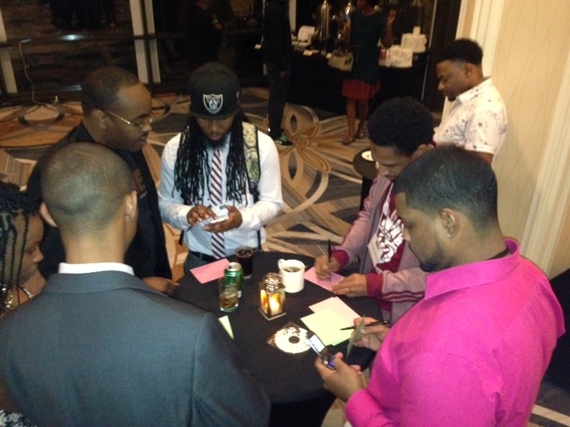 B.O.L.D member Richard Taylor (pink shirt), a Chicago-based motivational speaker, leads a round of "What's Your Problem?" during a millennial mixer in Miami.
About two weeks ago I received a call from my fellow B.O.L.D member, Richard Taylor, who informed me that his mentor, Shawn Dove, Manager, Campaign for Black Male Achievement, Open Society Foundations, agreed to organize - and foot the bill for - an evening mixer, granting an opportunity for millennial change agents working across the country to connect and build relationships.
With less than a week to the actual event, (2013) BMe Leader Rashaun "DJ Reezey®" Williams and I jumped on a conference call with Chicago-based raptivist, FM Supreme, Jamira Burley, Executive Director, Philadelphia Youth Commission, and Taylor, to craft a master plan that will foster collaboration through causes.
We all agreed to keep the program light and loose, not too serious and not too evasive. We wanted people to talk to the human inside, not the title we wear on the outside. In order to accomplish this we didn't have participants identify themselves by their organizational roles, instead, we had everyone go up to someone who they've never met before and ask them: "What's Your Problem?"
We distributed colorful index cards to players and asked them to write down their name and the following:
• What's your problem?
• How are you solving it?
• What help do you need?
The engagement was great. The conversation was so vibrant that Taylor and I debated how we would silent the room. Williams took care of that, however, with a loud whistle, signaling time for us to round-up for a group discussion.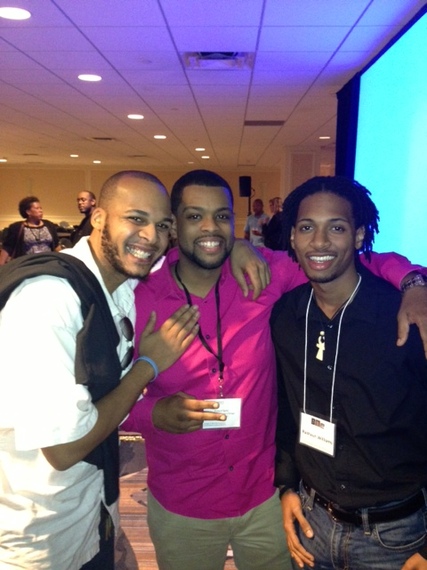 (Members of B.O.L.D: Rashaun Williams (R), Richard Taylor (Center) and I, during the 2013 BMe Winter Retreat)
In the circle we shared who we met, what we learned, and how we could advance that person's cause with our resources. So excited with the new friend that I made, I volunteered to go first. Feeling empowered with new information, I quoted statistics I just learned from Sarah Comeau, an attorney with the School Justice Project.
"80% of juveniles in America are in need of special education services and have a right to those services up to age 22, depending on the state," I said, aiming to memorize word for word what I just heard. I continued: "However, when an 18 year-old is sent to an adult jail, the prison's school doesn't track the 18-22 year old population; so these kids are normally sent to jail for years without receiving any education. When they're released - after they've turned 22 - they don't have a right to education; so more than likely, as a result of no education and unemployment, they'll offend again. The large majority of these juveniles are black youth; this is the largest civil rights issue of the day!"
Looking at the big smile on Sarah's face let me know I hit the target and represented her cause well. I went over to her after leaving the center of the circle and we slapped a big high five. I promised her I would do some investigation into her claims and circle back with her to publish a report. She exclaimed: "Oh my god that would be great! We've been trying to get media coverage; you have to meet my partner!"
I've since shared the statistic and this story with a few of my twenty-something friends, but I thought it would be beneficial to other solution-orientated citizens - regardless of their age - as they strive to solve the world's toughest problems, together.
As a 2014 search partner with Echoing Green, the world's largest angel investor in social entrepreneurs, I'm promoting both the Open Society Black Male Achievement Fellowship - a two-year, $70,000 fellowship, for innovative ideas that address the issues facing black men and boys - and the Climate Change Fellowship - a two-year, $90,000 fellowship, for innovative ideas that address the issue of climate change migration and adaption. While these issues seem completely separate on the surface, but when you dig deep - like with people - you'll find the commonalities and be led to collaborate. Although both challenges give you the option to submit as an individual, I recommend that you solve problems as a team; there's strength in numbers.
Maybe I'm naïve, but I really think we can solve the world's toughest problems through the principles of innovation, collaboration and social entrepreneurship. Do you disagree? Try this, the next time you attend a social function or industry gathering and your goal is make a connection to solve a problem, refrain from asking people: "What do you do?" instead, ask them: "What's your problem?" and I guarantee you'll get more than just a business card.