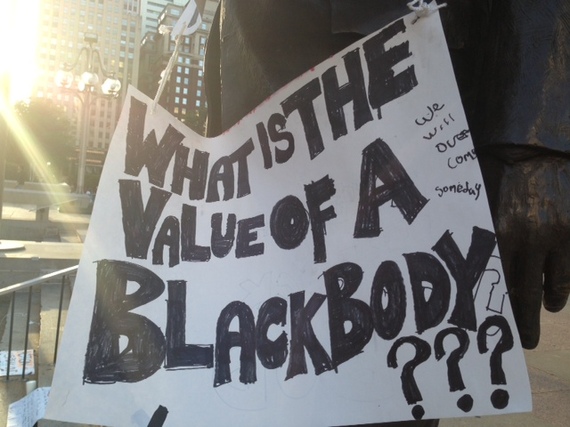 The frequent killing of unarmed black people by police is being labeled "the purge."
For the majority of unarmed black folks who everyday attend work, school and/or church, "the purge" isn't a multi-million dollar film starring a white man with killer looks; it's a reality show, and the white man with the gun is killing them for their looks.
For the majority of unarmed black folks who everyday warn their young of the unspoken code of the police -- shoot first, ask questions never -- "the purge" isn't a growing franchise with limited engagement in theaters; it's a never-ending broadcast of brutality, a motherf*cking marathon of unjust murders. For the majority of unarmed black folks who everyday pray that the police riding past aren't going to stop-and-frisk them for sport, "the purge" is real, not a horror thriller that grossed more than $95 million at the box office.
The unchecked power of the American police is the greatest threat to our society, and before our very eyes it's purging the country of black faces that are guilty of existing in a white man's world. The reality is that unarmed black folks are patriotic -- 25 percent of black men in America are already military veterans. And they are enterprising: The percentage of blacks who create business is twice the national average, and 60 percent of those entrepreneurs are black men. And they are also charitable: Black households give 25 percent more of their income to charities than do white households.
Despite these facts, unarmed black people everyday are depicted in the media as thugs, criminals and impoverished brutes, which makes it justifiable for police to replace the oath of "protect and serve" with "brutalize and bury."
For the majority of unarmed black folks who everyday fear for their lives, despite them doing nothing wrong, my advice to you is stop leaving the house unarmed. Arm yourself with knowledge of the system, civics and politics and demand legislation that addresses "the purge," like a zero-tolerance law for officers who shoot and/or kill unarmed civilians -- regardless of their race.
Arm yourself with the bravery and boldness to fight what seems to be an insurmountable opponent. And lastly, arm yourself with vigilance, strategy and force. "The purge" is real, and it's an American tradition.
Thanks for reading. Until next time, I'm Flood the Drummer® & I'm Drumming for JUSTICE!™