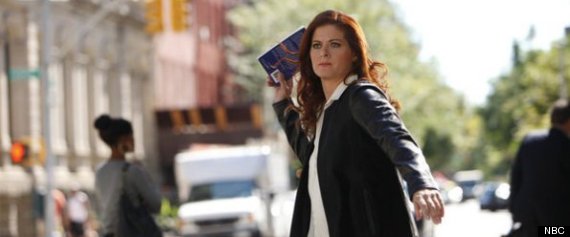 Previously on "Smash": Jennifer Hudson! "Just because I shagged a couple of actresses?" "He's a professional dramaturg." "Someone tipped off your government." "One shot's all we need." No one watched, again.
Presented in chronological order and without commentary, the most absurd moments from Season 2, Episode 4, "The Song."
1. Tom and Julia high-five like Maverick and Goose.
2. "You can never have enough love."
3. Sheryl Lee Ralph.
4. "Your name is why it took six instead of one."
5. "Peter invited me to talk to his acting class today."
6. Jimmy flips coins into a jar.
7. Joe's Pub reference.
8. "The lawyer questioning you is a friend."
9. "As long as he's missing, they can't corroborate anything."
10. Julia's glasses.
11. "You know Ivy?"
12. "If you bring him the right song, you'll get more than noticed; you'll get famous."
13. The "Smash" opening credits.
14. Chyron: "Live tweeting now @NBCSmash."
15. Julia's "my book sucks" face.
16. Julia getting owned by a college student.
17. "Scotch. Weed. Coke. Just space."
18. Jimmy's friend getting jealous of Karen.
19. Nick still hasn't said one word in Season 2.
20. "This is no longer a perky little ditty."
21. "Connect with your body!"
22. The way they're setting Tom up as a director.
23. "They don't know you like I know you."
24. "You're not the wrong guy."
25. Literally everything happening with this Eileen/Nick scene.
26. "Give me five minutes, I deserve that."
27. Derek's chest hair.
28. The massive apartment in Brooklyn that Jimmy and Kyle afford on bartender wages.
29. "No more games, Peter!"
30. "Chicago Fire" ad on a city bus.
31. Remembering Jennifer Hudson has an Oscar.
32. Chyron: "Smash" Season One DVD.
33. Kyle singing a Billy Joel song while walking down the street.
34. Jennifer Hudson singing a Billy Joel song in the mirror.
35. Jimmy.
36. Karen's green thrift shop jacket.
37. "I may have done some drugs."
38. "I was waiting out here for you."
39. "You were?"
40. Jimmy and Karen's kiss.
41. "Marilyn is who I'm most captivated by."
42. "Every scene should be from a man's point of view."
43. Eileen saying "He told the feds" with a straight face.
44. Ivy spanking that other dancer.
45. "Do you even know what you're apologizing for?"
46. Kyle and Jimmy being called out on stage.
47. Kyle and Jimmy bowing with Jennifer Hudson.
48. Jimmy was straight-up high a few minutes ago.
49. Julia and Peter getting ready to hook up.
50. Jerry is producing "Bombshell" now.
51. "'Bombshell' will be the biggest hit Broadway had in years."
52. "She'll never work without me again."
53. "I'm putting the rest I owe you in the mail ... Ellis."
54. "Don't ever, ever contact me again."
55. "Smash" bringing Ellis "back," but without Jaime Cepero anywhere near the screen, because the character is so hated everyone (else) would tune out.
"Smash" airs on Tuesdays at 10 p.m. EST on NBC.
PHOTO GALLERY
2013 Renewal Index: Canceled, Renewed & On The Bubble Shows