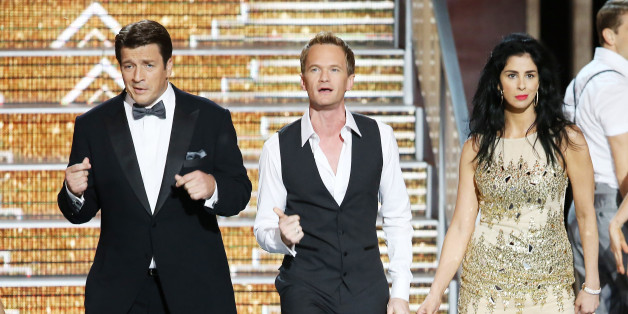 Neil Patrick Harris brought his B-minus game to the 65th annual Emmy Awards, the show featured a five-minute interpretive dance segment in the last hour of the broadcast, and there were so many memorial segments that "Modern Family" co-creator Steve Levitan was compelled to declare the 2013 Emmys "the saddest of all time" upon accepting his trophy. Yet despite all that, Sunday night's Emmy Awards were still more engaging, heartfelt and celebratory than this year's Oscars. What can Academy Awards producers learn from television's biggest night?
1. Embrace the medium. From Harris' opening video introduction -- which may or may not have been produced by Booth Jonathan -- to eulogies for deceased television icons like James Gandolfini, Jean Stapleton and Cory Monteith to an extended advertisement-cum-sketch for "How I Met Your Mother," there is no arguing that the 2013 Emmys were about television. Contrast that with this year's helter-skelter Oscars broadcast, which found room for a lengthy bit featuring William Shatner (because he's a movie star?), and had more Broadway pizzazz than most Tony Awards ceremonies. Which isn't to say the Emmys broadcast was perfect -- as touching as those memorials were, the segments threw off the show's balance and probably should have included, you know, videos of the people being celebrated -- but at least the producers honored the reason for the existence of the ceremony.
2. There's no reason to front-load the show with bits. Regarding Harris' opening: It wasn't great -- not, at least, until Tina Fey and Amy Poehler showed up to do their Tina Fey and Amy Poehler thing. Fortunately, Harris saved his best stuff for the rest of the night. "The Number in the Middle of the Show" -- a de facto "Dr. Horrible" reunion with Harris and Nathan Fillion sharing the stage -- was aces (if reminiscent of the canceled TV shows song Harris performed on this year's Tonys broadcast), while that crazy interpretive dance thingy at least included a part where Harris sang "Luck Be A Lady" from "Guys and Dolls." That was good! Right, guys? Guys?
3. Buy a stopwatch. The 2013 Emmys were roughly 20 minutes shorter than the 2013 Oscars, which is really negligible in awards-show time. Why, then, did watching the Emmys feel like a sprint, while watching the Oscars felt like a marathon? Pacing. Hardly any Emmy winner, not even Michael Douglas, made it through without the orchestra ushering them off stage. Consider: Daniel Day-Lewis, this year's Best Actor Oscar recipient, was onstage for over three minutes; Jeff Daniels barely lasted 60 seconds. Well, crap, indeed.
4. Clips are maybe overrated. One noticeable trend during the Emmys broadcast: Eschewing clips of the nominees in favor of simply reading the names and announcing a winner. It's so simple, and yet so obvious: The lack of clips saves air time and makes sense. Does anyone, after all, not know what Bryan Cranston's performance looks like on "Breaking Bad"?
5. Actually, there's really nothing to learn. The biggest reason the Emmys broadcast was better than the Oscars, of course, was the element of surprise. Daniels, Bobby Cannavale, Tony Hale and Merritt Wever were winners who came straight out of left field; any one of those victories would have counted as the biggest Oscar upset in almost a decade. By the time the Academy Awards are announced, most viewers know what to expect. To wit: During the 85th annual Academy Awards, only Christoph Waltz could have qualified as a real surprise winner -- and even that wasn't a total surprise. (Best Supporting Actor was a wide-open category and the tide had begun to shift toward Waltz, a past winner, in the lead up to the awards.) That means viewers are waiting three-and-a-half hours to see awards handed out to actors and films they are expecting to see win awards. That's boring, but it's also how the Oscars work. Short of blowing up the system -- bye, precursors! -- and changing the very fabric of the ceremony, there's no way the Academy Awards can compete with the Emmys (or Tonys or Grammys) when it comes to giving out actual awards. Still, consider that thing about cutting clips, Oscar producers. That's some good stuff.
PHOTO GALLERY
2013 Emmy Winners