Over the next two months women (and a few men) from around the world will share their stories of motherhood, some of which will reflect back on advice they were given by a mother, and others will look forward at their dreams for children -- both their own and those around the world.
While moms know that their job is never done, part of this is because they are not only concerned about the wellbeing of their own family, but also of others in their neighborhood and around the world. It is with this sense of community that mothers can join together and create changes for their children and for generations to come.
As part of this global conversation, the Global Mom Relay had a chance to sit down with the talented and multi-dimensional Jerusha Hess. Co-writer of cult indie films Napoleon Dynamite and Nacho Libre, Jerusha made her directorial debut in the highly anticipated Austenland. The film was a Sundance hit earlier this year, and is on every self-respecting Jane Austen fan's must-see list when it releases later in 2013. She's been called the "new Nora Ephron." Jerusha is also the mother of three (soon to be four) children.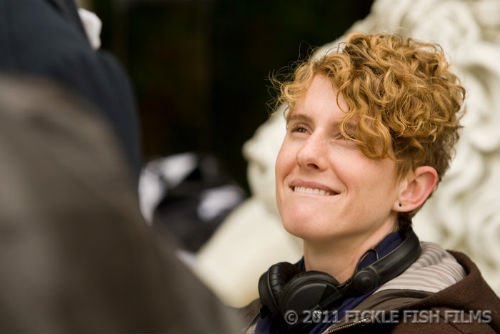 Jerusha on set.
What is the best advice a mother ever gave you?
Sleep when your baby sleeps... but I've never followed it.
What kind of encouragement/support did you receive as a girl that prepared you for your life as a director?
I grew up with seven brothers and it was tough being the only girl. I learned quickly to stand on my own two feet to get what I wanted in that large of a brood.
What kind of world do you want the kids in your life to inherit?
This world. We live in a great world. We are making improvements and advancements every day.
What opportunities would you like to see for every girl?
Education, I know that's obvious, but it's number one... and birth control.
What advice would you share with a mother?
When my husband and I decided to adopt a special needs child from Bulgaria, someone told me that as lousy a mother that you think you are and will sometimes even be, it's still a better life than the one he would have had, had you not made the decision to become his mother. So to that, I say, "New mothers everywhere, make mistakes. You are exactly what your baby needs."
How can mothers coming together around the world help children everywhere?
Any answer I give will make me sound like a beauty queen. Peace. Love. Happiness.
What is your greatest dream or wish for you the children in your life?
I have biological children and two adopted children and most of all I just want them to feel safe and loved in our home and a part of something amazing.
In what ways do you hope the children in your life's lives will be different from yours?
Growing up, my husband and I both moved around a lot and we never had a sense of community or that we really belonged somewhere. It's important to me that our children be a part of their community. Is it dorky of me to want them to marry their high school sweethearts?
Each time you share this Global Mom Relay piece on Facebook, Twitter, or Email, or donate $5 or more through clicking on the above graphic, a $5 donation (up to $8,000 per day) will be donated by Johnson & Johnson and the Bill & Melinda Gates Foundation to Girl Up. Join us by sharing it forward and unlock the potential for women and children around the globe. For more information, visit www.unfoundation.org/globalmomrelay. The United Nations Foundation, Johnson & Johnson, BabyCenter, The Huffington Post, and the Bill & Melinda Gates Foundation created the Global Mom Relay, a first-of-its-kind virtual relay with a goal of improving the lives of women and children around the globe.