The STIHL Tour des Trees started last night with a welcome dinner, bringing together all my friends from last year and more than 35 new cyclists ready to take on the Tour. This year, there has been an even stronger emphasis on road safety. One of the ways the Tour facilitated this is by having a new rider briefing and establishing a mentor program. I'm a mentor, which means now in my second year on the Tour, I am the one with all the answers. I think it's a great idea, because coming to the Tour can be a little overwhelming. Most people haven't ridden more than 500 miles in one week, and don't know what to expect, so it's great they have people to turn to for support. The camaraderie of this event is one of my favorite parts, and it was great to see so many old friends.
During the 2012 STIHL Tour des Trees through Oregon, one of the things I was asked constantly about was getting free chain saws, which is a common question from most people I meet thanks to my work with STIHL Inc. This year, I was able to get a hold of two hundred free "chain saws" to pass out at the welcome dinner. More precisely, two hundred STIHL chain saw key rings. Complete with the beastly sound of a real chain saw. No more requests, so far.
The day started out with a ride from Niagara Falls, Ontario, through the international border all the way to Rochester, New York.
Even though the borders at Niagara Falls were made mainly for vehicle crossings, ours was made simple only by the efforts of our Tour director Paul Wood and his excellent support team. Within fifteen minutes, our entire group of nearly 100 cyclists was through. I can't imagine how daunting this crossing would be without the help that we had.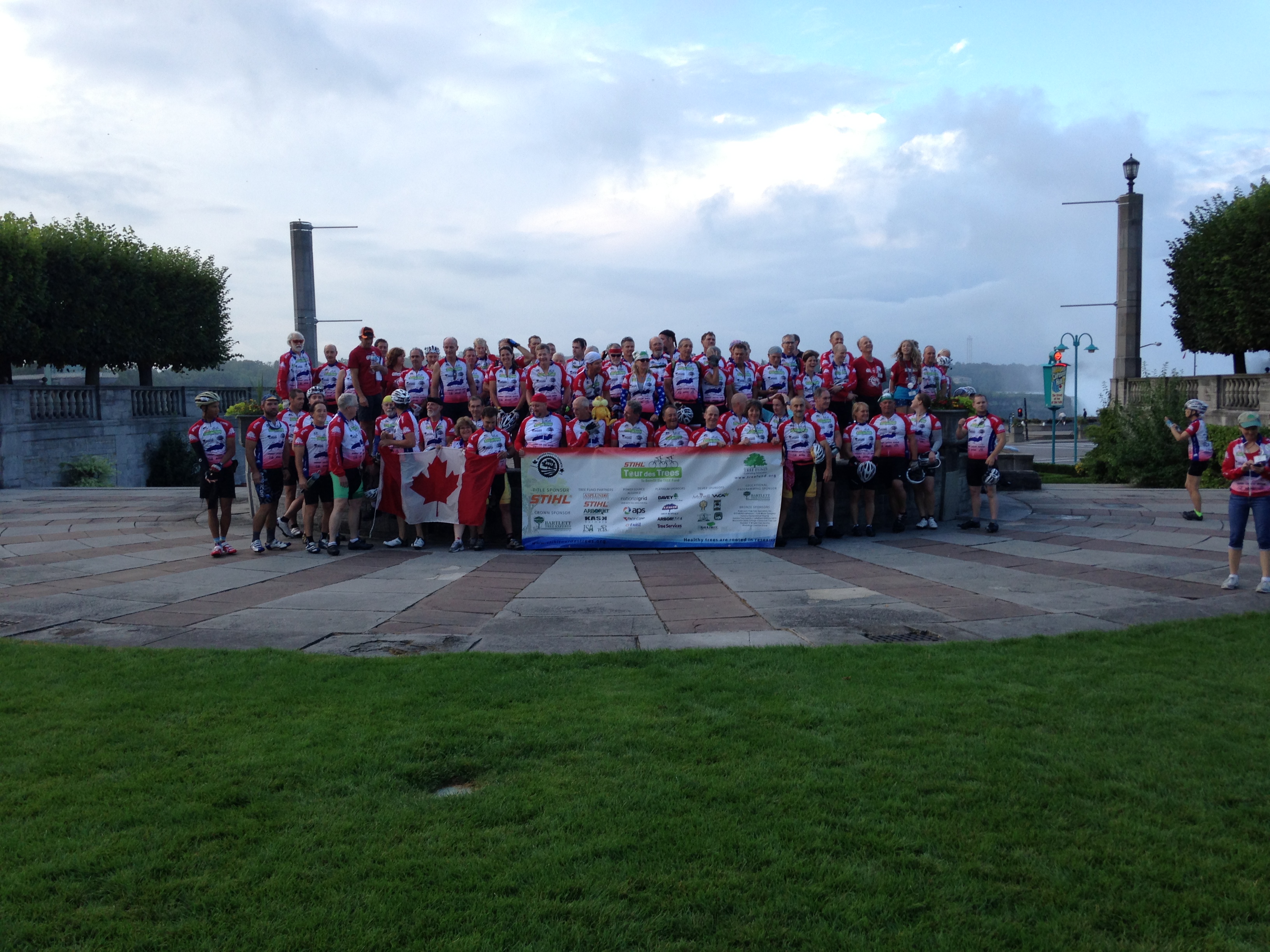 One thing I know about this Tour is that no one is ever left behind. Today's ride was a perfect example of that. I committed to go to an event at the end of the day at 3 p.m., which required me to maintain a pace all day of twenty miles per hour. For the first forty miles, three of the members of Team STIHL - myself, Justin Espy and Thomas Sonnenkalb - all rode together at a blistering pace.
Then at mile 40, my body expressed its strong distaste for my efforts and made me regret not riding more before I came here. This is when the support of other riders on the Tour is most obvious. As I was struggling to keep up, another pace line would always catch up and helped motivate me to keep my pace. Some of the cyclists even knew I needed to be at the event by a certain time and offered to stay with me to pull me in.
I made it to the event at the West Webster Fire Department. Late last year, two of their firefighters were killed while responding to a fire. We were part of planting what will become a memorial garden to honor first responders, by dedicating a sugar maple in their memory. The event, which was the signature event this day of the Tour, was planned by Lewis Tree Service, which has close ties to the community here.
This part of the STIHL Tour des Trees is my favorite. The culture here is all about helping. We're here to raise money and awareness for the Tree Research and Education Endowment Fund (TREE Fund) and for urban forestry. We're helping each other through the week, cycling insane distances, smiling and laughing the whole way. We're educating children about the importance of trees and how much they give to us on a daily basis. And today, we were able to help a community memorialize two individuals that gave their lives to helping others.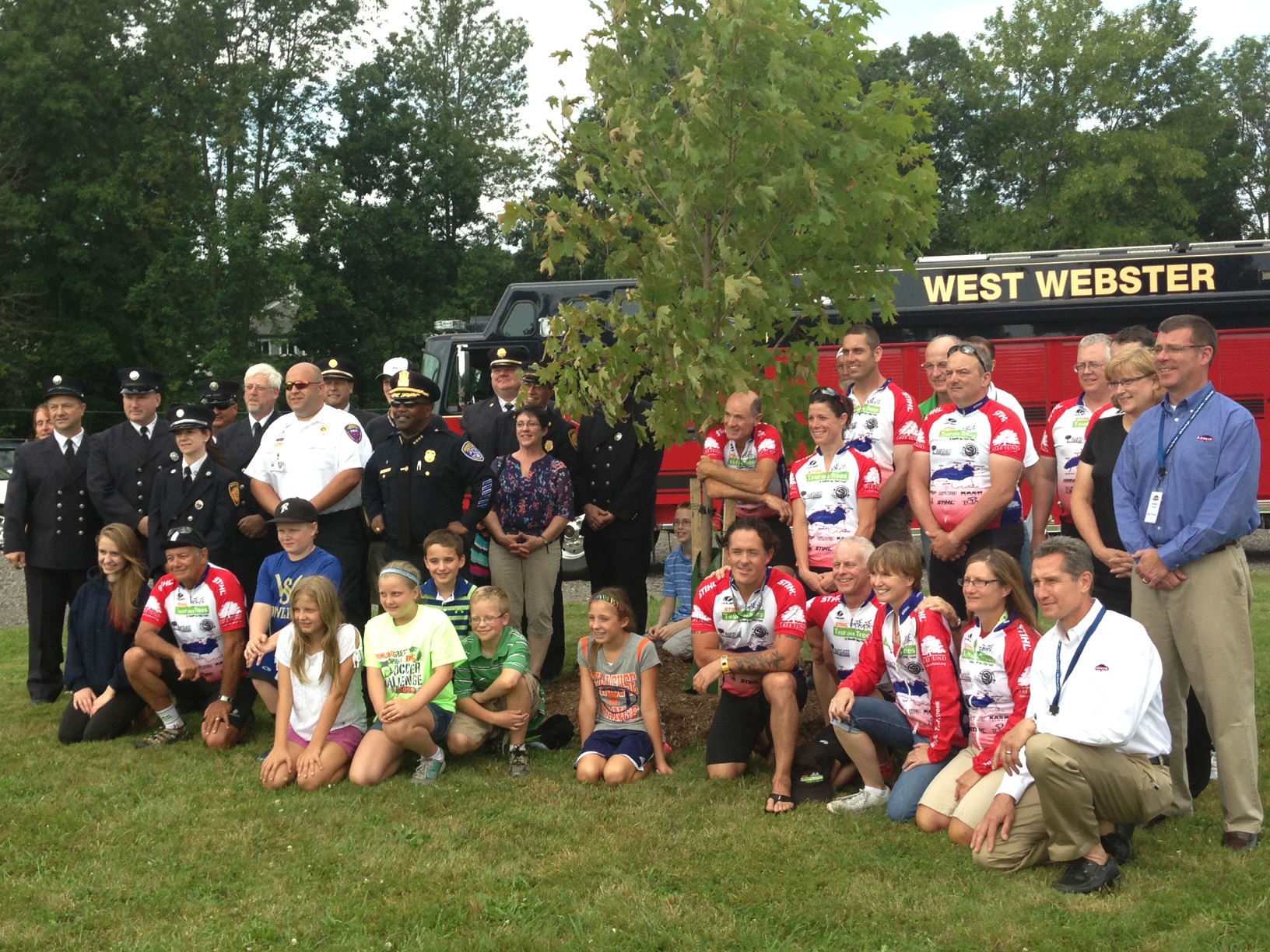 The inspiration that I get from attending these events and riding with these cyclists, hearing their stories, and gaining more and more respect for their passion, stays with me long after the Tour is over.