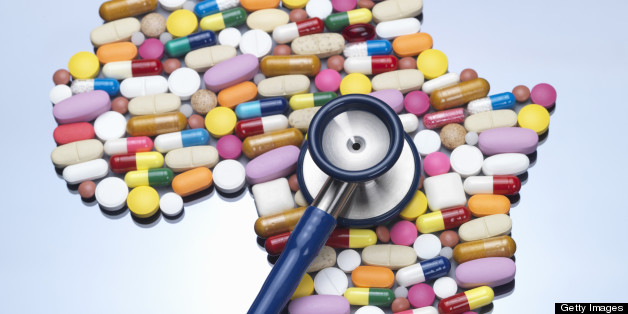 Given the billions of aid dollars spent to improve the health systems of Africa, it may surprise you to learn that the majority of Africans still turn to the private sector for their health care. Not because the private sector provides great service or cheaper prices. But rather, for many, it remains the only option. Public health centers are all too often under-staffed and out-of-stock.
The private sector may be filling the gap, but it is not solving the problem. Private health care providers are plagued by excessive fragmentation and little to no oversight -- resulting in high prices and poor quality. The retail price for basic, essential medicines is commonly over 300 percent of the manufacturing cost. Store shelves are stocked with expired and counterfeit drugs. And poorly trained, poorly monitored outlets are the norm. In short, health systems across Africa are still chronically sick.
Sounds pretty grim doesn't it? It is. But healthcare in Africa is also an enormous opportunity. Excessive fragmentation, high prices and low quality are the telltale signs of a market ripe for radical disruption. Dysfunctional markets provide fertile ground for innovation. The opportunity to reinvent healthcare in Africa is there for the taking. And social entrepreneurs are leading the way.
Powerful, mission-driven models focused on market-based solutions are disrupting broken health systems throughout the developing world. The world's largest eye care provider, Aravind Eye Care System, built a fully self-funded model for eye care by adapting the corporate management practices of McDonald's and an innovative cross-subsidy model of tiered pricing. Aravind has treated more than 32 million patients -- 60 percent of which pay very little or nothing at all.
LifeSpring Hospitals uses a similar approach to achieve sustainability and scale for its chain of high quality maternal hospitals. World Health Partners creates market efficiencies by organizing local resources and leveraging telemedicine to connect rural patients and care providers to skilled care professionals.
At Living Goods, the social enterprise I founded, we harness the buying power of large networks of franchised agents to deliver lower prices on high quality health products and services to the half million poor customers we serve in Uganda. And we use mobile technology to track impacts and drive demand for health products and services all the while reducing the costs to market and monitor. At scale, these models will improve the quality of life for millions of health care consumers while also reducing the resource burden on public health systems.
As African economies continue to improve, the demand for health care across all sectors is sure to grow. The IFC estimates that the market for healthcare will increase to $35 billion by 2016. Those who create, support and invest in powerful new models stand to benefit -- as do the millions of health care consumers all across the continent.