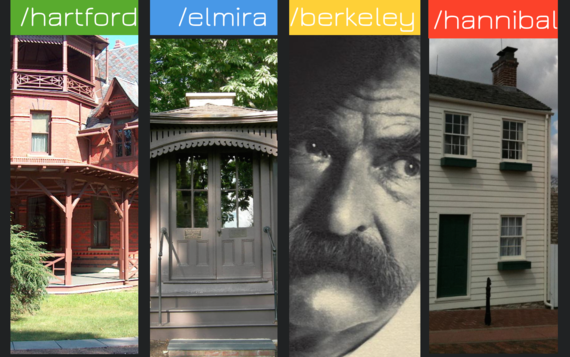 "The lack of money is the root of all evil." -- Mark Twain
Four nonprofit institutions committed to preserving the legacy of Samuel Langhorne Clemens, known more famously as Mark Twain, collaborated with Congress (one of Mark Twain's favorite targets) in 2011 and 2012 for the passage of the Mark Twain Commemorative Coin Act. Now, in an unusual collaborative fundraising initiative, they are joining forces again to ask "Twainiacs" around the globe to support their efforts to preserve Mark Twain's homes, papers, and publications through website-giving that equally divides all donations among the four sites:
The Mark Twain Boyhood Home & Museum in Hannibal, MO; The Mark Twain House & Museum in Hartford, CT; The Center for Mark Twain Studies at Elmira College in Elmira, NY; and The Mark Twain Papers & Project at the Bancroft Library at UC-Berkeley in Berkeley, CA.
Background: The Coins
In 2016, thanks to the passage of the Mark Twain Commemorative Coin Act, the U.S. Mint -- at no cost to taxpayers -- will manufacture a limited number of $5 gold and $1 silver coins that bear Mark Twain's iconic image. They will be sold to collectors with net proceeds being divided equally among the four nonprofit organizations that preserve Twain's legacy. Leaders at the four sites worked together and with their respective Representatives to bring this to bear.
Good for Congress! They haven't agreed on much lately, but preserving Mark Twain's legacy was something even they could get behind.
Now, a handful of years later, the institutions' leaders are embracing the opportunity to collaborate again, and they're hoping their unusual request will resonate with the author's fans.
The request: donate any amount via a single website (marktwaincoins.org), and proceeds will be divided equally among the four Mark Twain preservation sites.
The Challenge
Since the economic downturn in 2008, corporate giving to nonprofit institutions is in decline. Despite reports of record corporate profits in the last few years, many corporations (not all, certainly) are reluctant to return to their old levels of giving. This has created dire circumstances for any number of nonprofits as they scurry to find new support.
Giving by individuals, however, has taken on a life of its own. With sites like Kickstarter and GoFundMe, grassroots giving has never been easier or more popular. Maybe because so many individuals felt the sting (or worse) of the downturn they are eager to pitch in for causes that resonate with them. Whatever the reasons, it is heartening.
The Four Mark Twain Sites
Sam Clemens of Hannibal, Hartford, and the World
Formal safety nets for families did not exist in Sam Clemens's time (1835-1910). His father died when Sam was 11, and at the age of 12 when his mother could no longer support him, he left school to earn his keep as a typesetter's apprentice. At 17 he took himself to New York City, Philadelphia, and beyond, supporting himself as an itinerant typesetter wherever he could get a job. Many children were forced into similar situations, and nowhere is there a record of Clemens lamenting the challenges he faced. He was in the same situation as many other children, after all, and some were far worse off than he.
As Mark Twain, Sam Clemens became a legend in his own time, and his legacy endures -- as social critic, travel writer, and the memoirist who fictionalized his own remarkable life. Oh, yes, and humorist, since he somehow makes us laugh even while pointing out our flaws.
Like many other Americans of that era, he faced economic ruin after the Panic of 1893 -- the nation's worst economic collapse in its young history. In 1895, Clemens embarked on a yearlong lecture tour around the globe to avoid filing bankruptcy. His wife and middle daughter accompanied him. When the trip ended, instead of celebration, the family endured a greater tragedy -- the death of their oldest daughter Susy from spinal meningitis. She died at their Hartford home, and their grief was so profound the family could no longer bring themselves to live there.
Mark Twain can fairly be called the world's first celebrity: he was famous for being famous. Biographer Ron Powers called him "the nation's first rock star." Smithsonian recently named him among the 100 most significant Americans of all time, leading their list of Pop Icons. His books are still bestsellers and published in roughly 50 languages. Most, however, are in the public domain, meaning there are no royalties for the four non-profit sites that work to preserve his legacy.
Perhaps Thomas Edison's views on Mark Twain's popularity are still true today: "An average American loves his family. If he has any love left over for some other person, he generally selects Mark Twain."
The caretakers of the four Mark Twain sites certainly hope this is true.